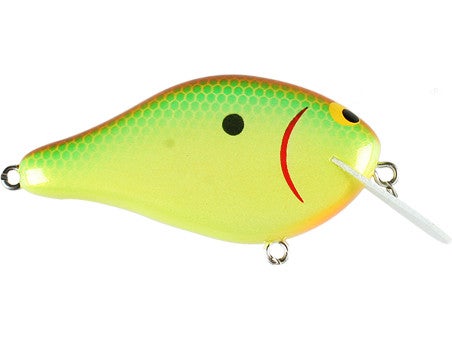 This bait REALLY shakes it up! It's designed for early spring and late fall when water temps are 50-65 degrees and runs 3' to 5' deep. The ima Shaker works best when shad are on the move in the shallows. With a medium speed retrieve the bait will produce a wide wobbling action starting in the head of the bait and working its way through the entire bait. The ima Shaker features a weight transfer system allowing the bait to travel up to distances of 60 ft on the cast. Coupled with greater accuracy this bait is no match for its counterpart, the balsa bait. Best results are in the back of the creeks and up in the rivers thrown around wood, stumps and rocks. This is a great bait for getting reaction strikes when nothing else seems to be working.
| | | | | |
| --- | --- | --- | --- | --- |
| Ima | Length | Weight | Depth | Hook |
| Shaker Crank | 2-3/4" | 3/8oz | 3-5ft | #6 |
6 Colors
More From ima Crankbaits
Customer Reviews
Comments: amazing crankbait! truly one of a kind!

From: Brandon: ohio usa

Comments: I bought the clear one. Action is good except for it takes on water. I fished it in open water and above the bottom so no chance it hit a rock. Now the weights rusted inside and the rolling one sticks in one spot. I'm glad I bought the clear one so at least I can see it's degradation. I'm not pleased to say the least.

From: Pat: San Jose

Comments: no doubt a fish catcher but my second trip out to the delta the bill came loose...i guess they ran out of glue in japan...for 16.99 they shouldn't do that...kvd 2.5 works just as good...

From: Thao: CA Delta

Comments: Water temp was 47 on local lake. Threw the hot craw around some stumps. Caught quite a few. Comes through cover really well. 2 thumbs up!

From: Danny: Milan, TN

Comments: owned one of these fo rthree years now. Still nothing caught on it. The testing continues, I have only tried it a few minutes on each trip. Hopefully I can come back with a good update but so far, so bad.

From: Meatwad: Blankin on shakin

Comments: i got 4 of these baits ive used them in the spring,summer,fall and still aint caught no fish on them. Can't beat a BOMBER flatA.

From: Dave: Hamilton, OH

Comments: Excellent little crankbait. This lure puts off more vibration than any other I own. Great cold water bait, and will flat put fish in the box. A little lighter than I like to throw, but will be great on a 6 to 6 1/2 foot Med light rod with 10-12 lb flouro. Buy one, definetely worth the coin.

From: Brad: Texas, USA