Pro Spotlight: Cliff Prince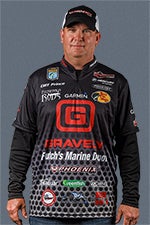 Photo courtesy of BASS
Name: Cliff Prince
Age: 46
Hometown: Palatka, FL
Tour: B.A.S.S. Elite Series
Years Pro: 4
Career Earnings: $281,904
Current World Rank: 131
Favorite Lake: Santee Cooper
Favorite Technique: Cranking or Sight-Fishing
Boat: Phoenix
Motor: Mercury
Fishing Sponsors: Fitzgerald Rods, Lew's Reels, Booyah, Yum, Seaguar Line, Owner Hooks, Gator Tackle Co. & Power-Pole
Non-Fishing Sponsors: Bob's Machine Shop Jack Plates, Futch's Tractor Depot Inc., Garmin Electronics & Kubota Tractor Corp.
Cliff Prince's Gear
Rods
Made with the best components and materials money can buy, the Fitzgerald Stunner HD Series Casting Rods deliver the ideal actions and tapers to fish a full range of baits.
One of the most versatile series on the market today, the Fitzgerald Vursa Series Casting Rods deliver tournament caliber performance for a great price.
Reels
Tackle