Pro Spotlight: Ish Monroe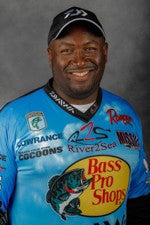 Photo courtesy of BASS
Name: Ish Monroe
Age: 41
Hometown: Hughson, California
Tour: B.A.S.S. Elite Series, FLW Tour & Major League Fishing
Years Pro: 18
Career Earnings: $1.53 Million
Current World Rank: 71
Favorite Lake: Lake Amistad, TX
Favorite Technique: Flipping mats
Boat: Ranger
Motor: Yamaha 250 SHO
Tow Vehicle: Ford F250 Diesel
Fishing Sponsors: Lowrance, River2Sea, Daiwa, Snag proof, Maxima Line, Cocoons Eyewear, Navionics, Missile Baits, Coolfoot, Team BassADX, Yamalube & Simms
Non-Fishing Sponsors: Gemini Sports Marketing, Smart Battery & BigFishTools.com
Ish Monroe's Gear
Rods
Featuring advanced ultra lightweight Zero G blanks and premium components, the Daiwa Tatula Spinning Rods are monsters when it comes to performance and price point.
Featuring battle-tested actions and tapers perfectly suited for fishing short lines, the Daiwa Zillion Flipping Rods deliver technique-specific performance worthy of the Zillion name.
Reels
Featuring Daiwa's advanced TWS T-Wing Casting System and a host of other advanced features, the Daiwa Zillion TWS Casting Reel advanced, tournament-caliber performance worthy of the Zillion name.

Delivering 30% more capacity than traditional reels and equipped with Daiwa's TWS T-Wing System, the Daiwa Tatula Type-HD Casting Reel also has the wherewithal to tackle inshore and freshwater fishing.
Tackle