Pro Spotlight: Ish Monroe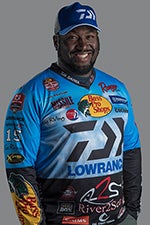 Photo courtesy of BASS
Name: Ish Monroe
Age: 42
Hometown: Hughson, California
Tour: B.A.S.S. Elite Series & Major League Fishing
Years Pro: 19
Career Earnings: $1.64 Million
Current World Rank: 43
Favorite Lake: Lake Amistad, TX
Favorite Technique: Flipping mats
Boat: Ranger
Motor: Yamaha
Tow Vehicle: Ford F250 Diesel
Fishing Sponsors: Lowrance, River2Sea, Daiwa, Snag Proof, Maxima Line, Cocoons Eyewear, Navionics, Missile Baits, Coolfoot, Team BassADX, Mystery Tackle Box, Power-Poles & Simms
Non-Fishing Sponsors: Gemini Sports Marketing, Smart Battery, Bob's Machine Shop Jack Plates, Team Day's Boat Sales & BigFishTools.com
Ish Monroe's Gear
Rods
Delivering top-of-the-line performance like only Daiwa Steez can, the new Daiwa Steez SVF AGS Casting Rods are ultra sensitive, extremely lightweight and loaded with premium components.
Featuring Daiwa's advanced E-Glass blanks and premium components, the Daiwa Tatula Glass Crankbait Casting Rods deliver all the attributes you need to fish crankbaits to their full potential.
Reels
Built to handle big fish, heavy cover and big baits, the new heavy duty Daiwa Zillion HD Casting Reel features Daiwa's new MagSealed technology and the toughest components available.

Now lighter than ever before thanks to its new compact design, the Daiwa Tatula CT Type-R Casting Reel is packed with tournament-caliber features and performance.
Tackle