Pro Spotlight: Jay Yelas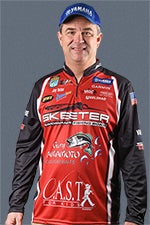 Photo courtesy of BASS
Name: Jay Yelas
Age: 51
Hometown: Corvallis, Oregon
Tour: FLW Tour
Years Pro: 28
Career Earnings: $2.38 Million
Current World Rank: 186
Favorite Lake: Clear Lake
Favorite Technique: Swimbaits
Boat: Ranger
Motor: Mercury
Tow Vehicle: Chevrolet Suburban
Fishing Sponsors: Berkley, Kistler, Lew's Reels, Gary Yamamoto Custom Baits, Typhoon Optics, Minn Kota & Garmin
Non Fishing Sponsors: C.A.S.T & ION
Jay Yelas's Gear
Rods
Featuring a new look, award-winning Microwave Guide technology, and North Fork Composite blanks, the Kistler Magnesium 2 Casting Rods just keep getting better and better.
Reels
Weighing in at only 5.6oz, the Lew's Team Lite Speed Spool Casting Reel provides premium lightweight performance with all the features and technologies the most discerning anglers will appreciate.

Built with the tournament angler in mind, the Lew's Tournament Lite Speed Spool Casting Reel delivers lightweight, powerful performance you can count on when the stakes are high.
Tackle