Pro Spotlight: Mark Menendez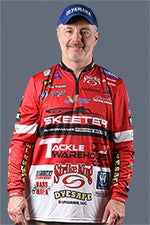 Photo courtesy of BASS
Name: Mark Menendez
Age: 52
Hometown: Paducah, Kentucky
Years Pro: 25
Career Earnings: $952,802
Current World Rank: 147
Favorite Technique: Jerkbaiting
Boat: Skeeter
Motor: Yamaha
Tow Vehicle: Ford F250 Diesel
Fishing Sponsors: Tackle Warehouse, Strike King, Lew's reels, Seaguar, Rapid Fishing, New Pro Products, Lowrance, Motorguide, Power-Poles & Navionics
Non Fishing Sponsors: Huntsville Hospital, Outdoor Friends Forever, Lucas Oil, Accel Graphics, IMC Regeneration & Optima Batteries/p>
Mark Menendez's Gear
Rods
Featuring super sensitive and powerful HM60 graphite blanks, the Lew's Custom Speed Stick Casting Rods deliver technique-specific performance tailored to a range of bass fishing applications.
Designed for heavy duty fishing a big baits, the the Lew's Custom Speed Stick Magnum Casting Rods feature premium HM60 graphite blanks with the hefty backbones you need.
Reels
Weighing in at only 5.6oz, the Lew's Team Lite Speed Spool Casting Reel provides premium lightweight performance with all the features and technologies the most discerning anglers will appreciate.
Tackle