Pro Spotlight: Mark Menendez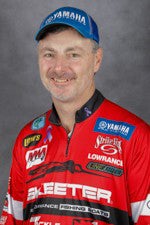 Photo courtesy of BASS
Name: Mark Menendez
Age: 47
Hometown: Paducah, Kentucky
Years Pro: 21
Career Earnings: $851,802
Current World Rank: 94
Favorite Technique: Jerkbaiting
Boat: Skeeter
Motor: Yamaha
Fishing Sponsors: Tackle Warehouse, Lowrance, Strike King, Lews reels, Power Tackle rods, BioEdge, Stay-N-Charge, & Gerber Legendary Blades
Mark Menendez's Gear
Rods
Designed specifically for fishing football jigs, the Power Tackle Football Jig Special Casting Rod delivers highly refined features and performance specifically suited to today's new style of extreme power fishing.

Precision engineered to excel at a variety of crankbait presentations, the Power Tackle Paragon Series Crankbait Casting Rods feature moderate-fast tapers, specifically suited to fishing reaction baits along with the premium components and features to provide long-lasting performance.
Reels
Extremely lightweight - weighing in at only 6.7-oz - the Lew's Tournament Pro Speed Spool Casting Reels offer fluid function and serious power in a compact, easily-palmable design.