Pro Spotlight: Steve Kennedy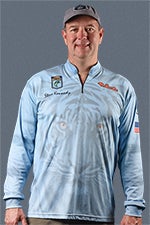 Photo courtesy of BASS
Name: Steve Kennedy
Age: 47
Hometown: Auburn, Alabama
Tour: B.A.S.S. Elite Series
Years Pro: 14
Career Earnings: $1.5 Million
Current World Rank: 52
Favorite Lake: Lake Sinclair
Favorite Technique:Fishing a Kinami Flash
Boat: Stratos
Motor: Yamaha
Tow Vehicle: Motorhome
Fishing Sponsors:
Steve Kennedy's Gear
Rods
The lightest, strongest and most sensitive rods that Kistler has ever created - the Kistler Z-Bone LEXF Casting Rods are Limited Edition, and feature custom blanks from Gary Loomis and North Fork Composites.
Reels
Tougher, stronger and more powerful than ever before, the new Shimano Curado 200 I Casting Reel lives up to the Curado's reputation of baitcasting excellence and reliability.

High speed, high power, high line capacity and low profile. The Shimano Curado 300E blends all of these qualities into one reel.
Tackle