Strike King KVD Sexy Frog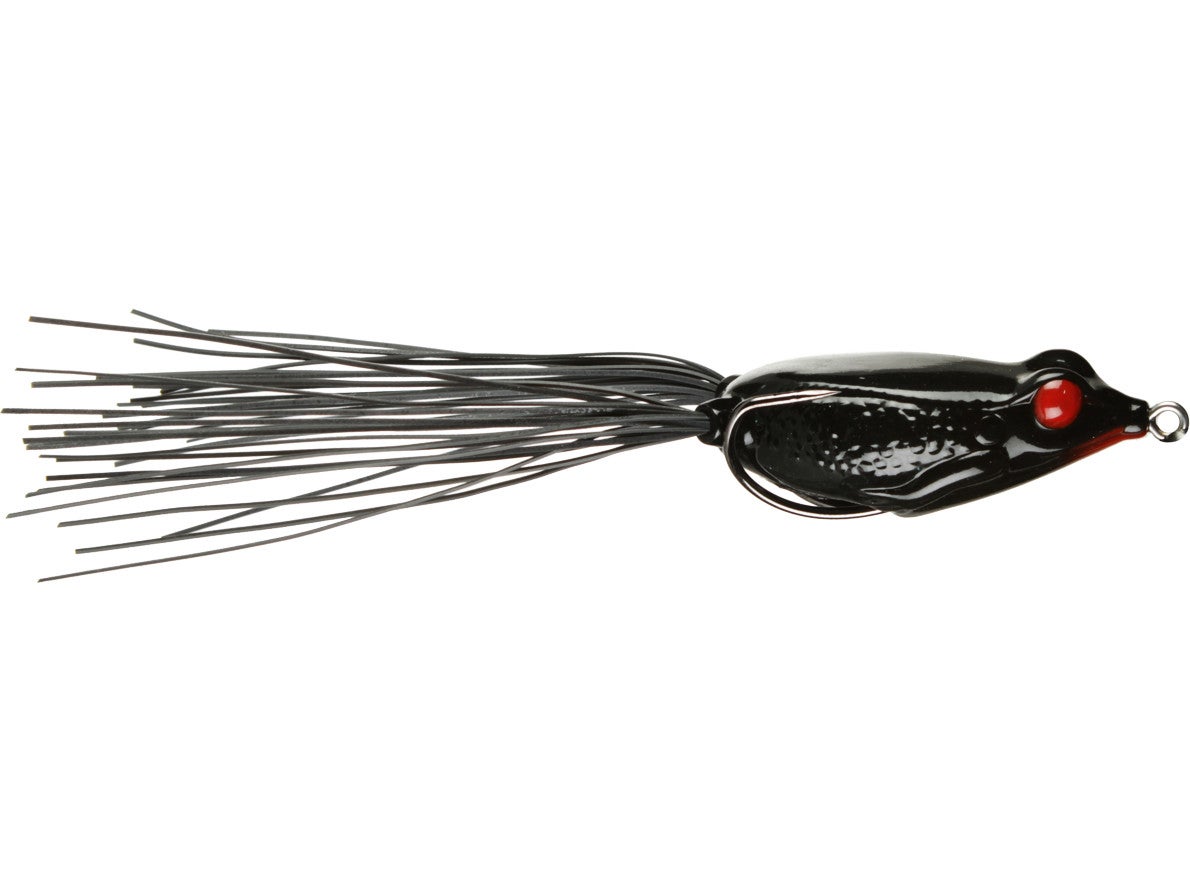 Please Note: No longer come with rattles.
Designed and approved by Kevin Van Dam, the Strike King KVD Sexy Frog is the finest, feature-packed frog-style bait ever from Strike King. Perfect for heavy cover and open water applications, it features a super sharp Gamakatsu hook, a soft collapsible body, and fully sealed nose to minimize water entry. Available in a range of proven colors, the Strike King KVD Sexy Frog has the looks and moves to tempt the big ones.
13 Colors
More From Strike King Frogs
Customer Reviews
Comments: My first frog and my favorite frog. I tried the Booyah_Pad_Crasher_Frog but I didn't get nearly as many bites. I would Def recommend.
From: Zack: New Smyrna Beach, FL 3/17/16

Comments: this is my favorite. My spro take water instantly. They all catch fish but this one seemed to out produce. As far as walking it I loop knot it and have no issues.
From: Eli: Chesapeake, VA 9/9/15

Comments: best frog out there. from the heavy cover to open water it walks great.only other frog i ues is a spro cause they have a popping frog. iv caught bass in 15+ feet open water walking the bait. awesome action and colors.
From: Dan: OR 9/2/15

Comments: I had been looking for these for a while and I'm glad I found them. I got black shad and emerald shiner. I rigged them up just like you would a live minnow and on my first cast I reeled in a nice 2-3 lb bass. Tossed it back out and nailed another the same size. Walked to the other side of the pond and reeled in two nice sized crappie. 4 fish landed in just about 30 minutes, not to mention the multiple strikes and failed hook sets. I fish a lot of different baits, but these are the only things I have they get ATTACKED every time out.
From: Derek: NC 9/2/15

Comments: first frog I owned & my favorite it's got a huge hole in it but it still catches fish so I don't want to replace it.
From: Eli: Chesapeake, VA 9/1/15

Comments: This frog is my favorite it beats out most on the market. i say most because i just bought a live target and i want to use all before i judge it. But as of now no other frog compares to the presentation, details, and i love the rattle in it.
From: Rick: Winter Park, FL 6/27/15

Comments: The Strike King KVD Sexy Frog in black is by far my favorite lure. I have caught fish all over the eastern United States with this awesome lure. It is a confidence bait that works. I never have issues missing a fish with this lure. I've caught 1 pounders up to 5 pounders and never had an issue with setting the hook. They choke it every time.
From: Brandon: Fort Knox, KY 8/15/14

Comments: If you're tired of missing fish on this frog, do these three things :
1) Bend the hooks up, and away from the body. The hooks are to low and they are to angled towards the body stock.
2) trim the skirt. It comes way to long stock. Trim it so that it is as long as the frog.
3) Most importantly, take the rattle out! A lot of times when you jerk or walk the frog, the rattle gets in the back of the frog. When the fish takes the frog it doesn't collapse and he never gets the hooks.

From: Riley: Brookland, TX 8/11/14

Comments: good frog the hook needs to be fixed I missed a lot of fish because of that and it always gets me mad
From: Hunter: AR 7/12/14

Comments: These frogs honestly don't look that bad in the water, Just trim the skirt a little. But the hook sets are bad on it. Miss tons of fish. Much better off spending the extra money and getting a live target, spro, or booyah pad crasher.
From: Michael: FL 6/22/14

Comments: Ive had good success with the frog when and only when I bend the hooks a little bit. I don't think its a softness issue as much as it doesn't seem to be as thick as the Spro or Ish's phat frog. There for intern not collapsing enough and not getting a good hook up ratio. I have not measured them but just visually it looks smaller in diameter. It may just be my eyes though... other then that walks and looks great.
From: Chris: Leslie, MI 6/17/14

Comments: Great Frog and great color selection . Only thing that I don't like is I have a bad hook up ratio m Fish kill this frog but I can't seem to get them to the boat .
From: Dylan: Rainbow City, AL 5/26/15

Comments: They walk great, look great, cast great, and I get tons of hits.... but my hook-up ratio is pitiful vs. the Spro frog. I'm going to make some modifications to the hook angles, but I don't have to do that with the Bronzeye.
From: Alan: Adairsville, GA 5/22/14

Comments: Hate this frog, plastic is too stiff, can't walk it well, and it just doesn't feel like a quality frog in my hands or on the water. It works and I've caught fish on it, but I have much more confidence in snag proof, koppers, spro, and jackall. Each one of those frogs out fish this one by a longshot.
From: Marcus: AZ 5/15/14

Comments: Strike king please redesign this frog. Rubber is hard, paints peels, hooks point in. Hookup ratio is terrible with this frog. Everyone says to bend the hooks but i shouldnt have to. My hookup ratio with the scum frog trophy series is almost 100%. I love strike king products but im gonna use scumfrogs till they change it or come out with something better. Also id like to see a little bit bigger frog with a super soft body. If it makes them a little more fragile then so be it. At least id know when i tie it on that if ole big momma comes up and eats it shes gonna be in the boat.
From: Derrick: USA 5/1/14
Comments: Great frog! Only thing is the hookup ratio.. The hooks are almost impossible to bend up! If you get this frog, I suggest you get a trailing hook! 4 out of 5 stars!
From: Landon: Ripley, MS
Comments: Great frog walks easy, sharp/strong hooks, good colors, decent price. Now the downfall the frog itself is pretty durable but the paint peels off after a couple good hits from fish. This frog allowed me to catch a nice 2 pounder along with the biggest fish of my life so far it weighed 7.1 pounds. that's all I caught before the paint fell off. would much rather get a spro frog instead. ***

From: Caleb: Demopolis, AL

Comments: Once you trim the skirt on this frog, It will walk like no other. MANY big bass on this frog as well as missed hook sets. I also caught a HUGE bullfrog that kept hitting it out of aggression. Overall a great frog.

From: Liam: Ohio, USA

Comments: This frog is the best hollow bodied frog I have used. It walks easy and catches fish. I have never lost a fish I hooked into.

From: Noah: AL

Comments: This is my first frog/top water purchase so I am fairly new to the frogging game. With that being said these are really easy to use for the beginners. I was walking this thing in no time. From subtle twisting to full on zig zag action. They are very user friendly and come in some great colors. And you can get them almost anywhere.

From: Sean: USA

Comments: These things are trash. I caught a nice 5 1/2 largemouth on one in the tiger black color, but thats the only thing it did well. After that ONE bass the rubber was torn beyond repair, and the hooks kept digging into the side of the bait. I had another one on me and that one has almost completely lost its finish after only about 3 bass. They catch fish, but so do spro frogs, and I have spro frogs that are going on their 3rd and 4th season and have caught 10 pound laregmouth on them and arn't torn up a bit. It's just not durable enough for a frog, but you will catch fish. I recommend trimming the skirt about 1/2 inch and it will "walk" better. But overall not impressed, and will not be buying again. For the few extra bucks just go with the spro frog, they also cast further.

From: Jack: CT

Comments: This is my favorite frog by far. I used a loppers and caught about three fish. Used a sexy frog and caught 5 fish. Plus a six and a eight pounder will buy more definitely!

From: Trent: IA

Comments: This frog it outstanding, its easy to walk, the colors are great it sits nice in the water and the fish just crush this frog, love this frog

From: Nick: USA

Comments: Decent frog ,but hard rubber ,you really need to bend the hooks out for a better hook up ratio.Glad I only bought one.

From: John: Winter Haven ,FL

Comments: I used this lure one time and i caught a 3 foot water snake, and a nice size large mouth. it was incredible

From: Nick: quakertown, Pa. US

Comments: Awesome action,look,and most importantly feel. Threw it out there and let it sit for about four or five seconds then started walking it. On the third motion a fish launched out of the water for it,turns out it was a four pounder and helped me win the tournament i was fishing in that day. for eight dollars you cant beat this frog strike king realy did a good job on the action and the realistic looks. will definitely buy more. PS:this frog will wear out your arm over about three or four hours,so use a long rod and put the butt in your arm pit and just use your wrist and forearm or you'l wake up the next morning and not be able to move your shoulder, like i did.

From: Caleb: Germantown, TN

Comments: Good Bait

From: Jim: USA

Comments: I have fished just about every kind of big name frogs out there and i respect this frog because of its price point, but only because of its prise point... They are good for the first couple fish then the paint just starts peeling off. These frogs have painted on colors, instead of actually rubber being that color. In my opinion one live target frog is worth three of these frogs. 10$ or 18$ ?? you choose.

From: Sam: Bemidji, MN

Comments: The sexy frog is awesome!! I went out to a local pond infested with lily pads, and boy did I catch some fish! I caught a total of 14 bass on it. I caught an 8 1/2 lunker on it! Great hook up ratio.

From: Zack: Fort Pierce, Fl, USA

Comments: I bought one to try it out and caught a couple of good bass In green pumpkin/pearl belly.Hooks are sharp,paint does not come off,durable,and just all around Amazing frog I gotta buy a couple more because a gator decided to make my frog it's dinner but amazing frog!

From: Alan: LA,(Lower Alabama)

Comments: I love this frog it is great!!!! I always catch at least a 3 pounder when i go out. This is a great bait and the paint doesnt come off!! Dont believe any of the other comments that are bad. This is a great bait get it in black, leopard frog, pearl white, sexy frog, spring frog, and green pumpkin pearl belly. Great bait dont go on the boat without one!!

From: Luciano: PA

Comments: These things are great!I've caught plenty of bass with them when the grass gets up in the summer. I found switching to something like a ribbit when the season switches to fall works better, but during the summer this thing is da bomb !

From: Chris: Kentucky Lake, TN

Comments: This was my first hollow bodied frog, and I was amazed at the vast amount of places I could get my bait. I was able to get bites in mats so thick, you could walk on them. My first time out, I was about ready to leave, so I was just fooling around, chucking it next to shore, and then thhis 7 lb bass came up and nailed it, Not expecting it , I missed the fish. I chucked ti back in there, hit it again set the hook, but not have braid It broke off, always frog with braid!!!! This frog is amazing, will order more in the copper frog color!!!

From: Mitch: WI

Comments: great bait. first cast wonder!!!!in the moss,beside the moss, it doesn't matter!! this frog out fishes real frogs!!!!!!!!!!!!!!

From: Jed: Gilmer, TX

Comments: This Frog is the best bait I've ever used for large mouth bass in florida. Brought it out with me today at a local pond and pulled out a 11 pounder! no joke, i swear! Along with 5 more 2-3 pounders. overall worth getting if you're looking for big fish! Your tackle won't be complete without this frog!

From: Brent: Florida USA

Comments: Great bait. Quite durable. Caught many good fish on them last summer when BooYah frogs were sold out.

From: Pat: CT, USA

Comments: These baits are really nice i use frogs quite often in mn and have caught many fish in the 5-7 lb. range on them. these stand out because of the rattles already installed in them and the nice color patterns available. the only problem with them is the tails are not as durable as spro, but i think they are nicer while they last in comparison. i wish they would come out with a popping frog series like the spro line. If you don't catch with this you will probably have a tough time catching with any hollow body frog.

From: Mitch: St. Cloud, MN

Comments: Strike king should stick to crankbaits. this thing is trash. buy the booyah pad crasher, which is a killer frog. this things paint chips off so easily and its just not as soft as the pad crasher.

From: Scotty: VA

Comments: Oh for Peats sake! I wonder where they got there colors from, let me think...SPRO! SPRO: inovative,quality lures designed by pros. Strike King:so UNinovative that they have to copy other companies colors.I'll go with SPRO.

Comments: Paint sucks and body fills with water. Want a good frog go with the Ish Monroe frogs by snagg proof

From: Nathan: Texarkana, AR

Comments: did not like dont get me wrong it does produce good bass but paint comes off easy and fills with water too much and after 3 bass the hooks bent outa place and now they stick out to far to the side so i keep catching weeds. go with a spro bronzeye!!!!

From: Anthony: Portage, WI

Comments: the frog is fairly descent only had frog for three days paint already off had one reaction bite in front of some catails would be nice if sk could improve the paint job a little overall good frog though

From: Nick: OH

Comments: this frogs suck they fall apart and the hook uo ratio are terrible and the paint peels real easy.

From: Jeff: Hemet, CA

Comments: Great frog, also very sharp hooks don't miss many bass at all.

From: Parker: IN

Comments: When i first fished this frog, it was amazing, but shortly after, it would sink every cast. Not sure if it was a defect or not.

From: Bryce: Orange County, CA

Comments: 3/5 okay at best i bought some right off the bat just because of the strike king name, but after actually using the product for quite a long time this summer and spring i'm disappointed in the actual performance, hard to collapse, tough to walk poor hook up ratio i'd stick with koppers,jackall,or deps,or spro

From: Louis: Green Bay

Comments: Very nice frog, nice color selection from Strike King. I have the tiger frog and the spring frog both will get bites but can be hard to get the walk the dog action fisherman like to see.

From: Brian: South Dakota

Comments: The best frog period. Very good hookup ratio. Only problem I have is that the plastic where the eyelet is rips and the hook starts to come out. Also the plastic rips on the belly where hooks come out. Not a big deal, easy fix. Stump jumper is the BEST COLOR AVAILABLE. SK needs a bluegill color. Also never sinks for me anyway.

From: Mike: Marion, IA

Comments: I use a frog every day from about mid april to November depending on the cold fronts. This year I have used 3 brands H20 (academy brand) Spro, and the strike kings. 1st all of them will take on water, it cant be helped.*super glue the around the hook ring* 2nd all of them have paint issues But I care not what the thing looks like on top that my friends is for the angler. I have not really found a color difference other than dark at night, light during the day, some shade of gray during cloudy days I color my own patterns with a sharpie after a few days. 3rd and most important to me is the strike/hook up ratio. The strike king hands down has put more fish in the boat than the other two combined. Yes I have lost fish on the SK but that has been my error in a whimpy hook set. In my opinion the SK walks a bit easier and I can really get this frog to dance almost in a complete circle on flat water with #50 braid not so much with #65 or #80, although with any type of chop they just dont walk as well, but that is the case with all frogs. After 4 months of solid use I have to say the Strike King has become my goto frog of choice...Begining Sept. 1st I will be trying out the River to Sea Bully wa frogs...as always your experiences may differ, I hope you find this review helpful.

From: TeamHooligan: Central TX

Comments: bought the tiger frog, works fairly decent. Missed 6 bass today, seems like it doesn't land fish like it should. Someone told me to try to bend the hooks up a little bit more, and this frog should crush. Ps it does sink after 10ft..

From: Derek: Monaca, PA

Comments: I've been using the sexy frog all summer with huge success. Missed a Huge pig(snapped my line) & caught at least 50 on 1 bait & I dont see the paint coming off at all. I can go out with buddies for 6 to 8 hours fishing heavy lilypads & scum & I would be the only 1 catching them. They were using frogs too but not by KVD. Highly recommend these.

From: Terry: Green Bay, WI

Comments: This frog is the bomb, it works great, I have caught over 50 bass with it this summer. The only thing that suck is the paint is wearing off! I wish it had a better paint job, but next years models better have paint that will last. I would still buy it again.

From: Jake: CDA, ID

Comments: No joke I have them in every color love them so worth the money

From: Patrick: USA

Comments: ONE WORD SEXY! THIS FROG IN SEXY FROG COLOR IS AWESOME ALL THE OTHER COLORS BLOW THE PAINT CHIPS!

From: Louis: LA

Comments: This frog is amazing, the hook up ratio is better than most frogs I've used, I cut my legs short so it walks easier. The hooks are sharp so you can hook them fast. The rattle in the bait is a good idea, i caught about 15 bass on it and it is still going strong. I have the Green Pumpkin/Pearl belly. I recommend to anybody looking for a nice frog.

From: Brandon

Comments: Great frog. the hook ratio is amazing and never sinks unlike spro. i got this frog yesterday and caught 1 nice bass and like 5 strikes. i recommend this frog for anybody that likes frog fishing.

From: Tommy: beaver Dam, WI

Comments: dont worry about the paint chipping like every one says it does it chips on the top majority of the time and the fish dont see nothin but the bottom! also the hooks on this thing are amazing i caught a four pounder on it today and when it jumped it missed the lure and i ended up hookin him in the belly since these hooks are so nice

Comments: The only reason this frog is bad is beacause before you even tie it on it is chipping i havent even caught one fish on mine yet and it has no paint dont buy it

From: Louis: USA

Comments: Really dig these baits, my 2 colors the Tiger and sexy shad are now my top producing summer time hydrilla bed baits. They hold up well after numerous large fish, great large fish hook up ratio, and really effective. Im now even throwing them well beyond the time of day one would expect to be throwing a frog. Just squeeze the water outta them every now and then and your good to go.

Comments: This frogs paint chips so easily the day i got it not even used it started to chip stick to spro and koppers

From: Louis: LA

Comments: I like this frog a lot more than i thought i would. After hearing both negative and positive reviews on this frog, i decided to try it out myself. Boy im i glad i did. I have caught numerous bass over 2 pounds, and one 8 pounder on this frog so far and it shows literally NO signs of wear and tear. Damn near bullet proof. its a great frog with a pretty good hook up ratio, but for some reason i like the booyah pad crasher a little better than this frog. Still, don't hesitate to pick this frog up.

From: Julian: Amherst, MA

Comments: This bait has a nice walking action and is easy to use

From: Geoff: MI

Comments: I was very skeptical of this frog being that the Spro has been my go to/confidence frog for so long. I must say that I am pleasantly surprised. I would have to disagree with most of the people who say it sinks (that's always been one of my gripes about the spro, it doesn't hold up well and it sinks.) The KVD held up well under heavy fire from fish in the 4-6lb range and never sank. I found that the KVD walks much easier than the Spro too. The only negatives for me are the color choices, no jr. size, and in my opinion, it's a little too hard...However, I threw the spro and the sexy side by side and caught 'em very well on each. And again, I write this review being an unbelievable huge fan of the Spro.

Comments: I got a good one. Well, several good ones. It does everything a frog should do. I wish it was a bit heavier though. But you can add in some weight to solve that.

Comments: as far as preformanc its amazing but the paint on the bottom is gone and it sinks some times but in the long run its real good

Comments: I have fished these frogs since the minute they hit the market. No sinking problems, the walk better and easier than spros, the legs/skirt don't twist on the inside and make the frogs butt "pucker" like spros. The paint does not peel of like spros, they use the same hook, and have a rattle, which if you don't like is easy to take out. Every bit as good as the Spro's, plus a little cheaper. No they don't have the color selection, but they have all you really need. These are my #1 frog now.

From: Brad: NY

Comments: I caught 9lber on this frog off the Lilly pads ,needed pliers to dig out the hooks . I didn't have a problem with sinking.

Comments: These frogs are like all of Strike Kings products. Some are great,some are fair and some are junk. Strike King has very little constancy in any of their product lines. Crankbait colors vary,split rings vary, and in this case the body texture varies a bunch.

From: James: Richland Hills, TX

Comments: garbage. i have a frog box with 4 to 500 dollars worth of one type of frog and thats spro!. theres no frog that will ever compare.

From: George: Lorton, VA

Comments: This frog is awesome, but some people have given it negative reviews. I think some are defected,and if so i got a good one. Hook-ups are awesome and i have not had sinking problems. Pick one up today.Comments

From: James: MN

Comments: This frog doesnt fill with water, but its like throwing a rock. The plastic is way too hard, and the hookup ratio is poor.

From: Boca, CA

Comments: There super hard. Not to great if you ask me.

From: Tony: Madison, WI

Comments: Recently picked a green pumpkin orange throat color and it is amazing. we were straight up catching fish cast after cast with no "sinking" problems. haha not. these frogs are fine.

From: Blaise: Peachtree City, GA

Comments: I have no confidence in the lure, first off it fills with water way too fast!! I have been fishing scum frogs and I have been looking for new frogs due to the design and the hooks digging into the body causing the bait to be worthless and providing poor hookups. I thought the KVD frog would be great, after viewing his video but I have to give it a very poor performance rating. I will not be willing to spend more on the Koppers live target frog.

From: Brett: Rochester, NY

Comments: Ok, lets be honest here. How many times have we seen KVD in first place VIA a frog.... Just a name to put on a frog to help move them. Stick with SK crankbaits endorsed by KVD... they work.. otherwise, if you want a frog, stick with the trusty scum frog or get a Koppers. Ish Monroe is the guy to get frogs from.

From: Matt: Iowa

Comments: Disappoiinted KVD indorses this frog, it sinks, the hook up ratio is poor hooks constantly embedding into the plastic which prevents hook ups. I am sticking with spro, it has proved itself

From: Kim: Resse, MI

Comments: Junk. Will not float. Stick with a Snag Proof.

From: Lane: AL

Comments: It sinks, which is no good. Spend 3-4 more dollars and get a kopper frog.

From: Leng: Siloam Springs, AR

Comments: This frog is nice but it SINKS. According to KVD, it doesn't sink but if you let it sit for a while it will sink. Guess I'm going to be using it like a carolina rig.

From: Burt: CA Delta

Comments: Best frog I have fished so far, and I've fish them all. Walks great, doesn't fill with water, and it's the most durable forg I've fished. Last weekend I caught at least 40 fish on one bait and it still looks new. The finish doesn't wear off like it does on the Spro's. I'll be filling my box with these frogs from now on.

From: Eric: Milwaukee, WI

Comments: i live on a lake where frog fishing is unheard of. which is why this is my new secret weapon!!! we have shoreline water willows but no hydrilla or mats of any kind but i catch tons of fish on this frog. sits low in the water so hook up percentage is high. cant wait to throw this in the fall after they draw the lake down for winter and the bass key on the shad! ps trim the legs 3/4" and it will walk like a zara spook

From: Wade: Lincoln, AL

Comments: It sinks, have two of them and they are garbage, buy a Koppers Frog. Did like the rattle, but you can't walk this frog very far before it is full of water and sinking.

From: Mark: Sarasota, FL

Comments: The frog overall is well built. Some people are saying that the frog dives underwater I have yet to have that happen. I do not think this is a great open water bait. Would be best used in lilly pads or some type of cover. Not enough action for a open water bait.

From: Kevin: MD

Comments: This frog is not totally weedless when fishing slop but the hookup ratio is almost 100%. You can either have totally weedless with a worse hookup ratio or not totally weedless with a good ratio. Guess it depends what your fishing in. Rattles are awesome!

From: Garrett
Comments: The frog has a good look in the water. But I don't care for the way the hooks lay on the body, they seem to get snagged a lot more than other frogs, When will some one remake the Donkey?

From: Jason: Grant, MI

Comments: I used this for the first time today after first getting many strikes on a Spro Bronzeye 65. Perhaps I'm fishing this SK frog wrongly but I didn't care very much for it. I threw it out and it started sinking. I reviewed the Icast 2011 video clip that KVD made and he said this was one frog that would not sink...his exact words, "This one here isn't going to be sinking." I must be missing something. I think I will stick to the Spro until I discover what I'm doing wrong.

From: Rod: MO

Comments: Awesome!!!!! This is by far the best frog on the market today!!!!!

From: Kenny: Oaland, TN

Comments: Just got this frog in. Fished it today and it is a amazing frog! Great looks, and it sinks a inch when you rest it. Very realistic!!

From: Calvin: CO

Comments: Awesome frog caught my biggest bass so far of the season and i used the black one.

From: Chavez, NM

Comments: not a bad frog, only used it a little bit but i think it sinks to fast compared to the other ones. its good if you want to cast to shore and then reel it back in, but if you want to jerk it back all the way to you it wont work because it will start to sink so think it fills up with water to fast, not a bad frog though

From: Matt: IL

Comments: this frogs great it skips better than any other ive tried. if you walk them fast enough they ocatoinaly dive a few inches then surface again after about a foot thats way more realistic than a frog stayin on the top for 40 feet think about it they dont ever do that they go down just a little then come back up. i have to say that every thing kvd designs is for the most part like other brands but he make it do something eratic here anthere dont know how but its def my new favorite frog. and there a little cheaper thats always a plus. as great as these are im still keep the spros handy there good to and a little tougher than these stock up on both

From: Michael: Newbern, TN

Comments: BOMB! they skip great!

From: Karl: IL