Strike King 10XD Crankbait - $12.99

Phil Marks, one of the head lure designers at Strike King, recently caught some of his key fish with the Strike King 10XD Crankbait to take home the victory and $125,000 at 2012 FLW Tour Open on Sam Rayburn.
A behemoth of a deep diving crank designed for targeting the biggest bass, the Strike King 10XD Crankbait measures in at 6-inches in length and easily hits the 25-foot mark on 14-lb fluorocarbon. It gets you in front of fish that you previously couldn't reach with a crankbait, and also casts and pulls surprisingly easy for its size. Available in a range of colors, the Strike King 10XD is what you need when money is on the line - and you need that kicker fish.
"The whole deal with the 10XD is that its size, depth capability, and action appeals to big bass. It catches the grade of fish that win tournaments and stories are told about," said Phil Marks. "It is perfect for situations such as what I faced at Rayburn. I knew that there were big bass in the area that I was fishing and I knew that I needed to catch them in order to win. The 10XD will do this for a lot people at a lot different venues in the future."
| | | | |
| --- | --- | --- | --- |
| Strike King | Length | Weight | Diving Depth |
| 10XD Crankbait | 6" | 1.92oz | 25ft Plus |
Comments: Just caught my new PB of 9.8 pounds yesterday using the Bream color. Gets down deep when the bass are suspending and has worked very well for me during the Summer here in Southern California. Also caught a couple of catfish on it -- a 4lb and a 10 pounder!
From: BB: San Diego, CA 8/9/14

Comments: If you haven't tried these you are missing out. Great bait....always been a big strike king 6 xd fan, caught a ton of fish one them. Working a Kentucky lake ledge this week when we found a good school, started picking up some on big worms. Had a 4 pounder spit out a big shad in the boat while I was getting her off the hook, so I picked up the 10xd and it was on....lots of big fish, 6lbs+ over the next few days and all on the 10xd.
From: KT: Milan, TN 5/29/14

Comments: I was long lining during a college tournament on Chickamauga Lake with this bait getting it down close to 40 feet. I had several people sitting on the same ledge as me. It was clear that the extra depth I was reaching with the 10XD helped out a lot. I kept reeling them in as boats came and went. Even got a 12 inch. spot with this bait!
From: Will: Cookeville, TN 3/12/14
Comments: Tournamen practice day, on my third cast a 4 pound 2 oz, and we leave that spot.... on the first tournament day, on my first cast a 4 lb 10 oz, and after that another 3 with the 10XD, the last one was caugth with a senko for a total of 22 lb 9 oz (a really good weigth for this part of the country)these lures Works great!!!!! I'm using a Dobyns Randy McAbee 805 paired with a curado DPV and sunline superfluorocarbon 14 lb, and I was hitting bottom at 27', these lures are a Little bit heavy, but on the retrieve they're not as hard as I think... Anyway, great lure and they work!!

From: Alejandro: Torreon, Mexico

Comments: These are great crankbaits I have not hit 25 feet even on long cast it gets close though the fish love them even the little ones. Also they really don't pull any harder than a 6xd I throw these on a Dobyns 805 CBRM and it handles them great.

From: Lance: Livingston, TX

Comments: Both days of the Triton Owners Tournament on KY Lake I had a few fish I needed to cull late in the day and I said to my partner the fish I need now will eat this 10XD. I came in 3rd place with over 41 lbs and the 10XD played a vital role in upgrading each day. Doesn't pull any harder than 6XD, love it.

From: Mark: KY Lake

Comments: Caught my fourth 15 pound largemouth of this crank bait. BoooooM (used a pro grade scale to weigh it)

From: Tyrone: Conway Chain Florida

Comments: I fished this crankbait on Memorial day at lake fork. It will definitely pull and wear you out, but it is a big fish lure. My biggest 5 went for 36 pounds.

From: Calvin: Houston, Tx

Comments: Really big crankbait in size but doesnt pull much more than a 6XD. I'm more of a jig and Carolina rig guy offshore, but I do lik throwing this thing cause you never know what size fish your gonna hook into. Splatterback is a good color.

Comments: If your a cranking man that like to dig the depths this is the lure for you. True Manns had a lure close to this but to me they are worlds different. People complain cause they cost 15 buck big deal a Alabama rig costs that so do big swim bait. Dont knock till you try and yes a great big bass lure

From: Chopper: Spartanburg, South Carolina

Comments: I bought one of these but I have not had a chance to use it yet. From a look and feel stand point it is comparable to my SPRO Little John Deep Diver in length and width as well as finish. It seems to be a quality built bait with better finish, rings, and hooks unlike the cheaper Strike King baits. I will update once it hits the water a few times.

From: Soua: Florence, Kentucky

Comments: Big bait , No doubt! I thought it would be bigger though( Maybe that's my Salwater roots coming out)... I love Ledge Fishing with this dude! KVD 2/0 Trebles and you're set. I want to see a KVD 5.5!!!!

From: Rusty: TX

Comments: anyone who deep cranks knows that this bait is no different than the manns 30+ other than being a little more slender and 1/4" longer I personally use both so I am not biased or favoritive of either bait

From: David: Lexington,NC

Comments: 10XD is amazing, been throwing them since they first came out. Everyone seems to complain about the size and cost. $15 is nothing in lures, we all know this. A little high for SK, but it is also a lot of bait, and of course marketing. I've caught fish every day that I have thrown this lure, and it works for all sizes of bass. I've caught them from 2 lbs to 8 lbs so far. Great lure, runs true, and really dogs up the bottom. You don't have to throw these in extremely deep water either, try dredging them in 10-12 feet, and you will be amazed. Also, pair this bait up with either the Halo deep cranking rod or the power tackle swim bait rod and they throw them beautifully. Hope this helps, and until you can come up with your own lure company, and figure out how to make a lower price point on a bait this large, quit complaining and go out and fish.

From: Daniel, TX

Comments: Yall always think Texas when you think of big bass. Well let me tell you something Guntersville Alabama hosts some hogs too. Barfish is the best.

From: Blake: Hazel Green,Al

Comments: It's Strike King enough said. How many tournaments won on the 5XD and 6XD and this week at Falcon too. Like already stated don't buy let us and out fish all you doubters....Late!
Comments: The body is big but not the lip - I think this dives probably about 23ft - or maybe 30ft with dragging. I wish they make something with smaller body and bigger lip to dive more, avoid snagging better. The size is about 20% bigger than Mann's 30+ but dives the same depth. So, my opinion is, it is better to buy Mann's 30+ that is only about $6. $15? Sorry, this doesn't worth the price. If you can afford the price, I rather wanna buy Evergreen Gold Digger - that's the best deep diving big crank on the market.

From: Sid:NoCal

Comments: I personally love this thing it is giant i bought 2 of them 3 weeks ago.I only hope that they come out with a squarebill version just as big i could use a SB one more plus it would be a good musky and pike plug too.

From: Tyler: Susquehanna River, PA

Comments: I never write reviews or even pay much attention to them for that matter but for some reason I am so here's my two cents. I live in the southeast where we fish lakes like Guntersville and Pickwick and for SK to be rated so poorly among most of you haters explain to me why so many tourneys are won on these lakes with SK's "cheap" baits. No this bait isn't for everyone but if you fish offshore structure you gotta have it. Face it we've been forking out 15$-20$ for Luckys for years so what's the difference? All you farm pond fishin haters need to keep ur comments to yourself until you throw one of these things, they're awesome.

From: Devoted Angler: MS, USA

Comments: I WOULD LIKE TO TAKE THIS TIME TO SAY THANK YOU SO MUCH STRIKE KING AND MR.KVD FOR SHAREING YOUR PROFESSTIONAL SKILL'S IN MAKEING A CRANKBAIT THAT WAS DONE WITH TIME AND EXPERT SKILL'S.I DID HAVE ENOUGH MONEY TO BUY JUST 1 CRANKBAIT SO TO LET STRIKE KING AND MR KVD KNOW IT WAS MONEY WELL SPENT.I HAVE NOT HAD A CHANCE TO USE IT YET BEING THAT THIS IS IND WATER AND IT IS STILL FROZEN.AND I FEEL IF MR.KVD IS USEING IT I KNOW IT HAS TO BE THE BEST SO TO STRIKE KING AND MR. KVD GAME TIME THANK YOU AGAIN NATHANIEL IND.

From: Nathaniel: Indianapolis, IN

Comments: I like the patterns not crazy about the sheer size of it .. No Florida Strain Pigs here , jus Northerns . Anyway I honestly catch all my Pigs in the Spring ... FROM THE BANK SUCKA .. I have a boat also js no need for it in Springtime really . Quit complaining about the price , or go buy a a couple Bandits n call it a day ..

From: Adam: Jersey, USA

Comments: These big cranks arent for every lake or every angler. They will be best in Texas and especially at Falcon. Watch the Elite series guys get em on these and the other new monster cranks out.

From: John: Lakeland, FL

Comments: Good Lure..it cast a mile and digs the bottom at 20 ft and has good hooks. I caught several bass ..the largest was 6.30 Lbs. This is a "Big Bass" lure that covers a lot of water.

From: Bud: Crockett, TX

Comments: Let me get this straight. You have a $50K bass boat, $2K in rod and reels, $3.50 for every gallon of gas you burn, etc.... and you want to complain about a $15.00 lure? What the hell's the matter with you. Go ahead and put on a worm and hit the bank catching the little dinks, while the rest of us catch monster bass with the new 10XD.

From: Greg: Broaddus, TX (Sam Rayburn)

Comments: Seen these at Dicks for the first time this past weekend and they are HUGE. Before someone write "it says 6in", Yes I know. But, seeing these lures in person did them justice. Personally, I wont be buying any at $14.99 (12.99 at Dicks) the paint applications sucked esp on the Barfish it kinda of looked like they used a bad scanner from the 90's to apply. Just not my cup of tea, but I will be interested to see how others perform using them.

From: Rob: MD

Comments: im lucky enough to get these types of things before you all even see the picture and in 2012 i didnt do sh!@ for me!!!!! and dont say i dont know what im talkin about! the only reason it didnt help me is cause is barely gets down to 20 foot on a far cast with a bb1 and 8 foot crankin rod probably the worst judge lure so far if you are any good though you can scroll and get that thing down 35-40 foot with a 175 yard cast! i woulnd buy it id stick with a jig out past that 20 mark but thats me

From: Lewis
Comments: Man you guys are either cheap, cranky, or just jaded. I have never had a problem with SK baits. As for the price, maybe you do not grasp the size of this thing...it is 6" long, and 2oz. I am going to buy 2 and see how they work before I start complaining. If you don't like the price, don't buy them. For me, I can't wait. I love deep cranking.

From: Peter: Cleveland: Ohio

Comments: this bait is awesome been throwing it for about a month

From: Nathan: IN

Comments: one word... Crankzilla.

Comments: Anther New game changer?Maybe,It was the alabama rig last year this year its going to be gianormous crankbaits,Similar to a huge swimbait but will be able to entice rod jarring reaction strikes,Just like the A-Rig its not a miracle lure but will have its time and place,Now companies are going to copy and recopy each other ,like it always goes(Ive already seen lucky crafts version the SKT Magnum).As for the price 15 bones is a bit much for a strike king bait(3 times what a 6xd costs). But it is the latest and greatest and anglers will flock to stores and order online(me myself included)to get there hands and one. Time will tell if these Huge things are worth the money or just another waste of space in tackle boxes(In this case a Huge waste of space,I mean this thing is monsterous)

From: Vaslim: VA
Comments: I got lucky and happpen to know a guy that can get baits before everyone else so I have been using this for a little while now and I have natural bream,tennessee shad, and black back/chart and have caught some real pigs on these baits but you may cacth only 1 bass a day and if you fish in a lake with pike/muskie in it you will cacth 100 pike before you cacth 1 bass but the bass you cacth most likely weighs 7.5lbs or larger so it cacthes bass and some real monsters but not as often as you'd like overall a good bass lure but a better pike lure.

From: Seth: VA

Comments: A 2oz Crank? This thing is huge! This bait is going to rock.

Comments: and here it is!! game changer!!


***Note: If you have questions about this product or need assistance with an order please email your questions to info@tacklewarehouse.com
Color:
Barfish
View Large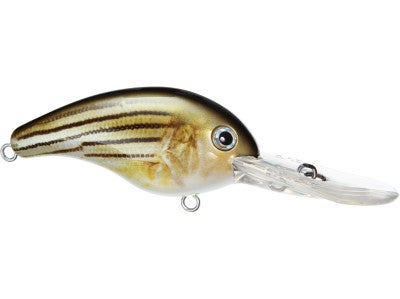 More Strike King Hardbaits