22nd Century Triple Trout Bluegill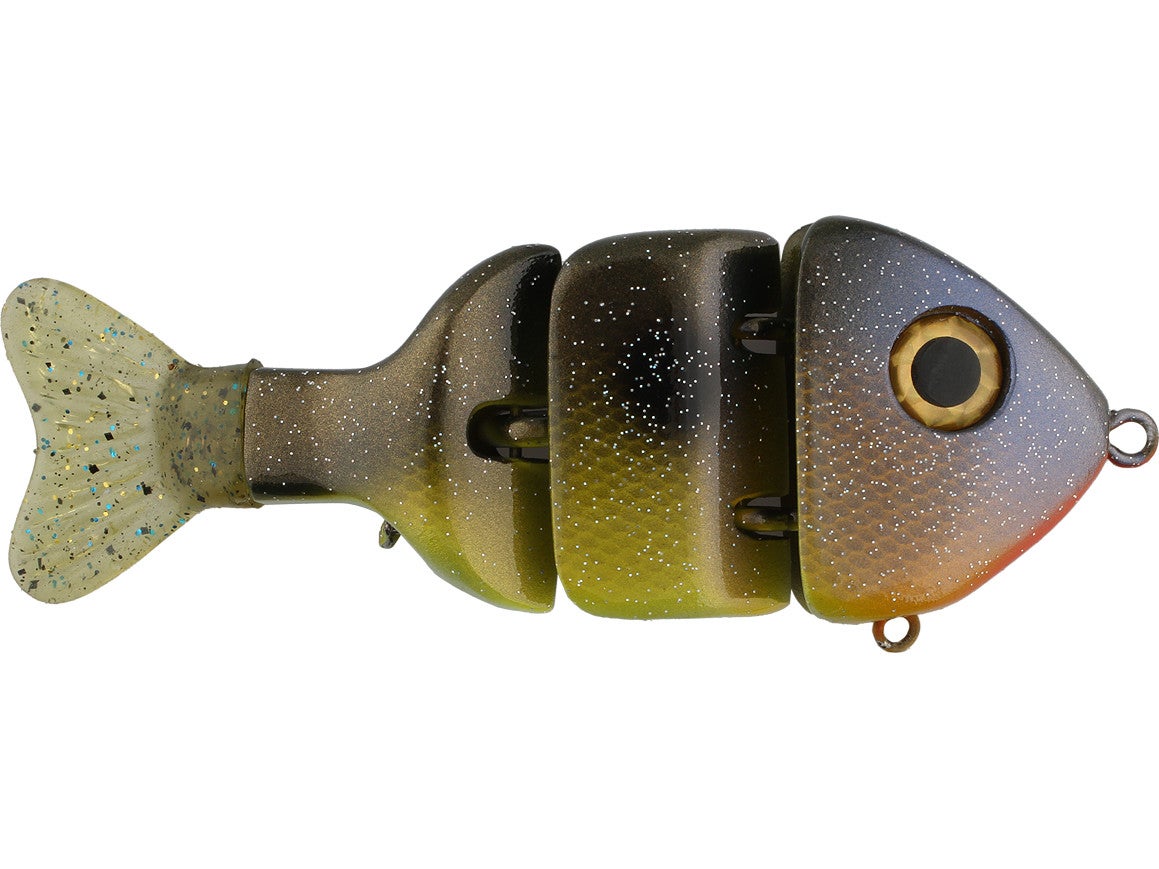 The 22nd Century Triple Trout Bluegill delivers a realistic bluegill imitation with its detailed finishes and life-like double-jointed action. Burn it back to the boat or swim it super slow, the Triple Trout Bluegill consistently runs straight and true like all 22nd Century Baits. Also equipped with not one, but two treble hooks, the 22nd Century Triple Trout Bluegill offers a much better hookup ratio than similar baits with only a single treble hook.
| | | | |
| --- | --- | --- | --- |
| 22nd Century | Length | Weight | Class |
| Bluegill | 5" | 1.75-oz | Slow Sinking |
1 Colors
More From 22nd Century Swimbait Company Swimbaits
Customer Reviews
Comments: Great bait! Catches bass all over the place. However it does swim better if you remove the rear treble hook. Then it wont fowl up that easily.
From: Scott: TX 2/24/15

Comments: Don't have the looks but swims like a dream and catches fish. Great lure. Worth the money!
From: Carlos: CA 6/15/14

Comments: first off I LOVE my 6" & 8" triple trouts, they catch everything. However this bait,it has a nice action on the retrieve but as soon as u kill it it turns to crap,it folds up and looks like shat on the drop. Just a jointed bait all bunched and folded up on the bottom of the water,absolutely no true life like action on the fall when u stop it, go check out the southern swimbait video of it and ull see what I mean. But don't get me wrong I am a fan of triple trout just not this gill version. If you want a gill bait or a swimbait in general that looks amazing both during the swim and when u kill it check into the roman maxes or the new bettencourt dying gills. This to me I don't like at all I traded mine for regular triple trouts. And agree with the detail on this is,looks like something you make in jr. High wood shop class lol.

From: Brenn

Comments: if you own one of these awesome baits better keep it because you dont buy them easy fish catcher and the value of the bait never drops if u want to sell it later very good investment

From: rive-rrat: GA

Comments: Got this lure from the BassCollege! Tried it and cant wait to buy more!

From: Tyler: Timonium, MD

Comments: I have to agree,this bait truly lacks the detail,it swims good,but this is something I can make with a bandsaw and sander for a lot less then $65,ill stick with tylures bluegill swimbaits,half the price and 100x's the detail.

From: bassboy: IL

Comments: My Nate's swimbaits all have chips from the segments clacking together when I burn them over grass beds. They are decent but far from 'bomb proof.' This gill is at least as durable as anything from Nate.

From: David: Austin, TX

Comments: im calling b.s on lake rat...nates baits are made from a nearly bombproof composite like cl8 baits and jsj swimbaits.i think ur nose is growing lake rat.

From: ham: deep south

Comments: this little bait is a flat out fish catcher and unlike other baits they don't break and last a life time made a lot better than anything made by natesbait I've boken everything nate makes there cheap baits

From: Lake Rat: Castaic, CA

Comments: this is a quality swimbait don't get me wrong...but..its along the same lines to me as a nates baits bluegill,except the nates baits gill is a little cheaper and looks a whole lot better (like a real gill-sunfish)unlike the 22nd that just looks like a swimmming fish shape,face it this lure has no detail to it,that's why I choose my nates bait gill over this,check em out.

From: Steveo: USA

Comments: This is an amazing bluegill swimbait. This bait swims really well and hooks big fish! I would highly recommend this bait to everyone.

From: Ron: Trabuco Canyon, CA

Comments: really nice, but you minus well just pick up some bbz 's since it's cheaper. The price is a little to high for me.

From: Hank: New York