6th Sense Crush 50X Squarebill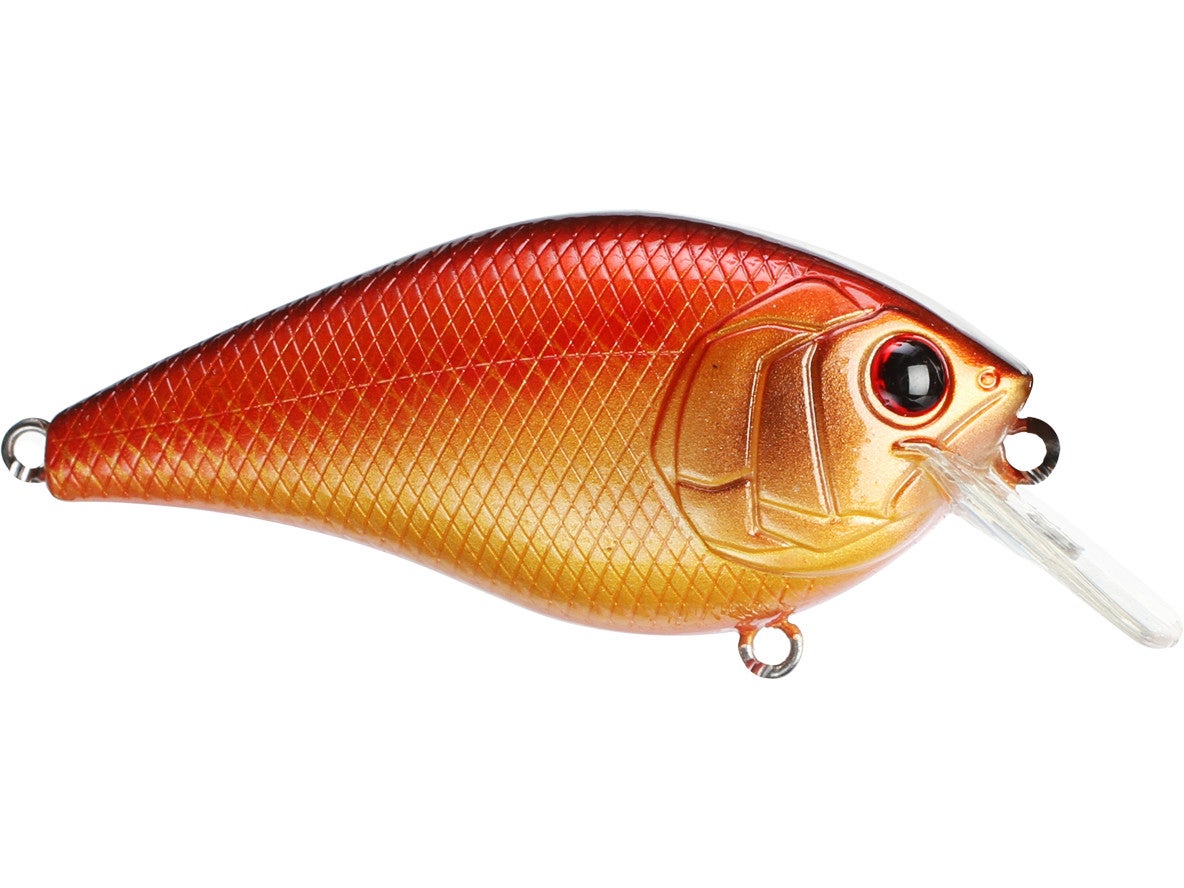 The 6th Sense Crush 50X Squarebill Crankbaits are designed for crashing thick shallow cover, ripping out of grass, cranking rocks, or just burning in open water. Designed to dive down to 5 feet in water depth, and fitted with sharp VMC black nickel treble hooks, the 50X Cranks feature a fast wobbling action and deadly deflection capabilities generate violent reaction strikes. They also have a faint rattle chamber that creates a light knocking sound to provoke strikes without spooking fish, and it's ideal buoyancy allows it to back out and float out of snags. Available in a range of colors, the 6th Sense Crush 50X Squarebill Crankbaits' premium paint schemes, complete with realistic 3-D gill plates, 3-D eyes, and 3-D scales, really bring these baits to life.
| | | | | |
| --- | --- | --- | --- | --- |
| 6th Sense | Length | Weight | Class | Depth |
| 50X Squarebill | 2.25" | 3/8oz | Floating | 2-5ft |
29 Colors
More From 6th Sense Crankbaits
Customer Reviews
Comments: Great looking crankbaits! Absolutely beautiful paint jobs quality wise better than the kvd square bills. Only con is the hooks in my opinion. Will he changing them out to Gamakatsu ewg's. But all around beautiful quality cranks
From: Tony: Bronx, NY 5/4/16

Comments: Excellent lure! I fish these with full confidence if the conditions require a square bill. They run slightly shallower than a Strike King 1.5. I'll use the Crush 50x in 6" to 4ft of water. The hooks do the job for me too. I really like the colors options compared to some of the other leading square bills.
From: Adam: Nashville, TN 12/26/15

Comments: Fantastic crankbait, interestingly enough, this was the first square bill crankbait that I'd ever used. This bait has it all, great action, nice paint job, and great deflective capabilities. It also has a hunting action built into the bait meaning that it will twitch from side to side during the retrieve, triggering more strikes. The only real down side is the stock hooks that come with the lure. Overall, great bait, and in my eyes, is the best square bill crankbait around.
From: Cam: NH 9/18/15

Comments: These are very realistic and beautiful baits. Super buoyant with a nice wide wobble. They deflect off cover well. I don't think they get down to 5ft though, at least not quickly. I agree with some of the other folks posting about this bait that the hooks are sub-par. I've had a few come after slamming it pretty hard. overall a good squarebill. Give them a shot.
From: Brandon: Fort Knox, KY 5/12/15

Comments: Bought 3 of these baits and have been very disappointed. I can't get them to run straight. I heard good things about them, but the results were not there. I would not recommend them.
From: Robert: Richland Hills, TX 12/11/14

Comments: I love the colors that 6th Sense offer and so far the Chartreuse Pearl really produces. In the water it flashes white and looks really nice on the retrieval. The hooks however are really bad. Out of the box I have already broken one of the shanks on the front treble hook, so I will be replacing them with a better quality hook. The lure will also roll on its side if the eye ring is bent or not set correctly. Overall I am pleased with this product results but a better quality hook and eye rings would bump this lure up a star.
From: Yakenstein: Hickory, NC 10/31/14

Comments: I purchased this bait a few days ago and I tied it on. Probably the best decision I have ever made in my life. Idk if you have ever caught 3 bass in the double digits in 2 hours but this bait did that for me. Amazing color choices and the hooks on these are great! I love the one knocker rattle. Idk what it is but it produces big fish! And after using it all day and catching lunker bass, trees, and rocks, praying that I wouldn't lose it, this bait still looks brand new like it just came out of the box. Great bait. Decent price point. Nothing but great things to say about this bait. Love it!
From: Dylan: Lake Isabella, CA 10/6/14

Comments: Got a couple of these and I only used the one, but the crank bite was on and I caught a bunch on it a few came unbuttoned. Sharper hooks wouldn't hurt, but I was overall happy with the durability, ran true, and color selection will be adding more.
From: AJ: Maumee, OH 7/5/14

Comments: Great crank, save yourself some heartache and throw some mustad triple grip hooks on it. 3 pounder slammed chartreuse pearl on the first cast and came unbuttoned.
From: Erik: Lake Wylie, NC 6/30/14

Comments: great looking bait, runs true. Not durable at all.
From: Matt: Oakley, CA
Comments: These baits are great! my first cast with this bait I caught a 4lber on the wild blueback herring color and on the same day caught some 2-3 pounders and another four, my favorite square bill by far
From: Tyler: Orlando, FL
Comments: Best crankbaits I have ever used. Runs true right out of the box and is almost as buoyant as balsa which helps your deflections and if you start getting hung up it will usually float up off the cover. Can't beat the color options!

From: TX
Comments: Great durable cranks. Run true, decent hooks. Some of the paint jobs look like a 2 year old used a sharpie to add accents but still a good durable crank. I use them and have done well in unpressured water. If they made these silent they would be deadly!

From: Steve: NJ

Comments: have ordered a several custom paints from 6th sense including the crush, and the 110 they used to have. don't know what happened to that one. the paint quality and scemes are unreal, and he painted up some 110's for me that were nearly identical to the super hard to find 2001 MB 110's. will continue to use these baits

From: Jeff: NJ

Comments: Man im a squarebill fanatic and about a month ago i picked the live thread fin shad color up and i new i should of bought a bluegill one and the ballistic sunfish one but i didnt and now there sold out everywhere.I cherish the one i have but i would really like those other colors....it would be nice to no when or where i can get them....grea plug

From: Tyler: susquehanna river,PA

Comments: Been Fishing Casey's baits for a few years now, since he was just doing repaints. His painting is excellent and the Crush is one of the best plastic squarebills on the market. Check out his deep diver too, I bet it becomes a staple for deep cranks.

From: Chris: Raeford, NC

Comments: Best squarebill - others dont even compare. I'm a squarebill fanatic and this is my favorite; can definitively say that this is the best of them all. The Bluegill and Gizzard Shad patterns are extremely accurate representations of2 of the most prominent forage species down here. I especially love throwing the bluegill pattern when bream are on beds down here. The action that this bait gives is superb. Also, the blue-truce color works great in really dark -stained or turbid water.

From: Dan: FL

Comments: One of the best shallow cranks on the market! The Live Baby Bluegill is awesome in lakes where bluegill/sunfish are the main forage. They are similar to the KVD 1.5 and the Luck E Strike Series 3, but for some reason, this bait has caught more fish for me. I caught four for about 20 pounds in about an hour in late September on the Live Baby Bluegill. Give these baits a try!

From: Stan: Southeastern PA

Comments: Recently purchased several 6th Sense crankbaits from TW. First trip out , I caught a baker's dozen in an hour and 15 minutes. They hit it very aggressively. Nice action and quality. Will be buying more! Thanks Tackle Warehouse for making these available!

From: William: Germantown, TN

Comments: great lure!! been fishing fall patterns in texas with the shad color and some darker water with the candy color and been doing great !!

From: Abby: TX

Comments: Hands down the Crush 50x is the best Squarebill on the market for shallow power fishing. No need in changing hooks out or tuning. Tie it on and start putting fish in the boat.

From: Chance: Hardin, TX

Comments: Just a great squarebill love the tight wobble. Fish come up and SMACK this bait. caught a 3 pounder and broke off an 8 on the hookset but the bait itself had no problems. I like the ballistic sunfish and live gixxard shad color

From: Tanner: Greenville, NC

Comments: awesome squarebill for fishing around hydrilla and coontail grass. The tighter wobble really helps it snap free a lot better than others. And the color schemes are second to none

From: Ben: TX

Comments: Best Squarebill EVER! Knew it wouldn't be too long before the secret was out!

From: Rusty, TX

Comments: 6th Sense lures are awesome! Been using them for awhile now. Their paint schemes are some of the highest quality available. Consistent fish producers; just look at some of the tournament results from Sam Rayburn over the past couple of years.

From: Doug: Huntsville, TX