Ardent Apex Elite Casting Reels - $149.99
Weighing in below 6-ounces, the lightweight Ardent Apex Elite Casting Reels aren't lightweights when it comes to power. Battle-tested catching huge Lake Amistad bass, they feature a rigid, high-strength aluminum frame that won't bend under pressure and a solid, lightweight carbon fiber swept handle with EVA grips for maximum cranking leverage.
Loaded with 13 ball bearings (12+1), the Apex Elite's stay smooth for the long haul, and deliver the fluid casts and retrieves you'd expect from a tournament caliber reel. The Deep V 6061 T6 machined aluminum spool also delivers increased line capacity, while also helping to reduce weight, and the externally adjustable 270-degree magnetic brake system allows you to make quick adjustments on the water. Hard to beat for the money and hard to beat on the water, the Ardent Apex Elite Casting Reels deliver Elite level performance.
-High Strength Aluminum frame
-Deep V 6061 T6 machined aluminum spool
-Carbon Fiber swept back handle
-EVA grip knobs on handle
-270 Degree Mag Brake system
-Swept back forge aluminum star drag
-Backed by a 3-Year Warranty
Weighing in at less than 6-ounces, the Ardent Apex Elite Casting Reels offers top-of-the-line, compact, powerful performance with a host of advance features.
View Large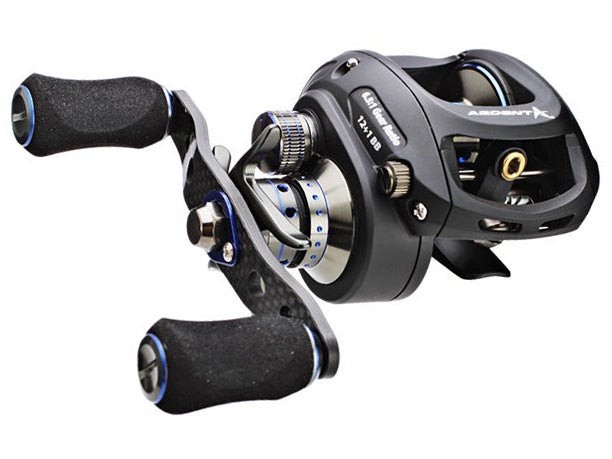 Place Your Order
More Ardent Casting Reels
Comments: By far my favorite reel I've owned. Ardent makes high quality products for an extremely affordable price. The Apex Elite has the castability of a $300+ reel with a wallet friendly price tag. I've used it for casting and flipping and I've never had a single issue. It's extremely lightweight so it won't wear you out after an 8-hour tournament. With a 3-year warranty and incredible ardent customer service you can't go wrong with the Apex Elite!
From: Tim: Manassas, VA 1/31/16

Comments: Been using this reel for over a year now. This is one of the farthest casting reels I have ever used. It has a drag that does slip on even the hardest hook sets, which is a bonus when flipping the thick stuff. Ardent got this one right.
From: Josh: Hamilton, MI 1/26/16

Comments: Ive bought 6 of these in the past year. I did get one that was really loud on the cast, like the bearings were dry. Given the 3 year warranty and great customer service from TW, I had no worries or reservations about sending it back for a replacement. However, I took it apart and lubed the bearing with some Ardent reel oil. I have not had a problem with it since, and its just as smooth and quiet as the other 5. In fact, I cant even tell which of the 6 had the problem now. Oil the bearings, and if that doesnt work, send it back.
From: Big John: NY 10/22/15
Comments: Light, smooth and line capacity to hold a lot of line,especially those 20lb fluorocarbons. Not to mention the look great, love the foam handles the quality of the reel. I was a curado guy, now I buy these.
From: John: Ontario, Canada 9/17/15

Comments: I love my Apex Elite. It's so reliable and smooth that I highly doubt I will need the 3 year warranty that comes with it
From: Grant: Cape Giradeau, MO 8/17/15

Comments: Just recieved the product absolutely impressed with the quality behind the apex elite I strong. Stready. Sharp looking. Ultra light. Love the feel. Apsoultey a winner in my book thank ardent
From: Matthew: Fall River, MA 8/7/15

Comments: I have three of these amazing reels right now and am supper impressed in how far they cast. I have one reel that i use for my frog setup, i am able cast a good 30 feet + more that everyone that iv fish with this year. And they are crazy light so you can fish all day without any fatigue in your hands, wrist, or arms. I 100% recommend getting a few if these awesome reel you really cant go wrong
From: DJ: NH 8/3/15

Comments: The ardent apex elite compares to the $300+ reels I have used great high end baitcaster for a reasonable price
From: Robbie: PA 7/23/15

Comments: Gave the Ardent Apex Elite a try after reading all the good reviews, and I have to say I was very disappointed. The reel is extremely loud and isn't very smooth. The reel casts "ok" at best and looks great.
From: Joe: Baton Rouge, LA 7/19/15

Comments: Very smooth but I can't avoid backlash. XS series Ardent's I can cast all day and never get backlash. Nice and light, seems very well made, bearings are in the right places. I want to like it, just can't. Bought it, replaced it with 2 XS600's and an XS1000. VERY HAPPY!
From: Alec: Minnetonka, MN 5/13/15

Comments: Hand down the best reel on the market. Smooth & casts a Mile! I own 12 of them. You can't & will not find another reel that performs this flawlessly for this price on the market. This reel is unparalleled.
From: Dave: Brandon, FL 5/12/15

Comments: It's smooth, light weight & tough. I have a bunch & they are all very smooth and dependable, I use this elite model for cranking & it's always ready to go!
From: J.B.: CA 5/8/15

Comments: The Apex Elite Reel is my favorite reel, exceptionally light weight you would be suprised how durable it is. The casting distance is great, I use these reels for Crankbaits, Jerkbaits & Spinnerbaits & they preform exceptionally, I definitely recommend!
From: Alex: NJ 4/14/15

Comments: i have the Apex Elite & it is as light and tough as any reel in the market today! So light it is hard to believe it has a metal frame. Every thing about this reel Ardent has really upped their level on this new lineup of reels. i have several of the edge reels & they are great but these new ones are in a totally different league. With the three year warranty the best within the reels available today so you know they are built right.
From: Todd: Irvine, KY 3/27/15

Comments: Wow! Most folks were bummed when Ardent moved manufacturing overseas. But their products have gotten even better! I got a few of these Apex reels and I'm very happy with all of them. Super light weight, smooth casting, smooth cranking. I will definitely be getting more to put on my Ducketts!
From: Joe: PA 2/12/15

Comments: This is one fantastic reel! I used the Ardent Apex through the 2014 fishing season. It didn't fail me once. The reel is very smooth, and lightweight. The low profile and thumb bar make the reel comfortable to hold during a long tournament. Using the clicker and magnetic brake, I could get this thing dialed in no matter what lure I was throwing. this is by far the best reel I've used, and I will be adding more to the lineup in 2015.
From: Bob: Shakopee, MN 2/4/15

Comments: Used this reel for the 2014 season, very impressed, super smooth, light. Put it on a ALX deputy rod with 15 flouro. work great for skipping and pitching jigs. This reel replaced my 200 BSF shimano hands down a upgrade.
From: Scott: York, PA 1/29/15

Comments: The Ardent Apex Elite is a killer reel for the money. It has some amazing free spool and is super smooth. I have it paired up with the Quantum Smoke and it is a geat set-up. I highly recommend it.
From: Reece: MI 1/2/15

Comments: Extremely impressed wit the new Ardent Apex reel. Lighter, stronger, and casts further. I purchased several of these reels for different types of applications- jig, cranks, spinner-baits, and they handle all the demands of an everyday angler... Very impressed and looking to purchasing more in the next few months...
From: Brian: St. Louis, MO 12/16/14

Comments: I finally tried the new Ardent Apex, not realizing that it would be a huge step up from my Edge, and it became me new favorite reel! I can cast it the furthest with both heavy and lightweight lures, it is smooth and very lightweight. I love the carbon handle and black matt finish as well. The palming size is perfect for my smaller hands as well allowing me to fish all day without my hand getting tired. I landed a bass over 10 pounds on my first day of fishing it, which sealed the deal for me as well. : )
From: Eric: Walling, TN 11/29/14

Comments: This is an incredible reel, extremely smooth and can handle big fish. It is also extremely durable. Ardent has done an incredible job with this reel
From: Dylan: Palo Alto, CA 10/15/14

Comments: Ardent has really outdone themselves with this reel. It's lighter than the previous reels yet it still casts a mile! It's a great reel well worth the money.
From: Chris: MO 20/12/14

Comments: Gave Ardent Apex Elite a try. Very impressed with the casting ability and they way it fits my hands. After the last tournament, I am going totally Apex Elites.
From: Cooper: MO 10/11/14

Comments: Absolute best reel I have ever owned, the Ardent Apex is extremely light weight, casts further than any other reel out there, and looks amazing. I have replaced all my Johnny Morris Carbon Lites with the Ardent Apex and am so glad I did in my opinion their the best reels on the market today, pick one up you will not regret it!
From: Eric: Olivehurst, CA 9/17/14

Comments: I have always been an Abu fan for its cast ability and smooth feel. I tried the Apex reel because it matches up perfectly with my Dobyns Champion rods. This reel did not disappoint right out of the box! Extremely light and durable. I couldn't believe it, but it's actually smoother than any Abu I've owned. Its ridiculous in a good way. Buy one of these, you won't be disappointed.
From: Ryan: Sumter, SC 7/14/14

Comments: Received this unit in mail today, never owned any Ardent products, have always been an Abu Garcia fan but after the disappointment with my new Rocket, I decided to try different manufactures, ordered the apex elite and the new 13 fishing concept A. I must say my first impression of this reel was good, it is sharp looking, fit and finish is great and the carbon handle is great, very impressive casting and good power with the lower gear ratio I paired it with the 13 fishing omen 7'3 MH Rod and it is a great combo,it pitches very smooth and will cast comparable with the Abu Revo SX will review again in a few months after some good BassSquatch action and tell if it will hold up. Has three year warranty which is great for a 150.00 reel, I don't expect it to outperform my MGX but it is worth the money so far.
From: Doty: Terre Haute, IN 5/9/14

***Note: If you have questions about this product or need assistance with an order please email your questions to info@tacklewarehouse.com