Bagley Balsa BangOLure Jerkbait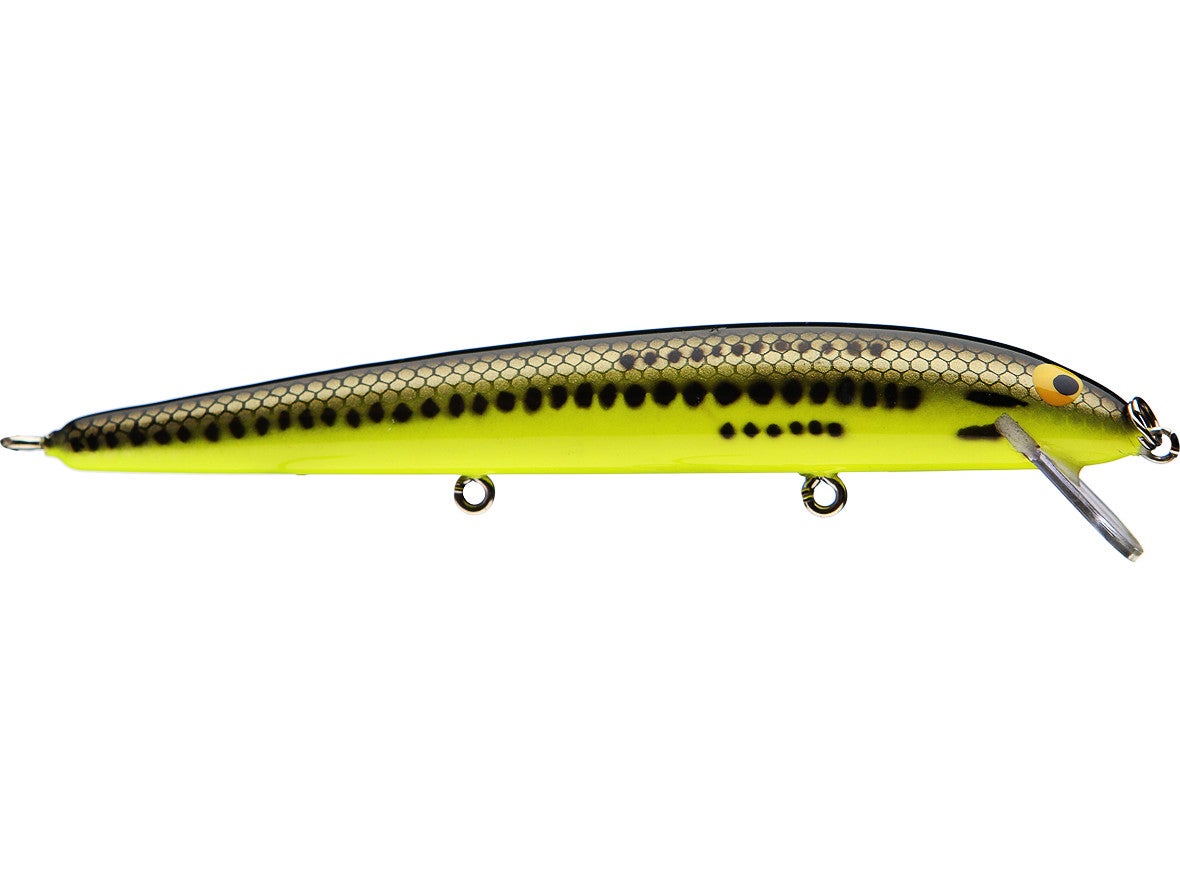 Balsa wood baits have long been known for their lively, natural action in the water and their extreme buoyancy. Other woods and plastic materials have since come on the scene, but many pro's still turn to them and keep old proven ones around for year because of their innate fish catching ability. Bagley has been making some of the best balsa wood baits for over 50 years, and Bagley baits have probably more wins in big tournaments that almost any other crankbait made - including four Bassmaster Classics.
Jim Bagley's first balsa bait - the Bagley BangOlure Jerbait is one of the original and most castable balsa stick bait on the market. Great as a surface lure, it will also dive down to 2 feet. Cast it, let it sit, and then rip it on the surface, the Bagley BangOLure has a wide, enticing wobble that bass can't resist.
| | | | | |
| --- | --- | --- | --- | --- |
| Bagley | Length | Weight | Depth | Class |
| BangOLure | 3-1/4" | 3/16oz | 0-2ft | Floating |
| BangOLure | 4-1/2" | 1/4oz | 1-2ft | Floating |
| BangOLure | 5" | 3/8oz | 0-2ft | Floating |
6 Colors
More From Bagley Topwater Baits
Customer Reviews
Comments: I was looking for a good jerkbait that wouldn't break the bank, and I happened to be reading Roland Martin's 101 Bass Catching Secrets and saw that he mentioned this lure. So I figured if Roland Martin trusts, I can trust it. I tried it mid summer in a local pond, and first cast I caught a small 1 lber that hit this BangOLure so hard, I thought it was a 5 lber when it hit. I ended up catching 6 in an hour in a well-fished pond. Changed the hooks out with Owner ST-46 and this is my favorite jerkbait I have now. 9/10, wish they had a better color selection.
From: Logan: LA 5/9/14

Comments: Wicked summer twitch bait!!! The fish really clobber this bait, and the more aggressive you work it the more violent the strikes become, get'em while you can!!

From: Dan: PA

Comments: Great Baits, good buoyancy and durable

From: Weber: NY