Baker Electronic Scale 30lb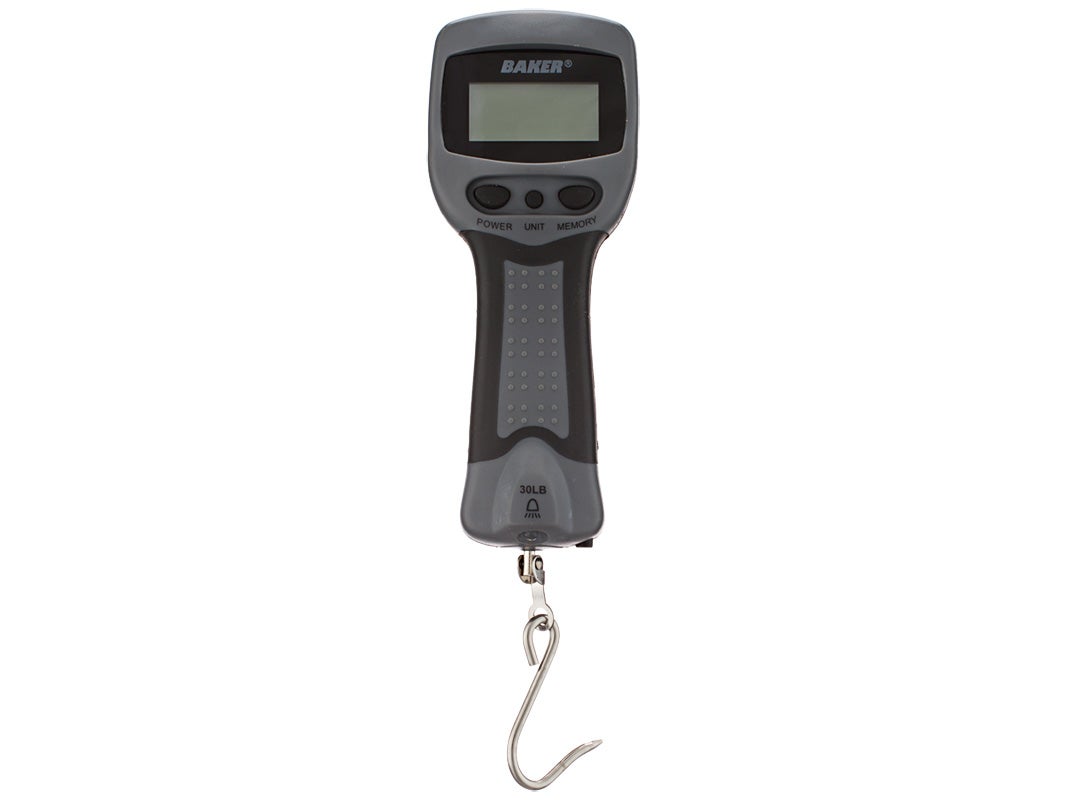 The Baker Electronic 30lb Scale combines tournament-class accuracy with an easy-to-read digital display that makes it a must-have for any angler. To ensure the utmost accuracy, the Baker Electronic 30lb Scale has a simple push-button operation that automatically stabilizes weights before locking in a reading. Capable of storing up to 10 weights, the Baker Electronics 30lb Scale works well with a number of culling systems, especially the Baker Culling Kit.

The Baker Electronic 30lb Scale also features a watertight enclosure, non-slip grips, and a stainless steel swivel hook. For weighing fish in low-light conditions, the Baker Electronic 30lb Scale comes with a backlight that makes it easy to read, as well as, a bright LED task light that provides a generous amount of illumination. Additionally, the Baker Electronics 30lb Scale also has a battery life indicator and an auto-shut off that helps conserve battery life. Able to display weights in pounds/ounces or kilograms, the Baker Electronics 30lb Scale is an absolute necessity for any angler.

-Powered by 2 AAA batteries (not included)
More From Baker Tools Scales
Customer Reviews
Comments: I purchased this scale a little while ago this is a very quality scale for 20$. The light on the bottom of mine works fine.
From: Joshua: El Dorado Hills, CA 7/25/15

Comments: For 20 bucks this is a good scale. It weighs in two modes: pounds/ounces & kilograms. It does not show 1/10 of an oz. but does display 1/100 of kilos. This kilogram scale is much more accurate and what I use. It seems to be quite accurate evident from reweighing the fish to be culled showing an accuracy rate of a few hundreds of a kilogram. The only flaw to the scale is that it is not waterproof or even water resistant. The digital display accumulated fog during a brief rain shower. The unit is not designed to be taken apart but keeping it next to a dehumidifier dried it completely out overnight. Keep it in a plastic bag during rain.
From: Dave: Canfield, OH 6/2/15

Comments: Purchased this scale about a month ago and i like it so far. The light on the bottom does not work i think mine is defected, so if you need a light on your scale for who knows why then you might want to think about buying a different one. I weighed a 5 lb weight plate from my weight bench and it said 5 lbs on the scale so its pretty accurate. So over all its worth it.
From: Alex: Delta, CA 4/20/15