Berkley Trilene Big Game Line Clear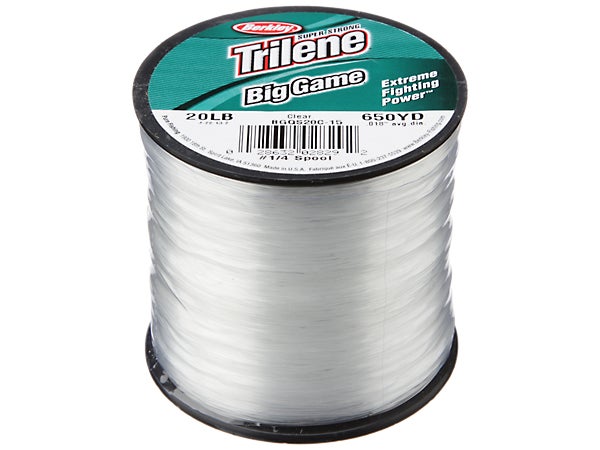 Built with all of the strength and abrasion resistance as the original, the Berkley Trilene Big Game in Clear offers more versatility and allows anglers to go after big fish in a wide range of water conditions. Designed to hold tough against rough or sharp objects, Berkley Trilene Big Game in Clear has been developed by Berkley's engineers to counteract the tricks used by larger, more seasoned fish. When going toe-to-toe with big fish, Berkley Trilene Big Game in Clear possesses a controlled stretch that gives anglers extra-fighting power and added shock resistance. In addition, the Berkley Trilene Big Game also possesses outstanding knot strength and has all the attributes necessary to land that lunker-of-a-lifetime.
| | | | | | | |
| --- | --- | --- | --- | --- | --- | --- |
| Line Dia. | 8lb | 10lb | 12lb | 15lb | 20lb | 25lb |
| Inches | .011 | .012 | .014 | .015 | .018 | .019 |
| Millimeters | .28 | .31 | .36 | .38 | .46 | .48 |

Click on the logo to read their review.
Place Your Order
More From Berkley Fishing Line
Customer Reviews
Comments: Good stuff. Especially for the price I do not think ive lost a fish due to this line yet, though I havent gotten to test its true strength with my swimbaits i still trust it and always have it on my rods for a tournament
From: Dane: Dayton,Ohio 1/6/17
Comments: Hands down the best mono for the price. I use the 8 pound test for spinning set ups and the 12 pound test for bait casters. I have never broken off on a fish and the knot strength is good.
From: Blake: Columbus, WI 10/4/16
Comments: Outstanding line for crankbaits. Incredibly durable & strong line for running medium crankbaits. I highly recommend it especially for the price.
From: Brandon: Fort Knox, KY 5/22/15

Comments: If you are looking for the strongest mono out there this is it. I have been using this line for the last 20 years and it has not failed me once. It is however not the greatest line to use on spinning tackle in test strengths greater than 10 lbs and even then it will still have some memory issues especially with finesse applications. If you are a power fisherman using crankbaits, spinnerbaits etc. it will not give you any issues. On baitcasters, you will have next to no issue with memory.
From: Soua: Florence, KY 3/1/15

Comments: I got snagged in 20 ft of water, and when my buddy put the trolling motor on full blast and pulled out, this line wouldn't snap. This is the strongest mono but I go through the eye of the hook twice to prevent break offs
From: Andrew: Ga 12/9/14

Comments: This stuff is awesome! Obviously it's not for the finesse tactics cause the line diameter is pretty big, but when it comes to strength from a MONO it's second to non. It casts well and memory is manageable. I pull through thick MN weeds with 15lb to 20lbs like it was braid. Best thing about it is that it's cheap so you can go though a spool and not really worry about it! Best mono on the market IMO!
From: Mitch: MN 7/31/14

Comments: Best line you can buy. Been using it for 15-20 years and it's NEVER let me down. I use it for everything . Use it with confidence.
From: Scott: Canton, GA 4/19/14
Comments: this is my go to mono strong & cast well will not break the bank use it on everything from spinning to casting 6 to 25lb test really tested it hard hooksets & big bass cant go wrong with it

From: Nathaniel: Crab orchard, Ky, Usa