Big Bite Baits Stand Up Fintwist Heads 4pk - $2.99
Equipped with super sharp Gamakatsu hooks, the Big Bite Bait Stand-Up FinTwist Heads feature specially designed heads, which help them stand up on the bottom and dance with the slightest twitch of the rod. A convenient screw lock bait keeper also allows you to rig your favorite finesse worm perfectly every time, and a horizontal line eye helps resists snags. Available in multiple sizes, the Big Bite Bait Stand-Up FinTwist Heads deliver killer finesse presentations, and the lightning fast hooksets that only Gamakatsu hooks can deliver.
4 per pack
Comments: I've tried alot of different brands of stand up shakey heads. These give me the most bang for my buck. The best hook penetration I've used yet. Understand your bottom you are fishing though, as most stand up heads will not work great on bigger rock bottoms. You should switch to the round ball heads for chunck to boulder rock. You still are gonna lose some, but Big Bite Baits are on the cheaper side. Hope this helps

From: Mark: St.Louis, MO

Comments: The screw keeper is thick and not flexible. If you are using a finesse style bait like a trick worm it doesn't work well...The Picasso Shakedowns are a whole lot better with their flexible titanium screw keeper.

From: Mark: Sarasota, FL

Comments: the twist head holds the worm great, and the hook penetration is good. i use it mainly in sandy bottom situations, when u use it on rocky bottoms it tends to get caught up because of the stand-up portion of the jig head.

From: Brody: Mount Vernon, OH

Comments: Great hook penetration, the twist head holds worm well. Exactly what I wanted. Caught three 2lb+ fish on these in one night and didn't lose a single fish.

From: Philip: Trussville, AL

***Note: If you have questions about this product or need assistance with an order please email your questions to info@tacklewarehouse.com
Color:
Black
View Large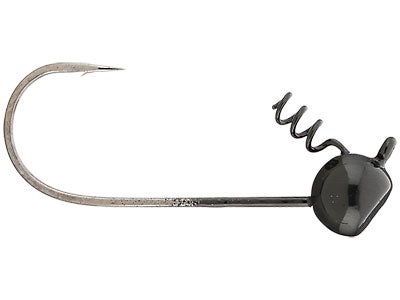 Place Your Order
More Big Bite Bait Jig Heads
More Big Bite Bait Terminal Tackle