Binsky Vibrating Blade Bait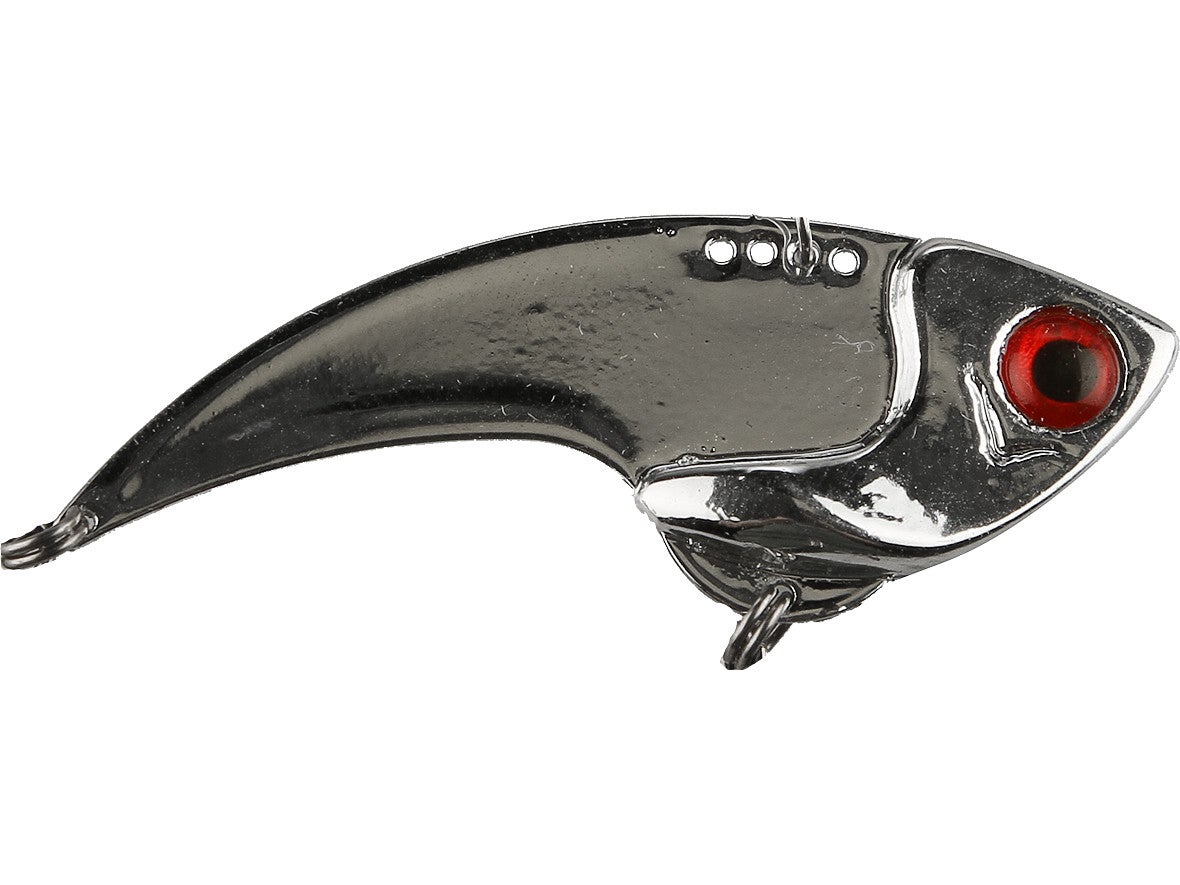 Fish Sense Inc. introduces The Binsky. The Binsky was created on the theory of strikes by recognition. No bass or any fish can resist The Binsky when presented with its realistic shad design, mirror finish and unmatched vibration. It's a feeding opportunity they can't pass up. Each size is designed to maintain the same enticing action. There are four different line tie positions for varied actions that will accommodate all fishing situations and species specific tastes. The hard vibration can be felt in extreme depths which will eliminate overworking and passing by catchable fish. It's Fish Sense and it Makes Perfect Sense!
2 Colors
More From Binsky Blade Bait
Customer Reviews
Comments: Awesome blade!! Best vibration out there. Been killing the bass and walleye on them,including a new personal best smallie. The vibration is consisted between all 3 sizes. Must be balanced well because it doesn't tangle as much like previous reviews mentioned. I got some of the new blades and they are electroplated. I got 1/2 ounce gold and it hasn't chipped. Haven't tried the colors yet that their website offers.
From: Rick: Finger Lakes, NY 12/23/14

Comments: Casts great (won't tumble akin to lures like the Heddon Sonar), awesome action (in any of the top holes) that produces year round on multi-species. Unfortunately, you will have to be sure to lacquer /clear coat these lures, or just know that the pressed coating WILL come off quickly. Excellent lure with cheap finishes (although they offer painted ones), unfortunately... you have to make the call. I went with a much higher quality, made in USA blade bait from WI moving forward.
From: Dragon1: Highlands Ranch, CO 12/16/14

Comments: Awesome blade bait. smallmouth love them. even a largemouth once and awhile. either cast it a mile or vertical jig they straight work in cold northern waters.
From: Joey: CT 11/17/14

Comments: I want to share a tip with every body that will help keep the color on the baits. I take and every lure I put a couple of coats of clear lacquer on each lure and a couple drops of super glue on the eyes before I ever use them. You will be amazed how well they will hold up. These lures are fish catching machines. I love to fish them on points and structure in the summer time when they won't hit the flutter spoon or jig. For the money, if you will do a little work on them, you will have a fishing lure that will catch fish winter and summer.
From: William: Hohenwald, TN 6/23/14

Comments: For under $5...one of the best multi species artificial baits you could buy. Once you find the fish, these will catch 'em. Must have accessory: a good plug knocker!

From: JoeyB: USA
Comments: Wicked blade bait! The finish does chip up but the fish slam it better than any of the other blades I have used. I am very impressed with the balance and action of this bait.

From: Dave: Ohio

Comments: Bad Binsky. They changed their process. No longer do they paint the blades, now they press on a cheap gold foil over a white blade. The foil starts coming off almost instantly. I am very displeased with this development and not likely to buy more.

From: Big J: Houston, Texas

Comments: Fished with this for an hour in early spring, no fish. They were however biting. After 1 use , the gold paint flaked off.

From: Chad: Yakima, WA

Comments: u want to try these baits now is the time. Up here in the NE, u won't get much action unless you're hanging meat. Fish these in deep holes and you'll realize ur fishing season just got extended.

From: Kenny: Erksin Lake

Comments: Has gotten me all sorts of fish in cold water. Lakers over the ice, pike during their prespawn. Looking to do some damage to the bass and walleye with them soon!

From: Ed: Canada

Comments: Holy crap, these baits are bad ass. I used these baits in northen NH on Dec 10th, water temp was 38 and the smallies cruched them. All the colors worked awsome, even ones some of you might not know about yet. Can't wait to go out again

From: CrossDogg: Hudson, NH

Comments: I caught what might have been the Texas record Guadalupe bass with the silver one. Didn't have my scale and wasn't willing to kill the fish to verify. These are a sweet little bait that works in a variety of situations. I prefer the 1/2 ounce model, the 1/4 is a little too light.

From: Big J: Houston, TX

Comments: This was great. I parked the boat and had my kids drop these down. They pulled up a bunch of perch and bass. We had a great time with this lure.

From: BB: TN

Comments: Definitely the most sensative blade out there. A fish catcher for sure. I've caught so many types of fish on it. I agree it's the best

From: NYBasser: NY

Comments: I've bought one of each color in the 1/4 oz version. They are good looking baits, but the finish is not as regular as the competition and the metal of the blade is so thin that it bends like chewing gum. All the other blades fromo differents brands I own are tougher by far. I don't know if this blade bait catches fish, but I know they are very fragile and will bend easily on a fish or in the rocks while fishing... Sorry about that !

From: Froggyangler: France

Comments: Awsome. Ive caught stripers, whitebass and trout on this blade. Best blade ive used to so far!

From: Leng: Siloam Springs, AR

Comments: Amazing vibration. It's like no other blade bait out there.

From: Destin: Erie, PA

Comments: This blade simply out produces more than any other I've used. Crazy vibration that makes the bail chatter on my reels. The results have made it become a regular in my tackle box. Thanks!

From: C.S.
Comments: Jan. 1st. Lake Mitchell, Alabama. Rain and wind and 45 degrees. First four fish of the day came off of this lure casting and slowly jigging back to the boat. Plump spotted bass

From: Angel: Alabama, USA
Comments: I've fished other blades before with little success, but when i was introduced to the Binsky, that all changed! This thing catches fish, period! Bass LOVE it, Walleye inhale, hybrids smash it! If it swims you will catch it on a binsky!

From: Mike: New Jersey, USA
Comments: ABSOLUTELY sick action on these baits. They are excellent for cold weather bass, large and smallmouth. Tie one on!! Excellent for multi species days, too. Pike, bass, crappie, valley, trout, stripers, only to name a few!!!

From: