Blade-Runner Wobble Head Swim Jig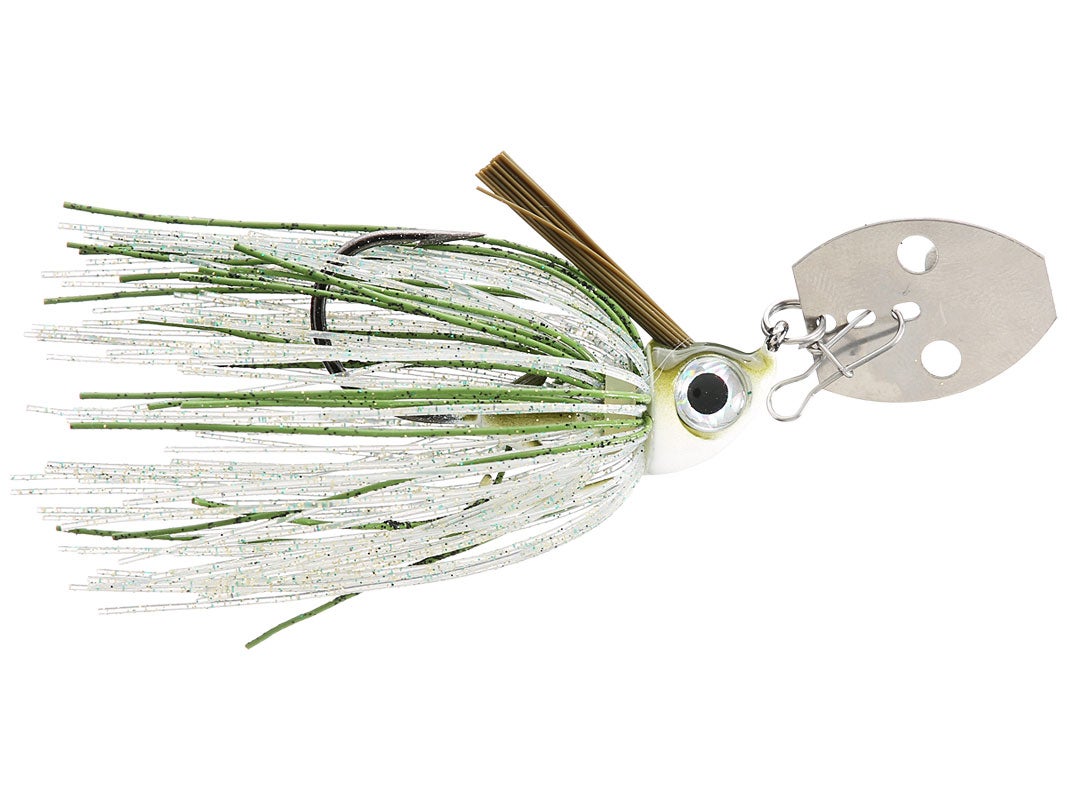 The Blade-Runner Wobble Head Swim Jig moves through the water with a brilliant flash and vibration. Perfect for attracting fish in stained water and around heavy cover, the Blade-Runner Wobble Head Swim Jig is fitted with a chatter blade that generates a sensational amount of vibration and a glaring reflection that draws bass in for a closer look. The chatter blade also works with the fiber weedguard to deflect cover, making it highly resistant to snagging. Extremely productive around rip-rap, docks, or timber, the Blade-Runner Wobble Head Swim Jig can also be fished by removing the skirt and adding a soft plastic jerkbait. Equipped with a Mustad Ultra Point Hook and bulging 3D eyes, the Blade-Runner Wobble Head Swim Jig is an incredibly effective addition to any angler's arsenal.
10 Colors
More From Blade Runner Jigs
Customer Reviews
Comments: I bought a couple of these when I saw Fred R. on the elite series use them on Ky Lake. Glad I did, On the retrieve this bait will all of a sudden "Dart" left or right giving the bait a very erratic look. I use a Zoom Fluke or something similar as a trailer and man this bait "gets it done!" I'm not saying that it takes the place of my beloved Spinner Baits; but it has earned my respect & a place in my boat. I never go to any lake any where; From Florida to my home waters here in Ky without this bait tied on. There's one tied on right now!
From: Brownfish: KY 5/18/16

Comments: The lure is a high quality bladed jig, and I love the way it works on a slow retrieve..good, strong wobble... BUT, it always rises to the top on a moderate/fast retreive. the reason for this, is because of the ring. Any bladed jig that I have tried that has anything between the blade and the eyelet will rise to the top, on anything other than a slow retrieve. I tend to stick with D&M products, or Billy D's grinders. Also, although I like the paddlehead design, the shank of the hook is far too short
From: Jesse: Little Rock, AR 4/21/14
Comments: Great bait as far as the idea. Bladed swim jigs have been a favorite of mine for a while. When one came with a weed guard I knew I had to have some! BUT, they must have a bigger size and bigger gauge hook!

From: Blaine
Comments: This thing is junk the weed guard fell off when I was pulling off a few to get better hook ups. On top off that it does not even swim strait!

From: Luke: NC

Comments: Nice bait, compact and works well with trailers. To keep the bait from fouling I changed the duo snap to a smaller one and that fixed the problem.

From: Nathan: Redondo Beach

Comments: Absolute junk anybody can buy a blade and split ring and attach to any jig . Dont believe these homers the hook shank is too short , the blade fouls every other cast and the weedguard is useless on a bladed jig as the hook should run behind the blade if it had gone through proper R&D. this thing is a scab. I like most of ricks work but this is a joke !

From: Jimmy: Clearlake Ca

Comments: WOW, way better then the others. The weed guard is a big plus and love the monster hook.

From: Albert: Sacramento, CA

Comments: these are some of the best bladed jigs colors how they swim i picked some up at their booth at the ise show they flat catch fish and the trailer keeper keeps em on forever unless you rip it off great baits the 1/2 oz seems to runn a little high in the water so if you want to get down get 3/4 oz and best of all great price

From: Adam: hayward ca

Comments: It's about time TW carry these. They're hard to find and the weed guard is perfect to rip in heavy covers in the delta. Thanks TW for finally having them. A big plus for having extra wide gap hooks and big profile eyes, bass will absolutely hammer it!!!

From: Delta Rat