BoatBuckle Retractable Transom Tie-Down - $69.99

The BoatBuckle Retractable Transom Tie-Down system can extend 44" and automatically retract. A built in ratchet handle and one touch release leaver makes boat launching and trailer-ing easy.
* Sleek, contoured styling
* Permanently mounts to trailer
* Stronger ' 5,000 lb. rated capacity/pair
* Simple, one-hand operation
* Adapts to virtually any mounting angle
* Stainless steel power spring
* Two tie downs per pack
Comments: This is the only way to tie down the transom of your boat. Quit fighting your Rod Buckle transom straps and get these. You will not be disappointed. The boat ramp has enough stresses, don't let this be one of them.

From: Brandon: CA

Comments: These might seem a little high priced but are well worth it. Super fast and secure and saves time on the ramp and no more pinched fingers...

From: Dustin: Shreveport, LA

Comments: Strapping the boat down does not get any quicker or easier than this. AAA+++++++++ product.

From: David: North Arkansas

Comments: I was recently in a serious wreck hauling my Triton 19 explorer on the Florida Turnpike. A truck swerved into my lane and slammed on the brakes. Approximately one second after applying my brakes I smashed into him at 60 mph the entire front support of my trailer broke off including the 4 bolts that secure the U bolts. The Motor toter broke in half and the boat slid approximately two feet on the bunks. These straps are all that held the boat on the trailer. The Trooper told my buddies if not for these straps the boat would surely have crashed through the back window of my truck or flipped on top of us. Thank you for a Great product!!!!

From: Mike: Ocala, FL
Comments:They are great!
From:Tony: Centre, AL
Comments:These are great, I have them and they make it VERY fast and simple...they are as useful as a button on your pants.
From:Drew: Kansas City, MO
***Note: If you have questions about this product or need assistance with an order please email your questions to info@tacklewarehouse.com
View Large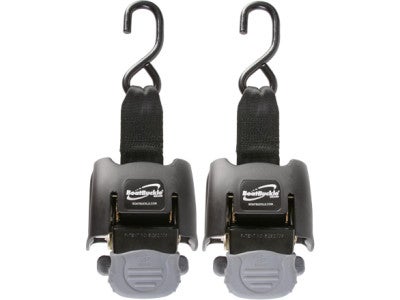 Place Your Order
More Boat Buckle Accessories