Boca Bearings Spool Bearing Kits ABEC 7 Orange Seal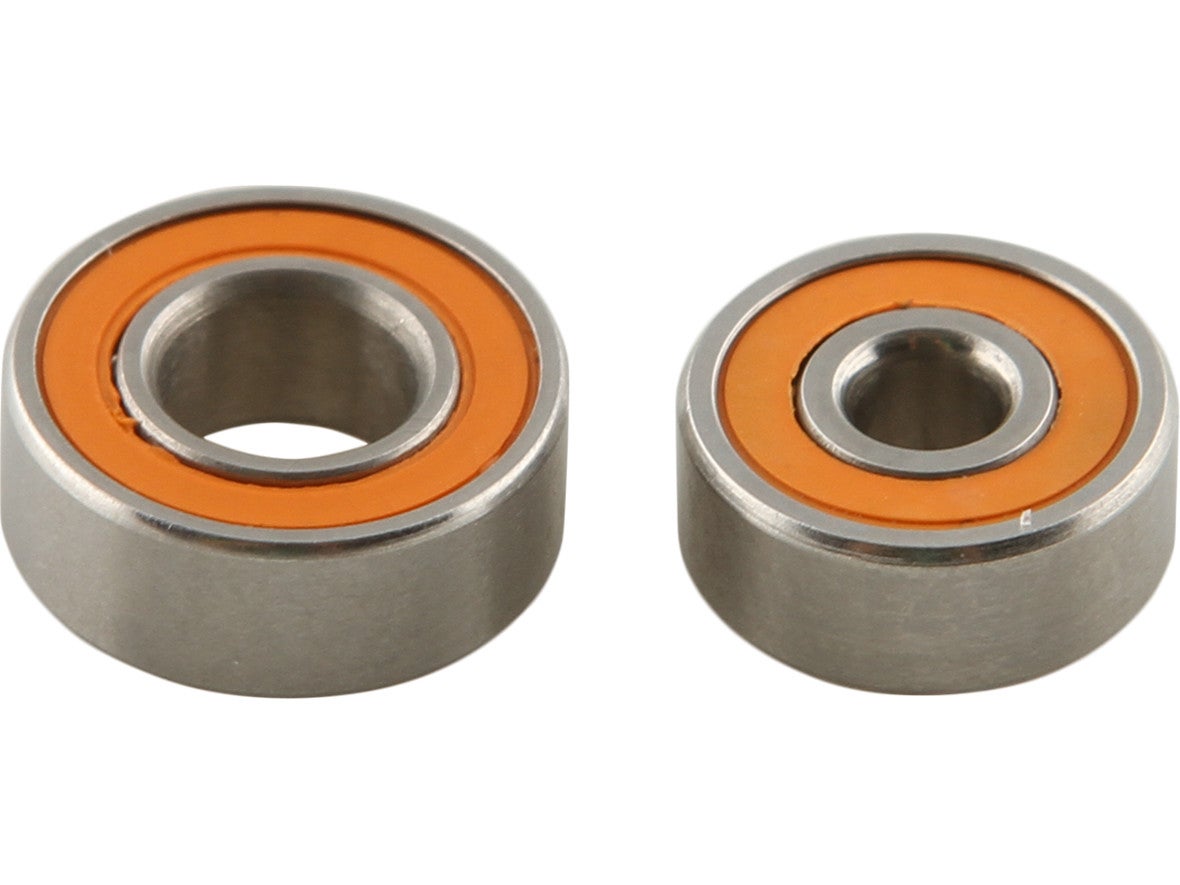 Check the Boca Bearing Fishing Reel Bearing Chart Listed By Model.
The Boca Bearing ABEC 7 Ceramic Orange Seal Fishing Reel Bearing Kits are an upgrade replacement to stock fishing reel bearings. These ABEC #7 bearings have ceramic balls with stainless steel races and retainers. Orange Seal bearings have a non-contact rubber seal which allows the bearing to spin freely with out any excess drag. Ceramic will never corrode; it has less rolling resistance and is lighter and than steel. As a result ceramic bearings last longer and cast longer. All Ceramic Orange Seal fishing reel bearings are supplied Lube Dry without any grease or oil.
The Boca Bearing Company has been an industry leader in fishing reel bearing replacement for over 20 years. Reducing rolling resistance and conserving energy has been their hallmark. Boca Bearing Company has developed a full range of aftermarket fishing reel bearings for all the leading reel manufacturers including Shimano, Daiwa, Penn, Abu Garcia and many more.
2 per pack
Place Your Order
More From Boca Reel Bearings
Customer Reviews
Comments: Chose the metal shield version (see lightning 5's) ABEC 7's for they can be lubed w/o removing the seals. If you study the picture, you'll notice the rubber seal can sit imperfectly, causing friction. Metal shield still protect against debris but will not disfigure from maint. All 3 models improve performance over stock, that can be felt. The performance between ABEC 5 & 7 is almost in-discernible. (I have all 3) Boca ceramics are & will be installed in every reel I own. But, I enjoy maintaining my reels for optimum spool speed & performance. They may not be appreciated by everybody.
From: Outcast: San Jose, CA 7/27/15

Comments: All their bearings are the same sizes. just that diff package comes with diff combination of bearing size for the purpose of what brand reel you have.

Comments: To eliminate noises, use small amount of reel oil(not grease). One drop per bearing is well good enough. More than that will slow the bearing down.

From: L: MN

Comments: All abu garcia and quantum uses the FR-029C-OS LD. All lews uses the FR-093C-OS LD. And all shimano uses the FR-008C-OS LD.

From: L: MN

Comments: These things are awesome. I did call boca bearing directly to clarify a few thinbgs and customer service was great. He told me that the seals do not contact the bearing or race and in no way inhibit the action of the bearing. I pulled the seals and checked for myself and he was right. He also said they come and can be used dry but some fisherman put a little oil because they tend to be noisy dry. also cheaper direct through boca

From: Will: Waltham, MA

Comments: what ones fit in the quantum kinetic, the abu garcia silver max and the shimano curado 200g

From: MN
Comments: Which ones for the lews tournament pro speed spool?

Comments: Which set do I need for a quantum pt 150 smoke?

Comments: Try it on an older reel! You'll love the distance you're able to cast. My Shimano and Quantum does.

From: Hmongbass: Madison, WI

Comments: 3 seals were definitely slowing my bearings down (read below comment). Maybe it was just my set or model of reel (curado 51E). I recommend ditching them because they really zip now. Noise is slightly louder but performance is way up. Will buy more.

From: Terry: Lakeland

Comments: I purchased a set of these several months ago after some online research and read a common complaint about noise. Straight out of the package, with no added lubricant, my bearings were pretty quiet. Very smooth but nothing special compared to my stock curados. Well yesterday I respooled and decided to clean my reel and flush out any possible residue in the bocas. To my surprise 3/4 orange seals were definitely making contact with the cage. Taking it out this morning free of seals to see if that's why my ceramics are so miraculously quiet :] The bearings are quality made and this is no complaint, but I think the rubber seal is problamatic for high performance. I'll see in a few if removing them changes casting. Tight lines.

From: Terry: Lakeland, FL

Comments: I disagree with Kody from Ohio, these need to be oiled. If not the metal casing can wear out. I would clean them right away with acetone or light fluid without the seals on, dry them, then lube with your favorite oil. I usually run these without the seals on as I find it quiets them down and makes them easier to maintain.

From: Dougie: Ontario

Comments: Great set of bearings. These are a dry bearing, so don't lube them. They deffinately help the casting distance, but they have a different feel. Almost a rough feeling at first.

From: Kody: Ohio

Comments: you don't know how smooth your reel really is until you put a set of Boca orange seals in it. it makes a lower end reel feel like a 300.00 reel.

From: Jeremiah: IN