Booyah Pad Crasher - $4.99 to $5.79
There's nothing like fishing the weeds and slop, and nothing like the surprise and violence of a big bass crashing through the thick stuff to eat your frog. The Booyah Pad Crasher's soft plastic is just the right consistency to ensure solid, consistent hook-ups, while remaining weedless as it navigates over matted vegeation. Its "bass boat" belly also allows it to easily walk-the-dog in open water, and it even features a drain hole to expel water and keep it running perfectly. Available in range of realistic colors, the Booyah Pad Crasher crushes the competition.
| | | |
| --- | --- | --- |
| Booyah | Length | Weight |
| Pad Crasher Jr | 2" | 1/4oz |
| Pad Crasher | 2-1/2" | 1/2oz |
Comments: I think I've only lost 2 fish out of 14. this frog has a great hook up ratio in only 2 days of fishing

Comments: Looks like a great frog. I got it in the natural bullfrog color and can't wait to try it out. One thing that surprised me was how soft the body of the frog is, but it seems pretty durable. seems well worth $5.79.

From: Carl: ME

Comments: best frog ever. got tons of bass on this bait.if u want to catch a lot of bass get this frog.

From: Frank: WI

Comments: good price, great frog can't go wrong with this bait

From: Mark: MI

Comments: good price, great frog can't go wrong with this bait

From: Mark: MI

Comments: This is one of the best frogs out and there only 6 bucks.I usually only use spro frogs but this one is alittle softer and i think the hookups are better.

From: Tyler: Middletown, PA

Comments: I bought a couple of these during last winter, one in the Albino Frog and one in the Kuro Frog. I like the feel, they are very soft and the hooks were sharp. But the first trip out, when throwing the white frog, the weight had came out of it after no more than 10 minutes of fishing. I tied on the Kuro color, thinking I'd test to see if it was a fluke. Low and behold, the weight came out of that one as well after about 20 minutes. Neither had been hit by a fish or anything. I like everything else about them, but can't say I'm interested in buying another.

From: Chris: MI

Comments: Quality & Price, what more can you ask for. The Pad Crasher is one of the softest frogs on the market, fish crush it and hold on

From: Rob: Kingston, Ontario, Canada

Comments: Awesome Frog! I've always wavered in my choice of hollow body frogs, and there are many good choices out there like Spro and some of the Snag Proof frogs. But this frog has changed all that! Amazing side to side walking action that entices strikes from even the thickest mats. And the thing that really sets this frog apart from the rest? The hooks. Great quality EWG bend hooks, I have missed/lost VERY few fish with this frog. For under $6 these can't be beat. I won 3 tournaments just last summer and fall after picking these up at a local tackle shop. Buy some and hold on!

From: Chuck: Toledo, OH

Comments: Great frog for a great price (
From: SVM: EC, WI

Comments: great frog great price

Comments: Good lure, this one sits a bit lower in the water than most frogs, but it doesnt sink. Thats what you want out of a frog when you are fishing lily pads. Good for lily pads and sparse grass, but not really good for mats. great frog, I highly suggest picking a few up

Comments: They are good frogs especially for the money but I still prefer Spro frogs.

From: Lance: Livingston, TX

Comments: Today at Harris Lake, NC the Pad Crasher in Leopard Frog pattern did a great job in the primrose. Two 5 pounders and one 3 pounder. I used Stren Sonic Braid 65 lb. and a 6 ft. 10 in. med hvy rod with an extra fast tip and a high speed reel. I do not see a need to use any other brand of frog.

From: Dan: Cary, NC

Comments: i started out using frogs and would miss a lot of fish. but with this i havnt missed 1 fish. caugh some good 2lbers the 1st day. 2nd cast caught a 2lb. good bait great hook up. the hooks might flip after a big fish, took me 5 mins to fix it, but that will happen, dont let that fact stress you out though its the best frog ive used 5stars.

From: Josh: USA

Comments: This is the best frog out imo and under $6!!! Very soft and awesome hook up %

From: Joseph: New Bedford, MA

Comments: Great frog better hook up % than I can get with big$ frogs they r soft and tuff paint stays better they float better swim better cast better cost less

From: Gordon: LA

Comments: Man, this is a great frog! First trip out with it I got a 3lb largemouth on it on the last cast of the day. It walks like an absolute charm! It's an absolute steal for $5.79! Two big thumbs up!!!

From: Chris: USA

Comments: amazing frog!!! the body is super soft and the hooks are really sharp too. the colors are perfect. almost the perfect frog.

From: Devin: CA

Comments: 3/5 When I started using this frog I was very suprised of the action because of the price. Worked great for about 2 weeks untill I bounced it off a dock on a cast and the entire skirt just came out... Idk why and this has never happened before but nothing a llittle super glue can't fix, great bait

Comments: Great frog I mostly use Spro Frogs but these are just as good and cheaper walk better they just need more colors.

From: Lance: Livingston, TX

Comments: love this frog. on my fist cast...BAM a nice size bass. cant beat the price. so ez to walk. the body is so soft. im going to be buying more.

From: Skyline: Greenfield, WI

Comments: Nice frog. Longer body than most which I think might help hookups. Not as soft as the evolve walker frog, but pretty soft.

From: Brandon: IL

Comments: I have been using these frogs extensively this year with great results. Specifically, I have been using the Cricket Frog. They cast really well and are very durable. I have one with the paint almost worn off and it still keeps getting hammered. My two best bass this season (7 1/2, 8 1/4) have come from this frog. They do not fill up with water and sink like some of the other brands have a tendancy to do. These frogs are even more effective when rigged with the Lake Fork trailer hook.

From: Jeff: Little Rock, AR

Comments:I don't really use hollow body frogs but this frog is amazing I just ordered one of every color and a couple spro and kvd sexy frog so right around 150 dollars in frogs! Lol!!!!

From: Patrick: USA

Comments: the best frog that my brother and i ever had it catches big bass

Comments: Great bait you will get blowups! Buy it

From: Bob
Comments: This frog flat out catches fish i like the Kuro Frog color and i fish pressured waters while other people are throwing Sexy Frogs and not catching fish im throwing the pad crasher and catching fish.

From: Brandon: North Port, FL

Comments: Great Frog...first day out in some some thick matted grass i hauled in a nice 5 pound largemouth. Walks the dog very nice right out of the box. Best frog out there!

From: Adam: PA

Comments: Best frog ever, it walks like a dream. The hook up ratio is almost perfect because it is so soft. You can't beat the price for only 5.79 it is a steal. I wish they made a more sizes and colors. I will buy more.

From: Brandon

Comments: best hook up ratio out of all frogs ive used. i used to use spro then i tried on of these and forgot all about spro

From: Bradley: FL

Comments: good frog. Not great I prefer a spro or koppers but for the price you cant beat it, this frog is nearly half the price and walks better than koppers! It just sinks pretty fast and sometimes does weird things when you to walk it fast.

Comments: Its a super sick frog. I love it there os 2 main problems. The weights fall out sometimes and the paint rubs of eventual after 2 4 lbers on mine the ears were gone

From: Tanner: WI, USA

Comments: Gotta say this frog is AWESOME it just flat out calls the big ones out. i have tried all frogs snag proof, spro, koppers, and in my opinion this is the best buy. The main thing i love about this frog is its collapsabilty, which really helps sticking those hooks in the fish

From: Tim: SLO

Comments: I purchased the Booyah frog and was very impressed with them. I used the other frogs and for the money this frog is great. I do not have to get the fine moss off the hooks. I have the Yellow, White and Brown frogs, the yellow one works for me. Try one out, you almost save half the money from the other frogs. Booyah you need to come out with a popper frog.

From: Rod: Ohio

Comments: watta beast!! This is-without a doubt-the best frog on the market for the price. It was a little bit smaller than i expected, but it still catches big bass. bullfrog color is a really good color. the only thing is that on the bullfrog color it is a little bit darker on the back than in the picture..Great frog booyah!!!

From: Jay: USA

Comments: Amazing frog!!! walks the dog so easily and absolutely makes the fish sick when you walk it over their heads then stop it! I've caught fish in every scenario on the kuro frog, weeds, mats, open water, you name it the kuro will catch em.

From: Will: Ligonier, PA

Comments: Great Frog! out performances many more expensive frogs like the spro and KVD sexy frog. Im not bagging on those frog but the Booyah Pad Crasher has really hit the spot. i took out the Albino color on a local pond the first day i got it and got 5 bass in a row, it has 95% hook sets and walks like a zara spook. i will be buying more. only downside is after about 25 bass the paint on the eyes and belly are fading and the rubber is tearing in some spots.

From: Chris: Chelsea, MI

Comments: great frog caught a 5 pounder of of it... best frog i ever used so far !!

From: Trent: PA

Comments: i wrote about these before but had to again better then spro and koppers these frogs have 98 % hook up ratio better then any other and they are dirt cheap

Comments: Great frog but the booyah pad crasher has replaced all my spro frogs. The pad crasher is a much better frog and cheaper so check it out you wont regret it!

From: Tyler: GA

Comments: For the price, this is definitely the BEST frog I have ever used. I've experimented with Spro frogs and Scum Frogs and Booyah frogs. Booyah is spectacular. I have used the bullfrog color and it has given great fish a lot of trouble. The bullfrog color gave me my personal best, 7.3 lber, in the almost too dark to see time of fishing. I currently own and have used the Kuro Frog, but it has yet to produce a fish for me. So personally, I don't recommend that color, but every color ever made has a chance to shine. Scum frogs gives me the numbers for a few 12 inchers when I really am having a bad day on the water. But if u want size and don't want to spend too much money, buy a couple padcrashers. You will not be disappointed. Tight lines all.

From: Michael: Raleigh, NC

Comments: Sick frog right here. i caught two four pounders today with it. very nice walk the dog action. amazing hook up ratio. even better price!

From: Julian: Amherst, MA

Comments: Great frog for the money. IMO better than spro and snag proof, especially because of the price. The little drain hole in the back was a great idea. Have had a good hook up percentage with it.

From: John: Chicago, IL

Comments: ive used plenty of frogs including spro bps and snag proof etc and for the price this is hands down a great frog walks easily just like a spro for half the price im sticking to these for now on

From: Evan: Mechanicsburg, PA

Comments: Great frog, 5/5 on it

From: Tony: Madison

Comments: This is one of the best frogs I have used. Soft body and super sharp hooks. It comes through the tullies great and I only missed one fish before they destroyed this frog. Very durable and walks nicely.

From: Lynn: Yuma, AZ

Comments: this frog is great walks super easy cast good and is softer then any other frog if u can't get this frog to walk u need to use braid and if you still can't you should not be bass fishing

From: Mike: Akron, Ohio

Comments: This frog is one of the best if not the best frog on the market. It has a supper soft body, and very strong and sharp hooks. I like the spro's but for the money you cant beat this frog. New favorite.

From: Johnathon: AL

Comments: This frog is sick!!!! The action is incredible!!! It walks so easily even in choppy water. If you chug it right you can get it to dive under the water like an actual frog. Fished it yesterday on a local pond and 3 for 3 hook-up ratio and that was on 7 casts!!! Spro has now moved to 2nd on the go to list!!!!

Comments: after reading the reviews on every frog on this page, i have come to this conclusion. everyone has favorite frog. i have fished just about every frog sold at one time or another. some are/were good, some are/were bad. at this time, i like the ish monroe line and canyon plastics. however, snag proof frogs are as good as most. i find it's not so much what frog you throw, it's where. if your frog wont walk the dog, usually it's not the frog, it's the person using it. come to think of it, i have never seen a frog do the 'walk the dog'. frogs on the surface simply push the water in a straight line or dive. the biggest fish and largest amount of fish i ever caught was when the frog was sitting perfectly still or just as it hit the water. if you want to improve your catch ratio per strike, get some lake fork frog trailer hooks sold at tackle warehouse, they ROCK!

From: Wes: Salinas, CA

Comments: I caught my first double digit bass yesterday on this frog in the bullfrog color. It is an outstanding bait and as a 100% hook up ratio...Thanks booyah for my 10.4lb pig

From: Cutter: Paris, TX

Comments: Pretty good for the price. Haven't missed to many fish on it. It will 'walk the dog' pretty well with the correct rod.

From: Cody: AR

Comments: This frog is great. I replaced all my spros with these. Fished eufala this past week and started with the spro and caught 3 of the five bites I had on it. Tied on the pad crasher didnt miss a fish. They walk great and are super soft. Only downfall is that dont hold up to well about 20 fish and its time for a new frog. I give it 9 out 10 stars!! Great frog!

From: Tyler: Columbus, GA

Comments: extremely lifelike patterns on it. I'll go as far as to say its comparable to the livetarget frogs. sooooo much cheaper. does not walk the dog, but why walk the dog when I only fish frogs in lily pads? very sharp hooks, long skirt legs make for good adjustment(i cut mine shorter). good bait when bass are biting frogs.

From: Jonathan: Dinwiddie, VA

Comments: Went fishing today on a local pond an this FTP worked great. I caught 4 bass in around an hour in the black and red frog. Just got a koppers live target frog but I think I'm returning it for 2 more of these. A great frog for a great price.

From: Zach: Austin, TX

Comments: extremly weedless but does not walk the dog

From: Joe: Houston, TX

Comments: Fishes great lots of strikes although i lost my first one due to a broken line i am definately getting another tomorrow well worth the price!!!

From: Jerad
Comments: smells like old library books other than that great lure made well walks well cast well please listen too me dont buy the spro's save your self a few bucks and grab one of these

From: Jake: PA

Comments: Just got one of mine today. Still iced up up here so i havent got to use it yet but, it feels amazingly soft with sharp hooks. My only concerns are that its a little light and toothy northerns. Get ur bang for your buck its AMAZING

From: James: Shawano, WI

Comments: Not a bad frog for the price. In my opinion its kinda cheap. Casted it a few times, the coat on the hooks chipped off a little bit and the paint on the bottom of the frog started to come off. Thank God its slightly under $6 so i can stock up on it

From: WI
Comments: only complaint is theres no solid black color yet

From: Beau: MN

Comments: just as good or better than Spro and Koppers, almost like getting 2 for the price of 1 if price comparing !!!!

From: RB: Mid State, SC

Comments: I am very impressed with these frogs. Man, they are absolutely the softest and best looking frogs that I have ever seen. I took them to the swimming pool and they walk the dog as good as any of the higher priced frogs. I am going to grab me about 4 more before they sell out.

From: William: Hohenwald, TN

Comments: bought 4 of these and I'm impressed with how soft they are they are softer then koppers and spro can't wait to use them this spring

From: Mike: Akron, Ohio

Comments: To start this frog is beautiful looking, very detailed and very realistic. it even has a wet sheen to it even out of the water. But in the water its even better this is one of the very best walking frogs on the market, in my opinion far better than the spro models. i was also pleasantly surprised by the quality of the hooks which are incredibly sharp and definatley will not need to be replaced . The weight system is perfect and will not come loose and ensures your frog runs perfectly every cast.

From: Collin: MI

Comments: I didnt know what to expect with this frog because of the narrow body and the really good price. I was blown away. This is a very good frog for the price. Even walks the dog good. Worth trying.

From: Kyle: TX

Comments: this frog is up there with spro and koppers live target which is by far my fAVORITE frog its a little prcy but awesome .... now this frog is perfect price and walks great and he softest frog i know about... 8/10 stars

From: Jacob: LA

Comments: got one the other day in the crikket color i really like it because its almost half the price of spro and probably twice as soft...im hoping to get some more soon

From: ACTS
***Note: If you have questions about this product or need assistance with an order please email your questions to info@tacklewarehouse.com
Color:
Albino Frog
View Large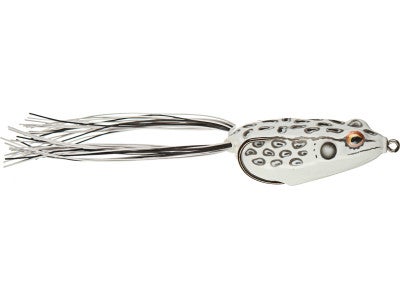 9 Available Colors
More Booyah Frogs