Brians Prop Bee - $27.75
Please Note: Does not include hooks or split rings. (See size recommendations below)
A favorite of the pro's, Brian's Prop Bee has been responsible for some big checks and big wins on the professional bass fishing circuit. FLW veteran pro Brent Ehrler, recently used the Prop Bee #2 en route to his win at the 2010 FLW Tour Chevy Open on Lake Ouachita, while the Prop Bee #3 accounted for the 3rd, 4th, and 5th place finishes of Clark Wendlandt, Mike Surman and Brian Thrift, respectively at the FLW Forrest Wood Cup on Lake Ouachita in 2007. Each Prop Bee is handmade in North Carolina by Brian Huskins, and features a double prop configuration that produces a topwater disturbance specially designed to induce aggressive strikes. The top coat is also extremely durable, and the hook eye wire even runs through the entire bait for added toughness. Available in several proven colors, Brian's Prop Bee is a great choice anytime the water temp is above 55-degrees, and the bass are up shallow, on windy points, bream bed, or keying on schooling baitfish.
| | | | |
| --- | --- | --- | --- |
| Brian's | Length | Weight | Class |
| Prop Bee #2 | 2-3/4" | 1/4oz | Topwater |
| Prop Bee #3 | 2-1/4" | 3/16oz | Topwater |
| Prop Bee #5 | 3-1/4" | 1/2oz | Topwater |
Brian's Crankbaits Hook & Split Ring Size Recommendations
Prop Bee #2 - Split Rings: #2 or #3. Hooks: #6 EWG trebles or #4 Round trebles.
Prop Bee #3 - Split Rings: #2 or #3. Hooks: #6 EWG trebles or #6 Round trebles.
Prop Bee #5 - Split Rings: #2 or #3. Hooks: #2 EWG trebles or #2 Round trebles.
Comments: Anybody that says that any other propbait is better dont know much about propbaits. Just look at the major tournament wins on this bait it speaks for its self. This is the bait that started the whole propbait craze years ago. By the way it has played a major role in the FLW CUP win and top 10 for many years including last year at Lake Lanier Jacob Wheeler was using a Brians Bee propbait not a "Rapala"

From: Bryan: NC

Comments: i received two of these baits and went to put hooks on them and the hook hanger busted the tail of the bait..very cheap quality, like something made in china

From: Richard: NC

Comments: These things are wayyy over priced and not durable at all even for a handmade balsa bait.

From: Jimmy: SC

Comments: Don't waste your money on these guys. The Kelly J from Lucky Craft is a far better bait. I own both and I have caught more fish off of the Kelly J than any other prop bait anywhere. These baits are a joke for the price.

From: William:Hohenwald, TN
Comments: There are a ton of expensive baits on the market this one holds its own with some of the best and Chris there worth what were stupid enough to pay for them...lol

Comments: Just received 2. Paint is already chipped off the bait. Looks like it a job for superglue. Is the quality really there for a $28 dollar bait? We will see.

From: Gerry: Houston, TX
Comments: The price is a little high but the baits are worth it. Remember you always get what you pay for.

From: Skip: Cherryville, NC
Comments: Great bait! Works everytime and bass love me. But......They are not worth 27 bucks!!!!

From: Chris: Tennessee, USA
***Note: If you have questions about this product or need assistance with an order please email your questions to info@tacklewarehouse.com
Color:
Baby Bream
View Large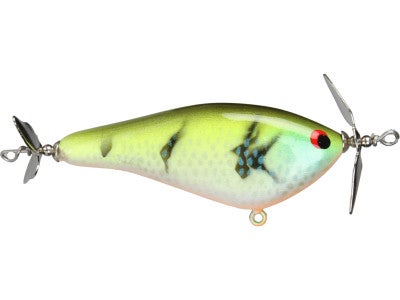 4 Available Colors
More Brians Topwaters