Daiwa Lure Retriever - $19.99

The Daiwa Lure Retriever is the best tool for retrieving those favorite (and likely expensive) lure once they've become snagged. Simply slip the Daiwa Lure Retriever onto your line and let it slide down to your lure. The Lure Retriever's chains flail around your lure, snagging the hooks. Pull on the heavy cord and pop your lure loose. It's that simple!
Comes complete with 45' cord and storage reel.
View Large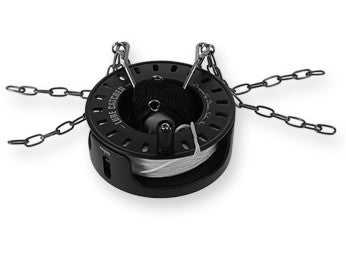 Place Your Order
More Daiwa Accessories
Comments: I've personally pulled over $500 worth of hardbaits, jigs, jigheads, and arigs back from the depths with this fantastic invention. If it's snagged really good just yank the chord a few times until a chain gets around one of the hooks. 95% success rate easily.
From: Nick: Meriden, CT 3/5/15

Comments: Love this product. Got a rare, out of production crankbait back the first trip I had it. Easily pays for itself and gives me a lot more confidence about throwing cranks into cover.

From: David: Austin, TX

Comments: This thing really works. If you are cranking in areas with a lot of structure its a must. I'm not afraid to throw an expensive crank into cover any more. If you can get over the snag 99% of the time you are going to get it back.

From: Eric: Stanwood, WA
Comments: Great lure retriever. This guy has already paid for itself after pulling up a crankbait. Ordered it and had to use it within a week.

From: Rodney: Richmond, VA
***Note: If you have questions about this product or need assistance with an order please email your questions to info@tacklewarehouse.com