Deps Buster K - $20.99
The Deps Buster K is a unique hollow-body popping frog straight from Japan. Its cupped mouth spits and splashes as it moves along the surface and up, over, and around matted vegetation. It also features a rattle and a moving weight transfer system, which create fish attracting sound and also help stabilize it during flight and as you work it along the surface. The fur legs are incredibly realistic in the water, and don't inhibit the Deps original outbarb hook like traditional rubber skirt legs tend to do. The Deps original outbarb hook also ensures that the bait will last longer because the barbs won't penetrate the hollow body, and also makes it easier to release fish. Available in a range of colors, the Deps Buster K can't be beat.
| | | |
| --- | --- | --- |
| Deps | Length | Weight |
| Buster K | 2.4" | 1/2oz |
Comments: I thought this frog would be cool like the slither k but its just a piece of junk. I ordered two and tried one, it was sinking. tried the other one and it sinks too. the buster k is just waste of money unless the ones i got were from a defected batch. the slither k is cool but catch one pike and its a goner.

Comments: Waited so long for this lure. this frog owns the bass and bass will just smash it. simply popping it and twtiching. only problem with this lure is that because of the rattle ball thing, sometimes can't get hook set right. loved the basilisky action but now i'm into buster k! ( For me, I only use frog when i feel like i want to catch big bass over 15inch)

Comments: Had a bad hookup ratio with this bait but it had so many blowups. I mainly used it in open water. Frustrated, I bought a pack of Lake Fork Tackle Frog Trailer hooks and started catching fish. Awesome little bait!!!

From: Chao: USA

Comments: Absolutely badass. So far I have caught every single fish that went after it and no damage to the fur legs or body. Absolutely badass

Comments: nice frog walks good and chugs good buti cant get hook ups with it i missed 6 in a hour i do fine with koppers and pad crashers the problem with this frog is the rattle weight transfer system it relly big and if its near the hooks when i bass grabs it the body cant colapse but ill keep trying it

From: Mike: OH

Comments: $20, lets hear some reviews on how long the feathers hold up!! One can hardly resist testing a new frog!!

Comments: All I have to say about this frog is Slither and Buster K, are the best detailed frogs. Def. in my top 5 Frogs! Great Job.

***Note: If you have questions about this product or need assistance with an order please email your questions to info@tacklewarehouse.com
Color:
Bloody Glow
View Large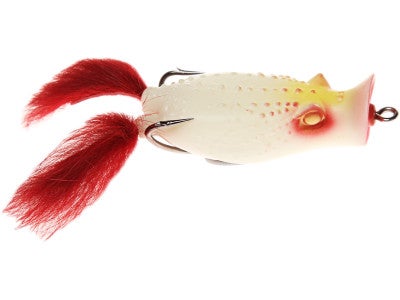 4 Available Colors
More Deps Hardbaits