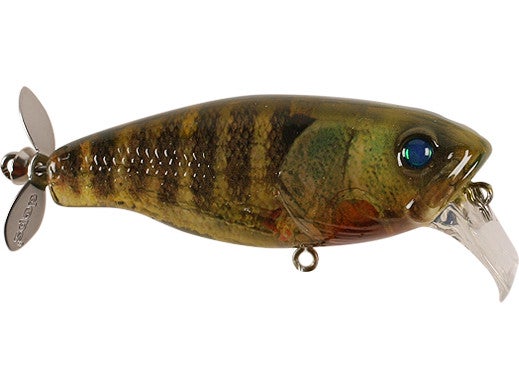 In our search for the best bass fishing tackle in the world we see and reject lots of new lures because the baits are just not effective or the quality is not what we'd buy and use ourselves. The high quality of these Deps lures first attracted our attention and we were even more impressed with how well they caught fish.
The Deps Buzzjet is a whole new concept in topwater lures, combining features from some of the hottest lures on the market today. Buzzjet offers a great walk-the-dog action with plenty of noise from the loud multiple rattle and plenty of splash from the bait itself and from the tail prop. Need a shallow running crankbait? Buzzjet will bulge and wake with the best of them. Rip it and the prop will drag a trail of bubbles underwater and the sliding weight system will shift and the bait will dart for the surface head first, just like a fleeing baitfish. Deadstick the Buzzjet with occasional twitches and darts to tantalize wary fish until they can't stand it anymore and HAVE to smash the bait. How ever you choose to use the Buzzjet you will have one of the most versatile hardbaits on the market today.
| | | | |
| --- | --- | --- | --- |
| Deps | Length | Weight | Class |
| Buzzjet Jr. | 3" | 1/2oz | Subsurface |
15 Colors
More From Deps Hardbaits
Customer Reviews
Comments: This thing works. I couldn't say why but it works. It "swims" like a drunk potatoe , it sounds like an old junk truck, the prop on the tail spend half of the time out of the water... but it works. Bass crush it.
From: Ben: France 12/28/15
Comments: Pricey, and not the top choice if your goal is a subtle, silent presentation. The hardware around the prop, and the internal rattles are very audible, and easy for the predators to locate in skinny, stained water. On the pause, it sits about 30-35 degrees face up, and the rear treble is lower than the prop, allowing good inhalation of the business end. It slithers slightly subsurface on a medium retrieve, creating an awesome wake pattern, it will dive & create bubbles on a jerk, and is just plain fun to fish as you bring it back for another cast. 5 stars, always in my tackle box. The price tag is nothing considering how much fun you'll have using it.
From: Mar: Wheaton, IL 4/9/15

Comments: AWESOME BAIT! used it on the Delta slight wind/overcast day. jig bite was slow, cranking slow...tied this on and got destroyed by an 8 lb LM and 8 others from .5 lbs to 4 lbs. it hit it so hard it turned my bluegill pattern into a bone colored. Just wish the finish was MUCH more durable. I give it a few cranks and stop till the rattles roll back then reel again and hold on! or in shallow water just a slow steady retrieve
From: Chris: Union City, CA 8/5/14

Comments: August 11, 2013: Got this smaller Deps Jr. 3" in Lime Ghost. It has been an amazing topwater. Never had a prop bait that created so many bubbles, did 270 and 360 degree turns, and could still be used as a wakebait on top of that. I like the way it "sits" down in the water on the pause, making it easier for bass to suck it under. Tough as nails as well. Bounced it off rock a few times and not even a scratch. Costly, but something bass really like.

From: Ed: Champaign, IL.

Comments: First time out with this lure(black)just before dark,had two missed blowups,the third landed a 6.07lb largemouth.

From: Kenny: VA

Comments: OK...I have been practing with this bait. It does work, and works well. I do agree that when you pay $25.00 for a lure you shouldn't have to tweak anything. However, as with any bait, tweaking can fun. Catching a fish on something you changed up a little can give yourself a little more satisfaction in catching that fish. I researched the internet for different tips. The snap greatly improves the action of this bait. I would not however use 10lb mono. $25.00 for a lure, I'm using braid. 20lb braid works great on this bait. Keep your rod tip up, and reel SLOWLY. If i had to choose one color, it would diffently be the real bluegill color. It seems to work on any lake that I have thrown it on. I have read articles where people claim this is the only topwater they now throw. To me that is a mistake. I still use buzzbaits (boogerman),poppers (rico's), and walking baits(spook). I think of it as just a another tool in the box. Just so happens, this one is a really GREAT one.

From: Bruce

Comments: Spend 25 on a deps lure...then bend the props...change the hooks and take off the split ring...replace with tie to make it run right. Wow!

From: David: TX

Comments: I want to try to answer the question on how to keep the buzzjet waking. I fish these lures all of the time and I have a few tips that might help. I always take the ring off and replace it with a small snap. The snap makes the bait lay over on it's side a wobble a lot more. This gives the bait a little more lively action. I use monofilament line in the 10 lb. size. The mono will keep the bait a float better and the main key to this lure is to fish it as slow as you can. I replace both hooks with Mustad number 4 kvd hooks. You will never lose a fish. Another trick that I do to my buzzjets is to take the back prop and bend it in the shape where it will throw more water as you crank it along. Don't get discouraged with the buzzjet. Patience is the key. It will catch fish any time of the day or night. The black really excels at night and the lime ghost is the color I use in the day time. It is my go to bait and I never go fishing without one tied on. Experiment with them and set your drag with the mono and you won't lose the bait or the fish. Good luck.

From: William: Hohenwald, TN

Comments: Any tips on how to keep this thing waking. I'm using 30lb braid. The bait seems to wake fine for short distances then take a nose dive. Wander if using a snap will help solve this problem.

Comments: fish mainly on Kentucky Lake most of the year. This fall they drew down the lake to the lowest level that I have seen in a long time. The bass were positioned way back in the shallows in 1 foot of water. I couldn't reach them with most of my walking baits and I was not catching many fish on them. I pulled out the lime ghost buzzjet and started catching bass and I mean big bass. This bait is amazing. You can catch fish almost year round. From late may till November I have caught fish on this lure. All you do is reel in real slow and the bass will eat it up. The buzzjet is my go to bait any time. If the bass don't bite the buzzjet you might as well go home. The lime ghost is the best in the daytime and the black will kill them at night. First thing you do is change the hooks to a larger size and you won't miss a fish. I have not lost one fish all year and I have caught a couple of 6 pounders. I use the 4 inch whenever I need a kicker fish. I cast it into 20 feet of water and they will come up and bust it. The 4 inch will get you the big fish you need. Excellent fishing lure day or night. Expensive but if it catches fish it is worth it.

From: William: Hohenwald, TN

Comments: July 17, 2011, it is time to get out the old buzz jet. I love these lures whether daytime or night time. The bass eat them up here in Tennessee. I caught 21 pounds Sat fishing the blugill color over submerged grass. I took the ring and replaced it with a snap and man did it help the lure. It made the lure lay over on it's side just a little and it drove the bass wild. I highly reccomend these lures to anyone who loves to fish topwater baits. Buy the bluegill color in the 3 or 4 inch they both will catch fish. I tend to catch bigger fish on the 4 inch but they are both great. Only thing that hurts is they are a little expensive but if you use good equipment you will never lose one. I am stll catching fish on the ones I bought 2 years ago. Excellent lure! You won't be disappointed.

From: William: Hohenwald, TN

Comments: I've been fishing this lure for a couple years now and have caught fish on nearly every color of it that I have in my tacklebox. Perhaps the best testimonial I can offer to its effectiveness came in a small local bass tournament on Sunday, 5/22/2011, when I caught at least 25 (lost track of count after that) on it. Was culling fish after using it for only two hours and weighed in 5 that went 11.33 lbs (biggest weighed 2.76 lbs). At the time, I was fishing shallow water over grass that hadn't quite reached the surface yet. Have had several days when I started and finished the day with this lure and a lot of nice bass to show for it. Few fishing trips for me pass without tying on this lure for at least a few minutes, especially when the wind is blowing. Incidentally, I keep seeing posts from people talking about bass throwing this lure. I had the same problem until I upgraded the hooks--now I rarely lose a fish.

From: Ken: Virginia Beach, VA

Comments: Just like the big one's, this little baby catches some big fish, try one, highly recommended!!

From: Mrbond007: East Lansing, MI

Comments: i caught a 13 pound bass off this lure in the bluegill color! awsome lures

From: Billy Bob: USA
Comments:I want to add a few comments on the Deps baits. I took them fishing Saturday night. I caught 3 good smallmouth bass in an hour of fishing. I probably lost a dozen fish. They tend to throw the bait.
From:William: Hohenwald, TN
Comments:I just got my 2 four inch Buzz Jet's from Tacklewarehouse, the shipping was fast, packaged perfectly and exactly what I ordered. These baits are beautiful baits and have moves that I have never seen in any other top water bait I have used. They will catch fish big and small. I caught a couple of bass that were not even as big as the bait. If you want a good topwater bait to add to your arsenal of lures pick you up a couple. As a matter of fact, I just sent my order in for 2 more in the 3 inch size. You cannot go wrong by ordering from TackleWarehouse, they are the best in every way. Fast shipping, excellent quality, and you can't beat the service no matter where you go. Don't forget the price, these baits are expensive but worth it in the long run. I have a tackle box full of junk that I haven't caught anything on. You can't go wrong.
From:William: Hohenwald, TN
Comments:I recently purchased a Lime Ghost Buzzjet Jr. from your excellent establishment. It's a very high quality lure with a very inticing action. The fish love it! I caught seven smallmouth bass in an hours time. My only concern was the #6 size hooks that came on it. I put on #4 Owner ST-36 treble hooks for some added hooking power. I know losing some fish is to be expected, especially on a topwater lure but, after losing that big fish I'm going to try a pair of #4 VMC Sure Set hooks and see how they work. Either way, this is just an awesome lure. If this lure keeps producing results like this, I can see some fat checks in my fishing future.
From:Dave: Cuyahoga Falls, OH