Deps Slither K - $19.99
The DEPS Slither K was designed to be fished in the thickest, nastiest cover imaginable. Its unorthodox body profile, cupped sides, flat belly and advanced balancing system were strategically calculated to facilitate a killer walk-the-dog action and produce an incredible amount of turbulence.
Its super soft construction combined with the precisely-angled, custom-designed hook make the Slither K extremely weedless, and at the same time, provide an excellent hook up ratio. The rear portion of the bait also has two evenly distributed holes, so the air within the body is quickly released, further ensuring solid hooksets, while automatically releasing water on the cast.
The natural feel and appearance of rabbit fur adds an extra element of natural appearance to the lure as it slithers back and forth on the surface, offering subtle movements and undulations that can only be produced with a natural material. As an added bonus, when the hair gets wet the extra weight from the water makes it more wind-resistant and allows for longer distance casts. Available in a range of killer colors, the DEPS Slither K is ready to rock-and-roll right out of the package - no tuning necessary.
| | | | |
| --- | --- | --- | --- |
| DEPS | Length | Weight | Class |
| Slither K | 2-1/4" | 3/8oz | Topwater |
Comments: just recieved mine in the mail, and it looks awesome. ive heard great things and i am ready to hit the water. the tail is very cool, it is like a feather.

From: Scutt: KS

Comments: One of the best frogs in my opinion. Movement of this frog just drive bass nuts.

Comments: Ive caught my biggest bass on the slither k by deps in the shooting star color

From: Patrick
Comments: this is one of the best mouse/frog out there. i called it the crazy walk. so ez to walk the dog. but it do catch alot of bass and pike.

From: Skyline: Greenfield, WI

Comments: This frog flat out gets bit! The tail holds up super well but after about 40 fish on it it might be getting close to retirement. The bottom weight on mine is barley hanging on...any tips to keep it in? Either way if you like throwing the frog give this a try! Ill be buying another one.

From: Max: HB, CA

Comments: @Ryan, thanks for the great feedback... Just like many fisherman, frog fishing can become a passion. I have tried most of the new hollow bodied frogs that have raving reviews, spro, iobee, jackall, and the Deps looks unbelievable in the water. It actually walks the dog much better than the iobee, which walks flawlessly. I purchased the albino pepper and man this thing just comes alive in the water... Lets all be honest, when fishing a top water frog, it does not necessarily look like a real frog, but I can honestly say this lure looks like a small mouse scurrying away from cover in the water.

From: Brett: Rochester, NY

Comments: i literally threw all my other frogs out by far this deps product changes the total game in frog fishing .i cant remember how many years we alway have seen the same type of frog design for the last 30 years at least. the action this frog puts out in the water is incredible . it has outfished my kopper and spro frogs by 5 to 1. who ever designed this lure should get a major award . it looks totally identical to a mouse or frog swimming in the water .the way it responds to the rod action you give it is something to see. i have not been so excited about a lure in a long time . the last couple of years the koppers has got so much attention because of all the detail it has but the performance is not much difference then frogs of 10-30 years ago. you put them side by side and the slither k will change your mind forever. buy one!!!!!!!!!!!

From: Ryan: Houston, TX

Comments: best frog/mouse ever incredible side to side action like nothing on the market in a totally different class then kopper and spro frogs they dont perform anywhere near the slither k. best hook set best casting a whole new concept in a frog/ mouse design. you are very limited in action with the kopper and spro design they dont walk the dog anywhere near what the slither k does . no matter how you work it. the japanese bait buiders make the very best lures in the world this lure is one of the best examples . the rabbit hair acts like a natural mouse or rat tail in the water you have to see it work to believe it looks so real . buy one and you will never go back to anything other frog i promise

From: Jake: Austin, TX

Comments: worth every penny the very best hollow type body frog period .the kopper , spro, rivertosea ,and some others are basically all identical in some way. if you look very closely at this frog the flat lead weight is balanced perfectly it has a natural pivot point it walks the dog like no other the rabbit fur comes to life in the water and is totally industructable no other frog cast like this one it is like a bullet in the wind and on a calm day best hook set of any of them because of the type of plastic used and the design of the contoured body and how it collapes very quickly. the other companys i mentioned they may look totally like a frog but that is where it ends if you want total performance this is the only!!!!!!!! one.

From: Jim: Lake Tomahawk, WI

Comments: The best frog ever!!!!! Buy one you will not be disappointed. Walks amazing, the hook set is incretable, and they hold up great! I caught over 50 nice bass on one lure without it falling apart. They catch big BASS!!!

From: Jeff: San Juan Cap, CA

Comments: Very soft and a lot smaller than i expected not saying that's a negative in any way but only time will tell if this guy is a true killer. Looks and feels the part

From: Louis: Milwaukee, WI

Comments: All I can say is one thing. Best hollow Body frog on the market!

From: Cody: FL, USA

Comments: Great frog/mouse...Hooks tight on the body, and do not require cleaning every cast. No trouble walking the dog, and good hook set. Rabbit tail still intact after many catches....and a few misses :) Beats Koppers Live Target by a mile....or more.

From: Dick: Sterling, IL

Comments: Probably one of the best frogs on the market. Guarantee you'll catch fish. It is more expensive than other frogs but it is truly one of a kind when nothing else bites.

From: Jino: lake of the Ozarks, MO

Comments: Nice little frog. Small profile, but casts like a bullet. Does not sink, but harder to walk than most frogs. Will walk well, but you have to put some effort into it (not near as easy as a Bobby's or Ish frog). Above all, it catches fish very well. The fish seem to like it, as it has been out-catching my other frogs 2 to 1. Hookup ratio has been good--but as anyone knows that throws frogs, sometimes bass seem to have a depth perception problem and just miss the bait.

From: Brad: Texas

Comments: Great frog took got them yesterday and took it out yesterday on a tough lake caught a 4 and a 3 hooksets are so easy it is so soft great frog 5 stars

From: Tyler: Columbus, GA

***Note: If you have questions about this product or need assistance with an order please email your questions to info@tacklewarehouse.com
Color:
Albino Pepper
View Large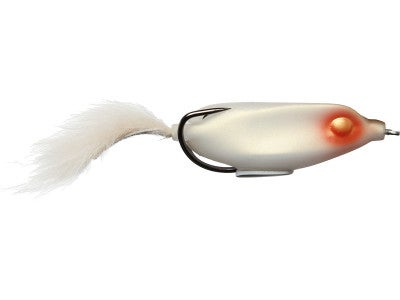 6 Available Colors
More Deps Hardbaits