Dirty Jigs California Swim Jig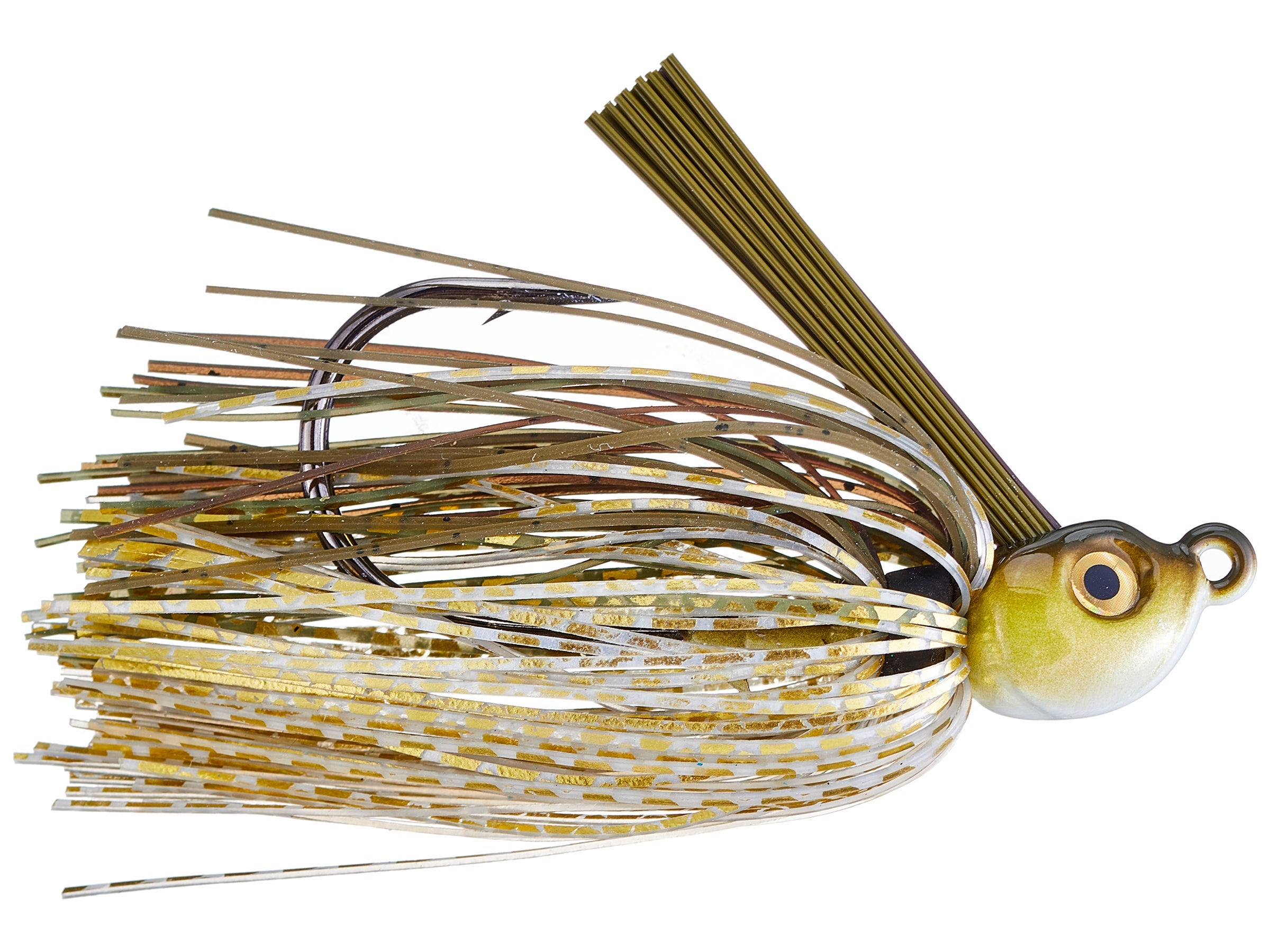 If you're ready to swim a jig for big bass - this is the jig for you! The Dirty Jigs California Swim Jig is more than just a twist on an old favorite. By combining all the benefits of a big swimbait with the fish catching ability of a swim jig, Dirty Jigs was able to create a jig that gets bit in a wide variety of conditions. It's also armed with a super sharp Gamakatsu Dirty Jigs Signature No-Jack Hook that can handle the largest of fish. Available in several proven color combinations, the Dirty Jigs California Swim Jig received national attention during its inception, and it has already produced monster bass from coast-to-coast.
37 Colors
More From Dirty Jigs
Customer Reviews
Comments: this jig is bad to the bone! big beefy hook & it takes a beating from all the okeechobee mules i catch on it moonshiner works magic with a white Ez swimmer trailer in the kissimee grass tight lines!
From: Anthony: Orlando, FL 9/18/15

Comments: Finally got to hit the water with the 3/4oz jig. All I can say is WOW. The fish slam this thing like a freight train. Comes through the grass with ease!
From: Tony: AZ 5/20/15

Comments: Best swim jig on the market in my opinion. Just wish they came out in more colors like the No Jack flipping jigs.
From: Josh: Kansas City, KS 12/21/14

Comments: I have dozens of dirty jigs of all sorts. Love the product, colors, everything about them. I made the exception with this company and ordered once directly from them because they asked nicely. I paid for priority shipping (10.95) and 4 days later the shipment is just now leaving their facility. They use stamps.com which is no way to do business. Order from TW only, Ive never had an issue with any shipping. My mistake TW, lesson learned.
From: Dustin: Richmond, VA 8/12/14

Comments: Awesome swim jig! Caught a 12lb largemouth on the tactical shad color. The jig held up like a champ. You guys should try the Culprit Minnow Swimbaits as trailers to these they have amazing action and are very durable.
From: Randall: AL 7/1/14

Comments: Durable paint, large STOUT hook and wide variety in color patterns. Long story short, dont throw a swim jig unless its a Dirty Jigs swim jig.
From: Kevin: Austin, TX 3/27/14
Comments: Bought a couple of these but at the end the crappie color is a killer. Wont throw any other color then the crappie.

From: Cuss: Sacramento

Comments: I'm a believer. Caught my first fish with this jig with a keitech swim bait. Got a good hook set. Will be buying more for sure.

From: striper team: flezzno

Comments: These jigs are awesome!! they swim great and have very nice quality components!! I highly recommend this jig!!

From: Ricky
Comments: Fantastic jig! Swims great the day I got these in the mail I went out and with in the hour I landed a 5 pound 4 oz tank! I highly recommend them! Also worth the price and the colors are great!

From: Aaron: Fayetteville, AR

Comments: Dirty jigs makes hands down the best jigs on the market top to bottom from the colors to the hooks to the paint job bulletproof

From: Louis: Green Bay

Comments: Power fisherman's swim jig!! Fish these jigs with 4.5in swimbait as trailer and plow through cover! Using these jigs on Toledo Bend and Sam Rayburn for swimming over deep grass with good results!

From: Big Bass Dude

Comments: Great jig. Quality skirt, head and big hook. The weed guard maybe too soft for some folks. But perfect for me. I trailer it with a Kalin's 5inch grub worm just because you get more quantity per dollar. Caught my personal best with this setup.

From: cvang234: Minneapolis, MN

Comments: Get the 1/2 or 3/4 green sunfish with a berkley crazy legs chigger craw in the breen color trailer. Absolute killer for largemouth and pickerel

From: Joe: Laurys Station, PA

Comments: This jig is an absolute crusher when you get a 1/2 oz. citrus shad with a matching 5" BassTrix paddletail swimbait. This is something that gets down pretty fast and will help fire up big schooling largemouth after you catch them on the cranks or football jigs. I WOULD NOT, however, throw this bait before I have a limit in the boat. Throw deep crankbaits, like a Strike King 6XD, get a good limit in the boat, then spend the rest of your day alternating this jig with the swimbait and the crankbait, and you should add some good kicker fish. Looking to fish a tournament down South this year, these will be on a stout, long rod for sure. With this, you also want to set the hook hard and swing up, the fish are deep and far away. You want a good hookset and I use 20 lb. Seaguar AbrazX.

From: Aeolian: Kalamazoo

Comments: when i first went fishing with a swim jig my first fish was 8 pounds i love this jigs and i was fishing in mexico suger lake

From: Erick: Houston, TX

Comments: I am very picky when it comes to colors and when i saw these jigs i knew i had to get my hands on a couple. After having 2 and catching one fish i decided to order 4 more. Can't wait till they come in! Match the half ounce with a berkley ripple shad and you got a deadly weapon

From: Chris: CT

Comments: Great colors, fantastic hook and weedgaurd. my first try with swimjigs and these California Dirty Jigs made me a believer.

From: MC: San Jose, CA

Comments: Dirty Jigs are the best crafted jigs for the money

From: Roberto, MM

Comments: I fished this jig at Falcon Lake and it produced my personal best 11 lbs 12 oz along with two 7 pounders. These are the best for big bass.

From: Tye: Texas

Comments: My new favorite swim jig! These things went so quick I was only able to get a couple, but they've already produced some very nice bass for me. Not only will the bigger ladies hammer this, the petite ones will too.

From: John: Florida

Comments: Finally! Someone comes out with a big, power swim jig. This thing has already put some big pre-spawn females in the well for me.

From: Adam: California, USA