Dirty Jigs HP Flipping Jig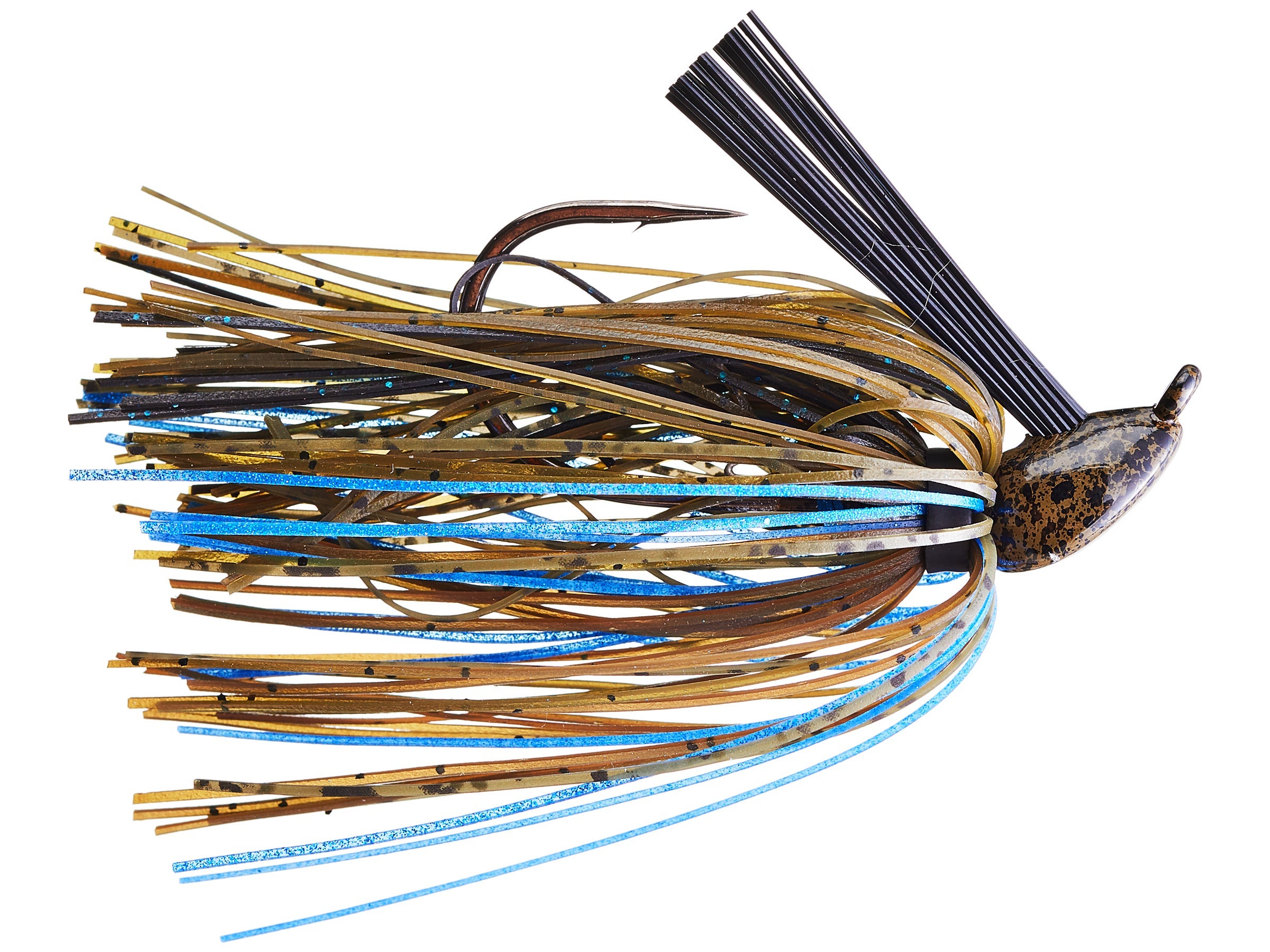 Tackle Warehouse Exclusive
The Dirty Jigs HP (High Performance) Flipping Jig was designed to be an all around workhorse of a jig, incorporating several design features to excel at a variety of flipping and pitching applications. Its modified wedge head design allows it to come through all types of cover, and the head also has a flattened bottom to provide a standup defensive crayfish posture when at rest. Also featuring a bullet-proof, multi-layer powder coat paint job with color-matched metal flake, a Gamakatsu 3X Strong Jig Hook, a wire trailer keeper and a skirt keeper that accepts a rattle system, the Dirty Jigs HP Flipping Jig is available in multiple proven colors to best suit your fishing conditions.
31 Colors
More From Dirty Jigs
More From Tackle Warehouse Exclusive Baits
Customer Reviews
Comments: absolutely great jig. Any color you get and or weight you will catch Giants. Never had a hook bend either. By far the best made jig I've ever owned.
From: Riley: IL 2/7/15

Comments: I got 5 of these and 5 of the pitching jigs and these jigs are great. The 3/8 oz come through cover great (not as good as a punchin jig of course) and the hook and weed guard are great. Great color selection too!
From: Max: Burlington, VT 1/7/15

Comments: great jig! By far the best jig I have found, great colors and very durable. Huge hook and weedguard allows great hooksets
From: Brendan: Gardner, IL 5/27/14

Comments: Awesome jig!! First time buying this brand, absolutely one of the best. paired with a paca chunk sr and it has a awesome presentation!

From: Alan: GA

Comments: by far best flipping jig i have ever used only jig me or any of my budys will buy! works great with hula grub trailer thats just my preference though. Buy this jig and hold on!

From: Issac
Comments: Its great for flipping around any type of cover. My new favorite flippin jig!

Comments: My favorite jig brand great colors I don't know if the demand got bigger but the last 5 I order 3 of them had the eyes full of paint is such a good paint that I spend 30 min trying to get one eye clean out haha it happens.

From: Jibaro: MN

Comments: New favorite jig so far, durable paint job and super sharp/stout gamakatsu hook. Not to mention the detail in the paint and skirt selection. Favorite thing about this jig is its super weedless around hydrilla, coontail, and tules...comes through grass clean almost every time. Buy yourself some, you won't be disappointed.

From: Delta Rat: Cal Delta

Comments: Best flipping jig out there, the weed guard could be a little thicker I get hung a lot in the thick stuff. I caught 29 the other day on the black n blue 1/2 oz model in 4-7 ft of flooded timber. Buy it, you won't be sorry!

From: Ian: Longview,TX

Comments: One of the best jigs I've ever used. Comes through wood really well and stands up with a good posture. This is my confidence jig.

From: Hale: TN

Comments: Awesome Jig! They have the best and most beautiful color selection around, the skirt, paint, and weedguards are all very durable. I've actually never even chipped the paint at all through my whole season. Bass just can't get enough of them. These are just all around awesome jigs!

From: Cobi: MI

Comments: Now this is definetly the best jig in my box I team it with a Yamamoto double tail with black and blue that works from lake oroville spots to backyard largemouths all around great bait

From: Keewen: CA

Comments: This is usually the first jig that I'd grab. Very durable. I wish the jig would come off weeds a little better. There is a nice bait keep on the hook but I usually would catch fish as is with no trailer attached.

From: Phillip: USA
Comments: Wow dam good jig! i like revenge but this one comes out of weeds so much better, 10 out of 10 skirts, hook, colors. only down fall not perfect when fishing trees, it seems to get snaged more than revenge. try them you WILL like them.

From: Miles: Oregon, USA