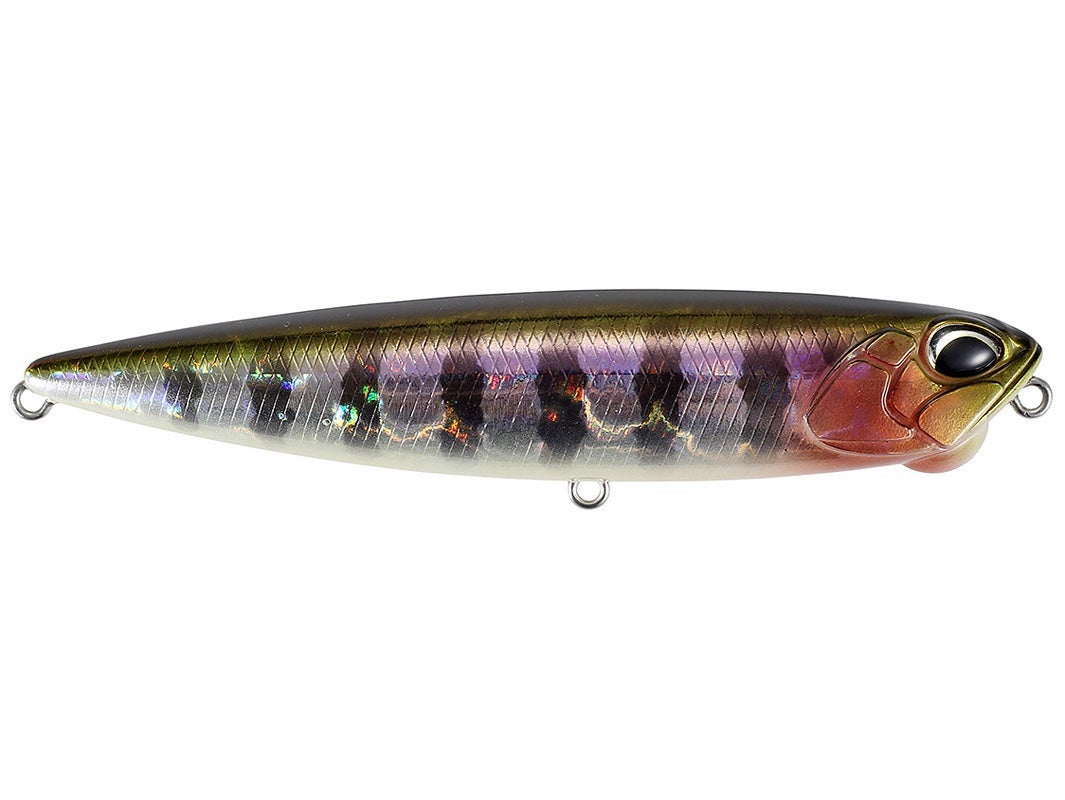 Delivering topwater action second-to-none, the Duo Realis Pencil 110 features an advanced, Japanese engineered design. A protruding sphere under the face of the Pencil 110 allows any angler, regardless of skill level to easily produce the classic "walk the dog" retrieve along the water's surface. By twitching the rod harder than usual when the lure reaches the highest point in the "walk the dog" retrieve, the Pencil 110 will also splash water forward and dive just below the surface for a more advanced presentation. The Pencil 110 also features an internal moving weighting system, which produces a seductive knocking sound during the retrieve. This weight system and the Pencil 110's aerodynamic design also combine to produce its amazing long casting ability. Available in a range of proven colors, the Duo Realis Pencil 110 is a deadly bait few bass in North America have ever seen.
| | | | |
| --- | --- | --- | --- |
| Duo Realis | Length | Weight | Class |
| Pencil 110 | 4.3" | 3/4oz | Topwater |
14 Colors
More From Duo Realis Topwater
Customer Reviews
Comments: I fish at New Hogan Lake & I have to tell you this lure (neo pearl) is awesome! Cast a mile & walk pretty good; the rattles is pretty loud. Nothing beat a Striped Bass breaking the surface of the lake trying to kill it & then swallow it. After 3-10 hits the lure's color does get beat up & fade a little.
From: Mr. Yang: Stockton, CA 5/12/16

Comments: Just got two of these in the mail yesterday & of course I immediately went out to my local pond to give them a whirl. Now keep in mind that I want to love these things. I will say they cast phenomenally however I can not get these things to walk like I want to. I find the Sexy Dawgs and Spooks are much easier to get that nice slow walk I want. When I try to perform the same function with these lures I just get this lunge forward. I spent a few hours with these and I will say I do like the knocker sound it produces its definitely different from my other walkers and its nice and loud. Its just the action of these things I don't know if mine are defective or there's something I need to change with my rod twitch. I will say I managed to get one walking but it was at a much faster pace than I would Ideally like and I didn't have the control I am used to with the other lures. These seem to sit way more vertically in the water than my other walking lures and I'm not sure if that's contributing to my inability to walk these. Again the only way I got it walking was at a faster constant pace I couldn't get that nice slow pausing walk that the fish around here love. I'm going to keep trying to master these things because the hooks are very sharp they're beautiful lures and they cast like a dream.
From: Mike: Morristown, NJ 6/11/15

Comments: After some time on the water i have to agree that this bait is wonderful. Just as stated it walks very easy and starts up quickly. I can throw this bait a long way, and works very well in the clear water here in washington. I have the regular bluegill and looking to grab a few other colors.
From: John: WA 8/16/14

Comments: This is a great lure! Easy to walk slow or fast and the knocker is really loud and effective. This is my new favorite topwater try the violet ghost( has a black back and darker purple on the sides than shown looks more like a minnow)
From: Ryan: NE 5/30/14

Comments: I picked up this lure as i thought it was like a sammy and it is not. It still is a great looking topwater, but it has a much fatter profile like a spook. Its still to early in the season to give it some water time, but not what i thought.
From: John: Bremerton, WA 3/22/14
Comments: The cadillac of walking topwater lures.

From: Dustin: Sugar Land, TX

Comments: Great walk-the-dog lure. The half sphere in the mouth really makes this lure a pleasure to use. With minimal effort, the lure seems to walk itself. Oversized treble hooks instill confidence that the fish will be easily hooked, and stay hooked. Fantastic topwater lure.

From: KBullington24: CA

Comments: this is my fav DUO bait, and probably my new fav walking bait. So easy to use my 5 year niece could fish with it, and so loud your apt to wake your neighbours. I picked this one up in the Neo Pearl and it looks great

From: Rob: Kingston, Ontario, Canada

Comments: This product works for me! I love fishing top water, but nothing compares to any top water popper like the DUO Pencil 110! I recommend this lure to any angler out there who wants to catch more fish! Walking the dog is simple with this bait. Buy one and be amazed!

From: Foley: Hahira, GA

Comments: This bait has the best walk the dog action that I have ever seen! There is nothing that compares to it. I love how the bait splashes a ton of water and stands straight up when you stop it.

From: Carson: Mooresville, NC

Comments: Great bait used it on day 2 of the Lucas Oil Pro/Am on Lake Mead and had a 10lb 8oz stinger of Largemouth, thats a good bag on Lake Mead. Cast like a bullet work it with 20lb braid and hold on!!

From: Victor: Las Vegas: NV

Comments: I watched @JasonBaggett pull over 22#'s of fish off of one rock with the Passion Chart Pencil 110. This bait out fished everything in his boat. He ended up winning the tournament with 7# advantage, all caught on the Pencil 110. Absolutely the coolest topwater I've seen yet.

From: K1 Bass

Comments: This is the best topwater bait on the market. Practically walks itself and the bass absolutely love the action. Quality hooks and amazing detail make these baits a must have. Well worth the price. I'd highly recommend them!

From: Jeff: Okeechobee, FL

Comments: Awesome bait! Been using these for a few months now and I am nothing short of impressed. Easiest walk the dog bait to use and the ball at the head causes them to spit a ton of water. The one knocker creates a sharp loud noise. By far the best topwater walk the dog style bait I have used!

From: Cameron: Clemson, SC

Comments: I Used this lure in Ohio and Florida with killer results, the sound it makes is high pitched and bass cannot leave it alone. Works great at night also. Sound is unparalleled, some of most aggressive strikes I've seen.

From: Jonathon: Ft Myers, FL

Comments: These are the real deal, they have a great tight walk the dog action keeping them in the strike zone longer. Killer on big smallmouth and just as affective on largemouth.

From: Jason: Tonka Bay, MN