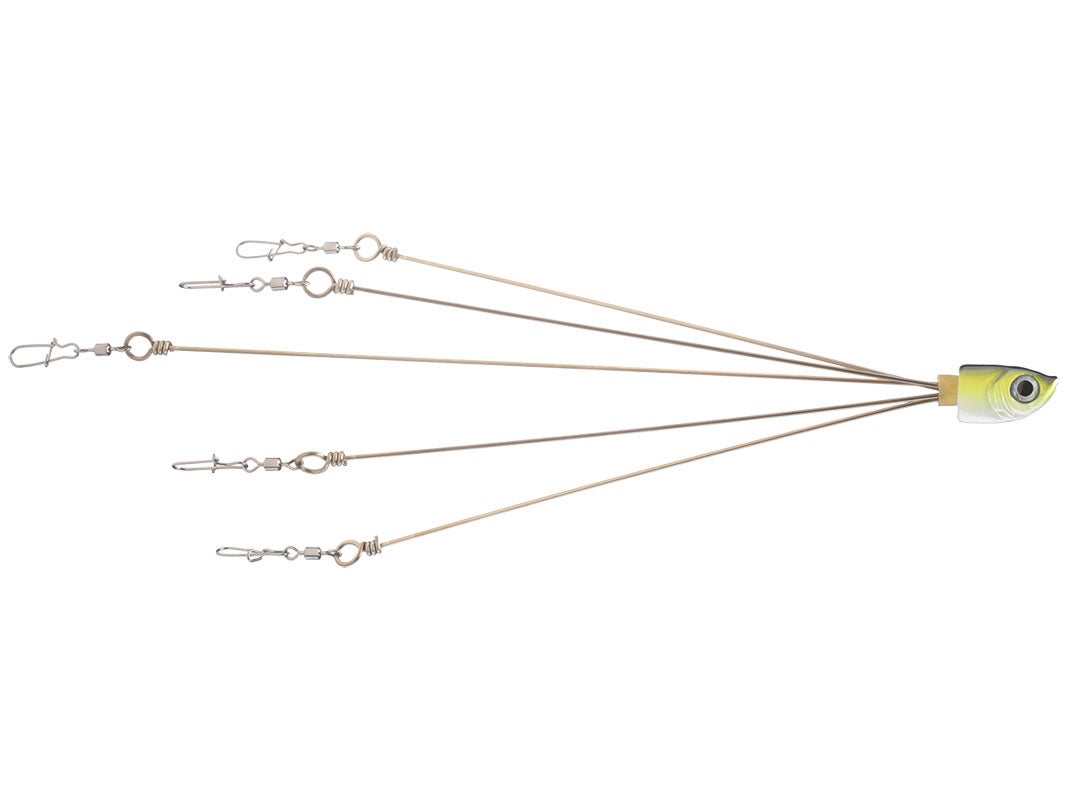 Please Note: Baits and Jigheads not included.
The Frenzy Baits Sniper is the umbrella rig that's going to fool big fish time-and-time-again. It features an industry-first 7-wire construction, along with a hand-painted tin head and strengthened stainless steel wires. Compact 60lb swivels keep it from tangling, and dual lock snaps hold the hooks on tight. The Sniper works best on schooling fish that feed on breaks, points, and flats, as well as, bass suspended out deep. Naturally, fish are greedy, and they will try to eat the biggest meal possible when feeding. Three- and Five-wire umbrella rigs will catch fish, but after you add two more wires/baits, it turns an appetizer into a filet mignon!!! The Frenzy Baits Sniper is an umbrella rig like no other.
**Don't forget to check your State's fish and game rules and regulations - a fully rigged umbrella rig is illegal in some States.
-Backed by Frenzy Baits Limited Lifetime Warranty.
2 Colors
More From Frenzy Baits Umbrella Rigs
Customer Reviews
Comments: I Landed a 40+ pound striper on this rig and it fought 100X harder than any LM Bass ever will!!!! this rig is great. I straightened it out and used it to get 4 top tens in the BFL and BWS. Its a tough bait

From: Center hill boyZ: Alexandria TN
Comments: my wires were all screwed up, 4 small ones and 1 big one on the bottom and 2 long ones on top.

Comments: Great rig overall, but you may want to change out the snaps. I lost three baits casting this rig because the snaps opened up. The rig is durable other than that.

From: John: Sacramento

Comments: these are awesome I love these paired up with some skinny dippers, they are the best on the market I have two of them and have lasted me forever really recommend them

From: Conner: Walnut Creek, CA

Comments: This umbrella rig is sweet!! By far the best one I have used the 4 shorter wires on the 7 prong are great for giving that schooling effect while the bites happen most often on the 3 longer wires great design guys!!

From: Dave: Clear Lake, CA