G-Force Trolling Motor Handle - $30.00

Endorsed by Elite Series pro, Gerald "G-Man" Swindel, the G-Force Trolling Motor Handle is a quantum leap forward in trolling motor replacement rope technology. It features a rugged, nylon jacketed stainless steel cable with a large comfortable cushioned grip handle to solve the problem of the cheap lift & release ropes on today's trolling motors.
As trolling motors have become more powerful, complex and heavier, the lift systems from the manufacturers have not kept pace. Too often anglers are faced with broken ropes and handles often in critical times, especially tournament guys. The G-Force Trolling Motor Handle solves that problem once and for all. Designed to fit most trolling motor models, the G-Force Trolling Motor Handle even comes complete with a hook-n-loop strap to secure to the motor shaft while underway. Built to last and lift in the most difficult situations, the G-Force Trolling Motor Handle is the last lift & release system you'll have to buy.
Comments: After a few months of use, this cable failed. The washer assembly that connects to the release mechanism on the trolling motor pulled through the opening. An on the water repair was impossible with the basic tools I carry and was forced to install a basic pull rope I carry for situations like this. Wire cable is durable. Great. The connections used on the handle and trolling motor clearly are not which renders the durability of the cord useless.
From: Michael: Nashville, TN 7/13/14

Comments: Purchased the G-Force to replace the broken OEM pull-cable on my Motoguide (Digital Tour Series). I was initially very impressed with the G-Force, it seemed significantly better than the OEM system (Lasted 3 yrs.); But after less than a year of use, or approximately 5 or 6 fishing trips, the cable pulled through the cheap plastic handle. Similar to the complaints/problems offered by a good many other customer's. Totally bummed, and can't begin to understand how a cheap plastic handle made it's way into this seemingly bullet proof system. I can only conclude that the testers of this product had no idea what it's like to fish a tournament. Because of the handle design, I assume the G-Force was made for people who don't take their fishing seriously or go only a couple times a year. I thought I bought a well thought out product, only be let down in the middle of no man's land 10+ miles north of the last buoy marker. Wasted over $400 on a fishing trip.
From: Gilbert: Spring Branch, TX 7/13/14

Comments: ya'll must be abusing the heck out of this thing to break so many of them! i've had 2 of these (one on each of my last 2 boats) and both have been awesome to me. but i handle it with care
From: Kevin: TN 6/21/14

Comments: poorly made. broke first time out. cable pulled through the washers. Ruined my fishing day. Had to cancel and go in. Replaced with the oem cable from minnkota. Would not waste my money again

From: Curtis: Alamo, CA USA

Comments: Only the 3rd time out the handle split in half. TW will replace, but still. T-H Said they have came out with a new handle design and they will send me one of those, so we will see if that is any better. All in all I'm very disappointed. I could have went to Lowes and got the good vibration handle for less money and problems.

From: Chip: Fredericksburg, VA

Comments: I concur with other reviews. Very nice handle and easy to install. After a few weeks, the cable slip from the handle.

From: Kenneth: Jacksonville, FL

Comments: Install was very easy, handle is very comfortable, but after a few weeks the same problem happened as everyone else (Handle cracked and the cable slipped out of the handle). Will use it until it breaks again. Would buy again IF they fixed this problem

From: Alex: CT

Comments: Great concept and easy to install, but not even close to being reliable. First time I used it, I liked it and was able to get my TM in and out of the water, but then after hitting a stump, when I went to lift the TM, the head that holds the cable in the handle popped loose, and sent me into the console. The next time out, I made sure it was EXTRA tight and completely on all the way, yet the very first time I went to put my TM in the water, it popped off again. My last attempt at this G-Force handle will be putting the cable head in the handle and using 5 minute epoxy all over it until it is just a glob of epoxy. If that doesn't work, I'll be going back to my standard TM cord.

From: Slade: KS

Comments: I got one its a great product. My handle did break but TH marine sent me another handle I had one of the first ones and they has since had a redesign of it looks to be a lot better. All in all one of the best products I've add to my boat.

Comments: I had the same experience as Kyle. the 2nd time I took my boat out with this cable, the cable itself broke out of the handle. I tightened it down until the allen wrench bent so I bought a minn kota rope again. Wouldn't recommend.

From: Kristopher: Fort Worth, TX, USA
Comments: The handle broke the second time I used it. Pulled right through the bottom. I put the motorguide handle on it and it works great.

From: Kyle: Green Bay WI

Comments: Works great should have bought this long time ago, best price around. Install took all of 5 minutes absolutely love it....

From: A: lake view alabama

Comments: Very easy to install. The cable is very rugged and can take a beating, but the handle is plastic. My handle broke after about a month of use. I didnt bother calling to get a replacement just to have it break again. Instead I made a new handle out of a piece of stainless tubing. I wish the original handle had been made of aluminum or something more durable.

From: James: West Monroe, LA

Comments: Great Product! Installed on MinnKota very easily. Actually makes lifting the TM easier somehow. Saw the factory replacement rope/handle and had to laugh.. why would you go that route again if you know about this option!

From: Andy: Houma, LA

Comments: I agree with Lenny 100 percent

From: Tony: Centre, AL

Comments: So easy to install on my motorguide, really cool accessory, would recommend to everyone

From: Willis: Panama City Beach, FL

Comments: Its easy to install , looks great , and TW low price, thats 3 of 3,it does,nt get any better than that

From: Lenny: So, Calif

***Note: If you have questions about this product or need assistance with an order please email your questions to info@tacklewarehouse.com
Color:
Red
View Large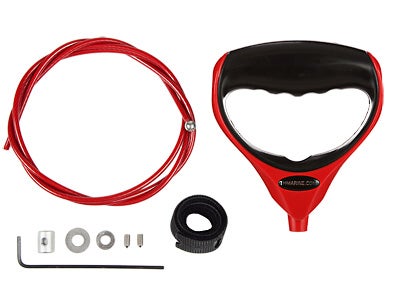 2 Available Colors
More T-H Marine Accesories