Gamakatsu Skip Gap Worm Hooks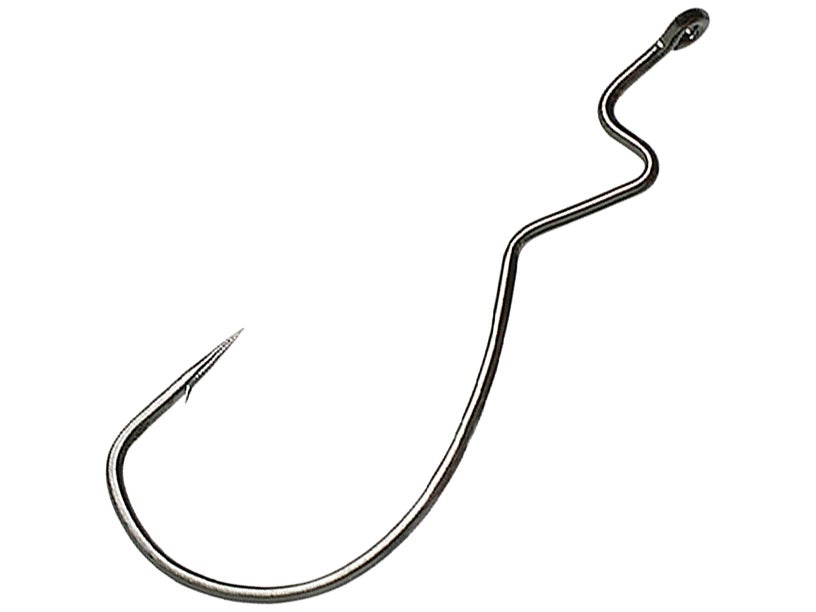 The new Skip Gap Hook from Gamakatsu is the hook every dock skippin' Bass angler has been waiting for. Many soft plastics will slide off of the offset or simply come off when thrown hard against the water in an attempt to skip it under a dock. This is especially true on really hot days when the plastic can get extra soft. This unique patent pending hook is designed to hold soft plastics firmly in place so that no matter how hard you throw it, the plastic bait stays put. Unlike other hooks that have attempted to do the same thing, there is no special rigging required for this hook. Simply Texas rig it like any other wide gap style hook and it's ready to go. The wide gap is built to handle thicker baits like tubes, but is also ideal for stick type baits and regular soft plastic worms. Sizes: 1/0 – 5/0.
Place Your Order
More From Gamakatsu Worm Hooks
Customer Reviews
Comments: It works as far as keeping the bait from sliding while skipping. I had issues on hookset using the 3/0. Lost 4 keepers in a tournament that were skin hooked. Switched to a regular offset ewg hook for the remainder of the tournament and landed everything. Not sure I'm willing to try these again when money is on the line.
From: Unknown 2/21/17
Comments: 3/0 holds an average size beaver-style bait just right. Boated an 11.33 in March 2016 pitching a beaver rigged on this hook with a punch hub skirt and 1/2 oz weight. Hook tied on with modified snell. Everything worked perfectly.
From: Unknown 1/17/17
Comments: Great hook to use with fluke's will not tear baits like an offset hook. I like the 5/0 seem to get better hookups.
From: Scrap: South Carolina 1/17/17
Comments: this hook gave me a lot of problems setting the hook but I really liked the way the soft plastics look while rigged on this hook & the hook is to flimsy I was using it last year on a lizard around a big female bass & my hook did not even scratch the bass it slid right out of its mouth but overall its a good hook just needs a few mods.
From: Frankie: Uvalde, TX 5/10/16

Comments: I use braid for skipping soft plastics to docks, because the docks on my lake are on metal or wooden stands. The concept of these hooks is great for holding the plastic worm, but its not strong enough for braid. They bend out. Gamakatsu needs to made the superline version of this hook. Since this hook came out several years ago, Mustad & others have come out with heavier hooks with bait holding pins that work just as well at holding plastics. I've been content with them. Gamakatsu missed the boat on this one.
From: Big John: NY 9/22/15

Comments: If you are tired of your hooks sliding off of flukes and zoom frogs here is your solution. A great hook. I wish they made a bigger beefed up version to rig soft baits for musky.
From: Bill: USA 6/7/15

Comments: Great overall hooks & very easy to rig. Most hooks are very hard to rig and your worm is always crooked. This hook is amazing and your worm is strait everytime. Good for flipping docks and fishing almost anywhere.
From: CJ: USA 6/1/15

Comments: I threw the wide gap size 4 hook for years and years but when they came out with this hook it was a whole new game. The size 5 skip gap is the same hight as the size 4 wide gap but it's longer so I always get a better hook set and I don't miss any fish because they always get the hook, plus I save tons of money on soft plastics because it holds them in place and they don't wear out as fast.
From: Michael: OR 7/18/14

Comments: Rthese are great for skipping docks, but where they really shine is durability! I can catch 10+ bass on a nonsalted bait because it will just slide up while fighting a fish. Great hooks.

From: Cullen: Ashburn, VA

Comments: this is good holds worm they work very well when skipping under docks
From: Brayden: IN

Comments: Holds plastic very well especially worms! Solid and Sharp! Favorite hooks!
From: Basswhisperer2: Chandler, AZ