Gamakatsu Weedless Drop/Split Shot Hooks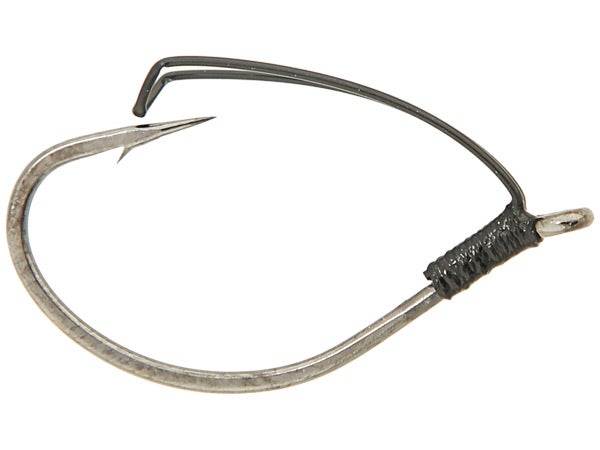 The Gamakatsu Weedless Drop/Split Shot Hook delivers the same performance, balance and hooking capabilities as the original drop/split shot hook - now with the added advantage of a weedguard. This means you can throw it into bass holding cover with far fewer snags. The ultra-sharp points will stick to anything that touches them, and a bend behind the point will hold a nose-hooked worm in the perfect position - 90-degrees from the line - when drop shotting. The points easily penetrate the hard upper lip of a bass, and the sharp barb will not let the fish throw the hook when you are playing them in. Also a great choice for wacky rigging - the 2/0 and 3/0 sizes can even accommodate fatter stick baits and Senkos - the Gamakatsu Weedless Drop/Split Shot Hooks take performance to the next level.
Place Your Order
More From Gamakatsu Drop Shot Hooks
Customer Reviews
Comments: Good hook, tedious weed guard. I'm a big fan of Gamakatsu hooks. Then I have a choice I always go with them. However, if you're throwing into cover or skipping docks look for a hook hook with more of a jig style weed guard. This weed guard slides below the barb and pops off completely on casts (both instances enables the hook to snag easily). So, expect to be baby sitting this hook nearly every cast with constant adjustments. In my opinion it's only marginally better than throwing an exposed hook.
From: Justin: AR 5/28/15

Comments: I must of got a bad pack or something, because I would lose 75% of fish I hooked with these hooks (size 1) fishing a weightless senko. Switched back to Owner Mosquito (size 1) and rarely lose a fish. I even tried removing the weedguard to see if that was causing the issues, but did not solve the problem. I'm surprised, never had issues with Gamakatsu hooks before, but I will not be buying more of these hooks.
From: Brandon: Liverpool, NY 5/13/14

Comments: This hook is THE best weightless wacky hook ever,(can't wait to get my hands on the G-Finesse Wacky jig head). I caught my bigest pickeral on this hook, about 28 inches. I'll just rattle off the great things about this hook: SUPER STRONG, light weed gaurd which you can bend if you want to, sticky sharp, matches awsome with a senko, in a shorter version...it's a Gamakatsu!

From: Elijah: Mystic, CT

Comments: Love the hook. Hate the weedguard. i wanted to use this hook for skipping senkos under over hanging trees and around wood and docks. the weedguard pops off the hook point on every skip. i think the weedguard is too short, it barely fits over the point, which would be fine in sparse weeds or lighter cover. i wish it worked like the Finesse Wide Gap weedguard. i just dont like the Finesse Wide Gap hook. Still looking for the perfect Weedless Wacky hook (its not Owner either).

From: Jason: Ohio

Comments: This hook is the bomb! I caught two big bass back to back! I rigged this hook with a 5" yum dinger wacky! Caught a 8lb and a 11lb bass in two cast! The hook is really strong and had great hook placement!

From: Vince: CA Delta

Comments: This has become my go-to hook when fishing a senko with an o-ring. I am also using them to nose hook flukes. A little pricey though!!

From: Dewey: Smith Mountain Lake