Gambler Ugly Otter 4" 7pk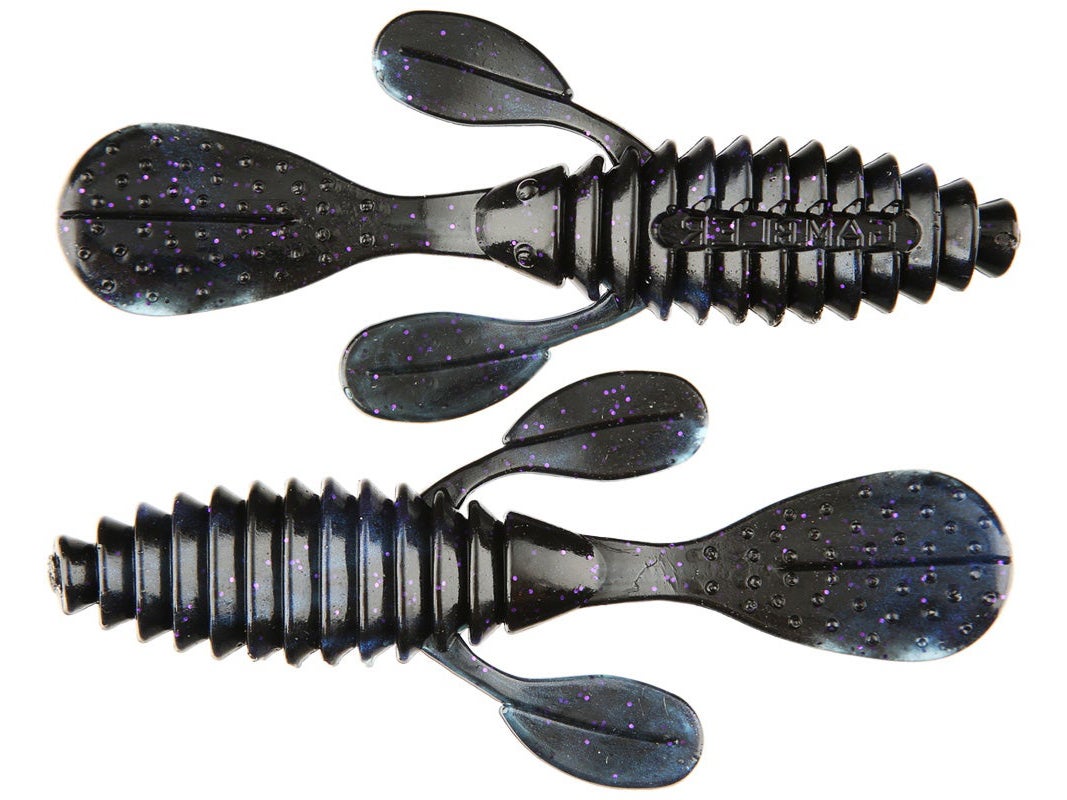 Gambler's 4" Ugly Otter is fast becoming a bait that bass anglers worldwide must have in their arsenal. Gambler designed the bait with two small paddles on the side and one large paddle on the end. The paddles move through the water creating a commotion that any bass can sense, even in the thickest grass or heaviest wood cover. The smaller paddles on either side of the bait can be cut down the middle to add even more action. The Otter is deadly when punching grass mats because it draws attention in tight spaces, and combined with the garlic scent it's irresistible to an inactive bass. When punching mats, a hard popping action allows the bait to flutter back down though the grass, drawing attention even in the most dense structure. Gambler has a wide variety of colors to choose from that are effective in the darkest muddy water to the clearest water situations. Whether flipping to heavy cover or pitching to isolated targets, the Ugly Otter is a bait that will flat out catch fish.
20 Colors
More From Gambler Craws and Creatures
Customer Reviews
Comments: Flip it, Drag it.pitch it--it does not matter. This little bait will get you bites! Gambler makes a great line of soft plastics and this along with the Why-Not are fish catching baits. You will not be disappointed with the Otter--Give them a try
From: Dave: Ohio 1/16/17
Comments: I was fishing today with an Otter set up and lost a 3 or 4 lb. I tried to yank it on shore with a crank bait rod. The fish wiggled off the hook bounced off the rock next to me and a fell back in about 8 feet of water. I cast the Otter out again and slowly ran the lure by that spot the fish fell into. That same fish I guess grabbed the Otter and I waited for 25 seconds to make sure the fish had the lure. Unfortunately same exact results. Buy Gamblers Ugly Otter and don't go jig fishing with a crank bait rod !!!
From: Paul: Nash, TN 4/29/15

Comments: awesome bait, super versatile, great scent. I Ike throwing it on a half ounce tungsten around pretty much anything besides mats. It slides through cover well but not as smoothly as the why not. I've caught tons of fish on this bait. I really like the flapping action it has. It just drives the fish nuts. Great bait definitely a must have.
From: Leo: VT 1/7/15

Comments: Flip it, pitch it, drag it, or on a trailer, this bait does it all! All the colors work, but get some for each type of water. Blacks and blues for muddy, greens for clear or tinged. My new go to flippin bait!
From: Max: Burlington, VT 17/15

Comments: These are excellent baits. One tip I can recommend is to cut the tails and arms along the seems, this gives them even more action than they already have.
From: Garreth: Cape Town
Comments: I have used many "beaver" style baits but the paddle tails on the Otter seem to have a unique action that just works. I usually use them on a shaky head but have also used as a jig trailer, and on a Jika rig-the latter has tons of swimming action. Great in rocky clear lakes and in flooded brush. My only gripe is that they don't hold up all that well, a fish or two and usually your bait is gone. They do catch quality fish though and lots of good colors...definitely recommend them.

From: Jeremy: Rockaway Beach, Mo. USA

Comments: DON'T BUY THESE. I want them all to my self!! Best bait i have ever flipped in my life. Numerous fish 4-5 lb range.

From: Ed: NY

Comments: Rig a Green Pumpkin Shadow Ugly Otter on a 3/8 to 1/2oz Fintech Titleshot Jig. I drag this over a rock point that starts in 3 feet of water and tapers to 15 feet of water. The bass just thump it! I love rigging this on a NorthStar Baits Alien Head Jig to flip and pitch shallow wood/logs/brush.

From: Rick: Saint Francis, MN

Comments: Picked a bag up after Chris lane took the classic....yeah I know. cliche... But dang these perform well! Black and blue works great on my slough. My old man kills it. T-rig with 1/8 oz. sinker. flip,pitch,wing, whatever you do. Throw it up on a pad. dribble if off onto the water...let it sink and hold on!!!

From: John: Kalispell, MT

Comments: Purchased two bags of these. When I opened the bag of Green Pumpkin Red, all of the appendages had been disconnected from the bodies. The other bag was Bowen's Silver, and it was fine - go figure??

From: TR: CA

Comments: Awesome bait. Strong smell but the durability isn't the best. Caught a dozen bass from 1 to 4 pounder. Even manage to catch a 20lb channel

Comments: Yep this bait is the real deal guys toss this guy in the ripe melon t-rigged without a weight and hold on tight!

From: Zach: Brown County, IN

Comments: This bait is flipping sweet.i flip it on my neiborhood lake,I've caught 9 keepers in my 10e pelican boat including multiple 2 lb and a 3 lb on the beds

From: Jake: Birmingham, AL

Comments: best flipping bait. Out fishes any other rodent bait. I punch matts with em and they are big fish magnets. Get some!

From: Mike: Riverview, FL

Comments: Today was a hard day of fishing I could catch ANYTHING all day, about 4:30 I tied on one of these on a carolina rig and the 2nd cast i had something hit it. It wasnt big but it was a bass, something I hadnt caught all day :D. My cousin sent me 1 of these not a pack just 1 for christmas gift along with an assortment of baits. I am glad he did because these things works at my pond. Definitely gonna order some of these!!!

From: Robbie: FL

Comments: This is the jig trailer we use when we get into heavy trees. It draws strikes when nothing else will.

From: Mark: Manitoba, Canada

Comments: Best flipping bait I have used! Not to heavy and perfect size.

From: Alec: Massachusetts, USA