Gamma Touch Fluorocarbon Line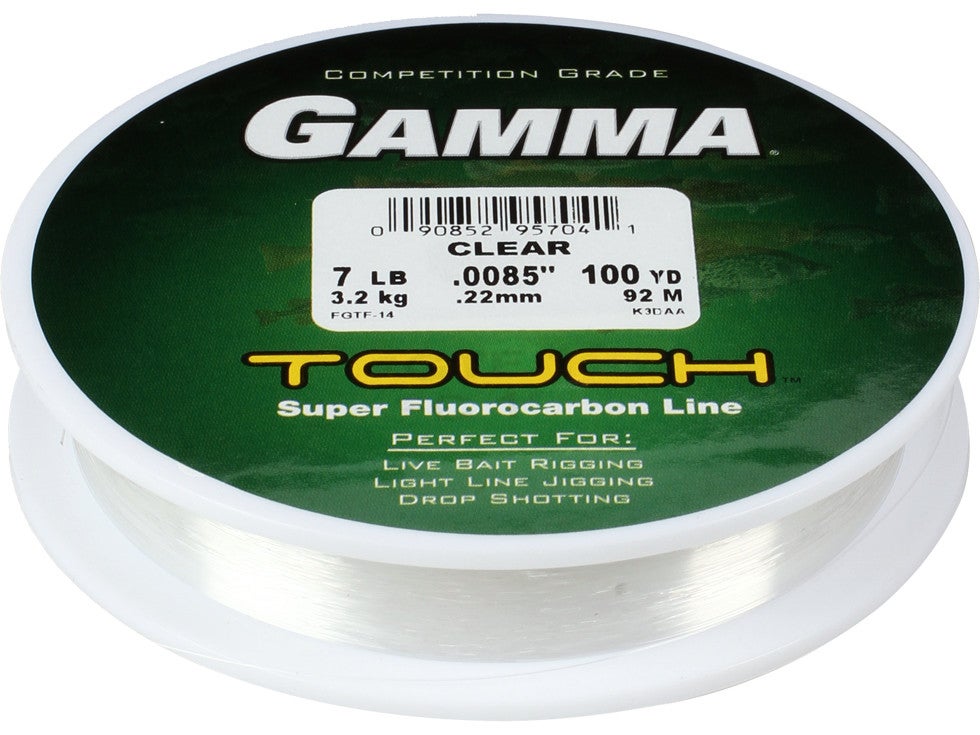 Designed specifically for finesse fishing techniques, Gamma Touch Fluorocarbon is ultra-sensitive for maximum strike detection, as well as, extremely flexible for natural presentations. Thanks to Gamma's proprietary process, the Gama Touch also features increased strength and abrasion resistance. Available in multiple sizes, Gamma Touch Fluorocarbon is key when a subtle presentation is necessary.
"Gamma Touch is very strong and super sensitive just as if it were an extension of my arm into the water grabbing the fish." - Kota Kiriyama, Bassmaster Elite Series Pro.
| | | | | | |
| --- | --- | --- | --- | --- | --- |
| Line Diameter | 4lb | 5lb | 7lb | 8lb | 9lb |
| Inches | .0065 | .0075 | .0085 | .0095 | .0105 |
| Millimeters | .17 | .19 | .22 | .24 | .27 |
Place Your Order
More From Gamma Fishing Line
Customer Reviews
Comments: I recently purchased the 7 lb. line for drop shotting and I must say, I'm impressed. I love the strength and low-memory of this line. I was able to horse a Bass out of some lily pads, which was surprising for only 7 lb. test! I highly recommend this line.
From: Tom: Charleston, SC 3/5/15

Comments: I tried some 5lb. touch and it is crazy on how strong this stuff is!

From: Joe: Spokane, WA

Comments: I love this line. I drop-shot with the 5-lb all the time. It's really strong and sensitive and handles well. It also stretches a lot less than some comparable fluoros.

From: Jody: Shaftsbury, VT

Comments: this touch fluro was ight the 4-5 pound is good for crappie but the 8 isnt worth buying my freind who is sponsored by gamma gave me 1000 yards of it and broke everytime i set the hook.

From: Dalton: Wetumpka, AL