Gan Craft Jointed Claw Magnum 230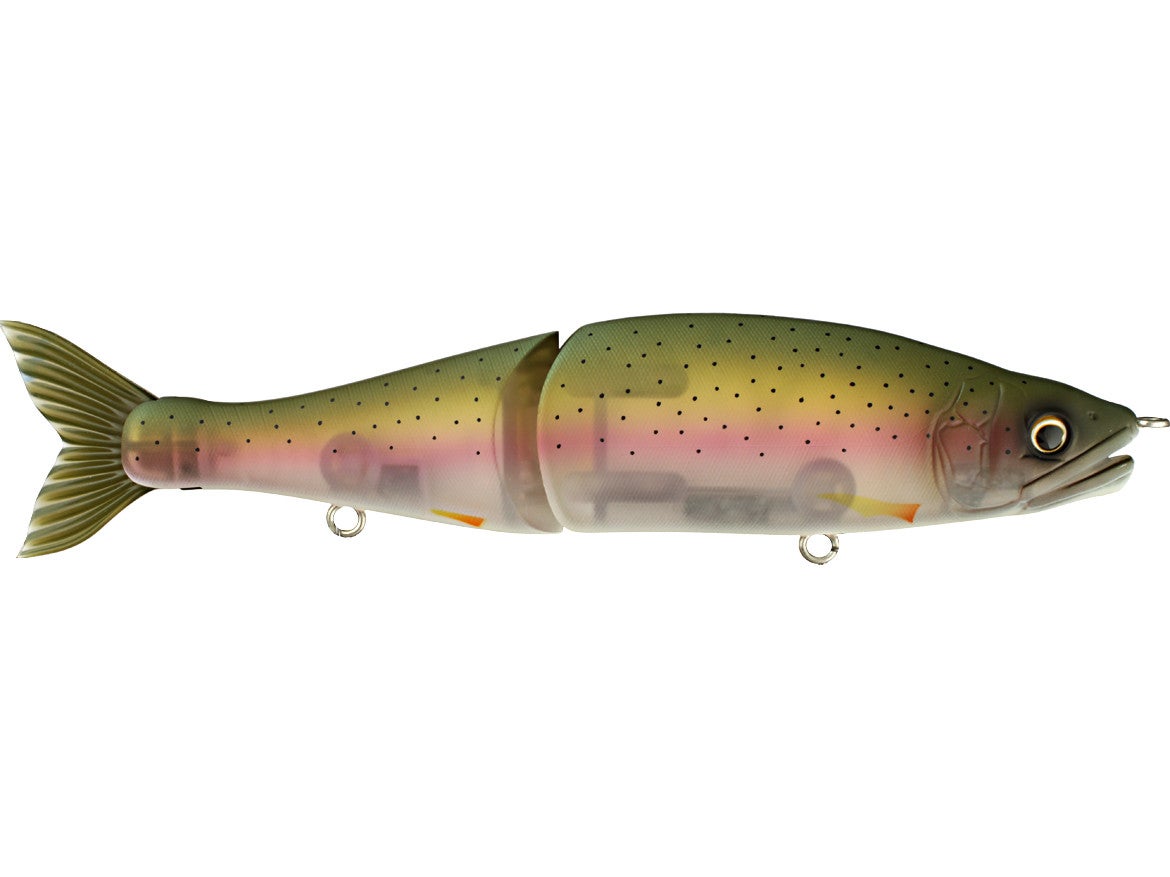 If you're hunting for that fish of a lifetime, then you're going to need a lure of a lifetime - the Gan Craft Jointed Claw Magnum 230. This king-sized swimbait is packed full of Japanese detail and quality.
On your first cast with the Gan Craft Jointed Claw Magnum you'll be able to see just how smoothly this hard-bodied swimbaits actually moves. With a steady retrieve you can watch it carve back-and-forth through the water with a subtle action that drives big bass crazy. Slow your winding speed down and mix in some twitching for a slightly panicked presentation. When fishing the slow-sinking version, you can kill the Gan Craft Jointed Claw Magnum 230, allowing it to slowly fall to the bottom, and then give it a quick pop to imitate an injured or dying fish.
The Gan Craft Jointed Claw Magnum also comes equipped with ultra-lifelike 3D eyes and an interchangeable rubber tail. Incredibly difficult to locate Stateside, the Gan Craft Jointed Claw Magnum 230 has gained an almost mythical reputation among tournament anglers. Available in a range of colors, the Gan Craft Jointed Claw Magnum 230 is now here, and it's safe to say some anglers will be less than thrilled now that the cat's out of the bag.
| | | | |
| --- | --- | --- | --- |
| Gan Craft | Length | Weight | Class |
| Jointed Claw Magnum 230 F | 9" | 4-oz | Floating |
| Jointed Claw Magnum 230 SS | 9" | 4-oz | Slow-Sinking |
9 Colors
More From Gan Craft Swimbaits
Customer Reviews
Comments: These things are garbage they take on water from every point there is an eyelet or hinge straight out the box. Two in row.
From: Unknown 2/12/17
Comments: Just started seriously fishing with big swimbaits this year. The lake I fish was stocked with 8 to 12 inch trout in late October. I went after them in late November with a Gan Craft magnum 270 stocker trout. Had the best day I have ever had on the water. Six fish 5lbs. and over. And as many between 4 and 5. I may never cast conventional lures again. This bait has an unbelievable smooth glide. Love it.
From: Chuck: Frankfort, Kentucky 11/24/16
Comments: the 230 Magnum is now my Glide Bait of choice. Very easy to manuveur on the retrieve and sinks level. Very fluid swim to it and good response on jerks. Personally prefer it over all other glide baits on the market.
From: KM: San Diego, CA 4/20/15

Comments: After the first day and a couple of fish with this lure I noticed there was water in the tail so I took it back, new lure, 3 days later more water, I didn't hit it against anything and there weren't any cracks. Maybe I got 2 bad ones but it sucks after spending over $100 on a lure, good action though
From: Ryan: Fullerton, CA 5/8/14

Comments: I wouldn't compare this to a roman made atleast price wise.. Roman mades are 100% hand carved ect... Great glide bait I prefer the 178 though.
From: Unknown: USA 3/31/14
Comments: I purchased 230 in the trout color on saterday at the fred hall show. I fished it the next day and put a pb striper and bass the first time out. Its a great bait that wont hurt your wallet as well. The color is perfect!!!!
From: Jay: So Cal 3/9/14
Comments: the swimbait that can go up against roman made, this thing should be considered a military top secret. Itll get u HUGE FISH, I also love the 7" version, I have that one tied on my swimbait rod the most.it produced a 11lb 3oz bass for me in mexico.but I do prefer these to my roman made A: they're cheaper, have almost similar action and B:these have a way bigger n better color selection

From: Steveo