HI-SEAS 100% Fluorocarbon Line 200yd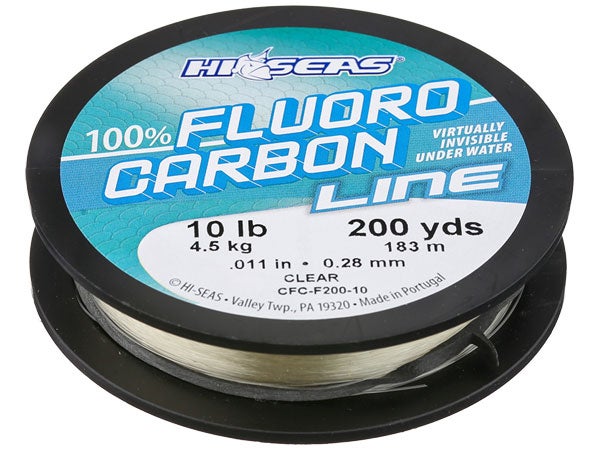 Hi-Seas 100% Fluorocarbon Line is extruded under strict quality control standards using the highest quality pure polyvinylidene fluoride. This results in a fluorocarbon that matches the refractive index of water - making it nearly invisible. Also extremely supple and easy to fish, Hi-Seas 100% Fluorocarbon is abrasion resistant and sinks faster than monofilament, so it won't affect the natural fall of a bait.
| | | | | | |
| --- | --- | --- | --- | --- | --- |
| Line Diameter | 8lb | 10lb | 12lb | 15lb | 20lb |
| Inches | .010 | .012 | .012 | .014 | .016 |
| Millimeters | .25 | .28 | .30 | .35 | .40 |
Place Your Order
More From HI-SEAS Fishing Line & Leader
Customer Reviews
Comments: I have been using Seaguar InvizX & AbrazX exclusively for the last 5 years; the quality of those two lines is unquestioned and I know very well how they perform & feel. HI-SEAS 100% Fluorocarbon is more sensitive than either of those lines. I was shocked by this, but it was pretty obvious. I have been using 12 & 20 lb versions of the HI-SEAS Fluoro & they stretch less, are at least as abrasion resistant, about the same in casting manageability, but a little bit thicker than similar-lb-weight Seaguar. Because of the lower stretch & increased sensitivity, I will be switching to HI-SEAS Fluoro for jig and soft plastic duties while using Seaguar for casting duties where diameter matters (diving crankbaits for example). HI-SEAS 100% Fluoro is absolutely a premium line, give it a try!
From: Scott: AR 11/5/15
Comments: This is by far the best line I have ever used and that is in comparison with Seaguar Tatsu and AbrazX (not that these aren't great lines). Originally I was hesitant to try this line because of the slight difference in diameter. Apparently this did make to much of a difference. If I have to I will drop down a pound test to get the smaller diameter that I need. Not only is HI-SEAS extremely abrasion resistant, but it is also better priced/competitive than the previous line series' mentioned. I strongly suggest giving this line a try.
From: Troy: USA 8/15/14

Comments: this line is better than most lines but to say it is the best on the market is incorrect. Gamma is the best and sunline is 2nd best. This stuff doesnt compare to either of these 2 companies

From: Bill: Florence, AL

Comments: this line is the best on the market. i have landed multiple fish over 8 pounds over the past months. it is very durable and cast smooth and far. i will never us e any other line again.

Comments: this line is the best line on the planet very derable and smooth deff worth the money get it thumbs up for them.