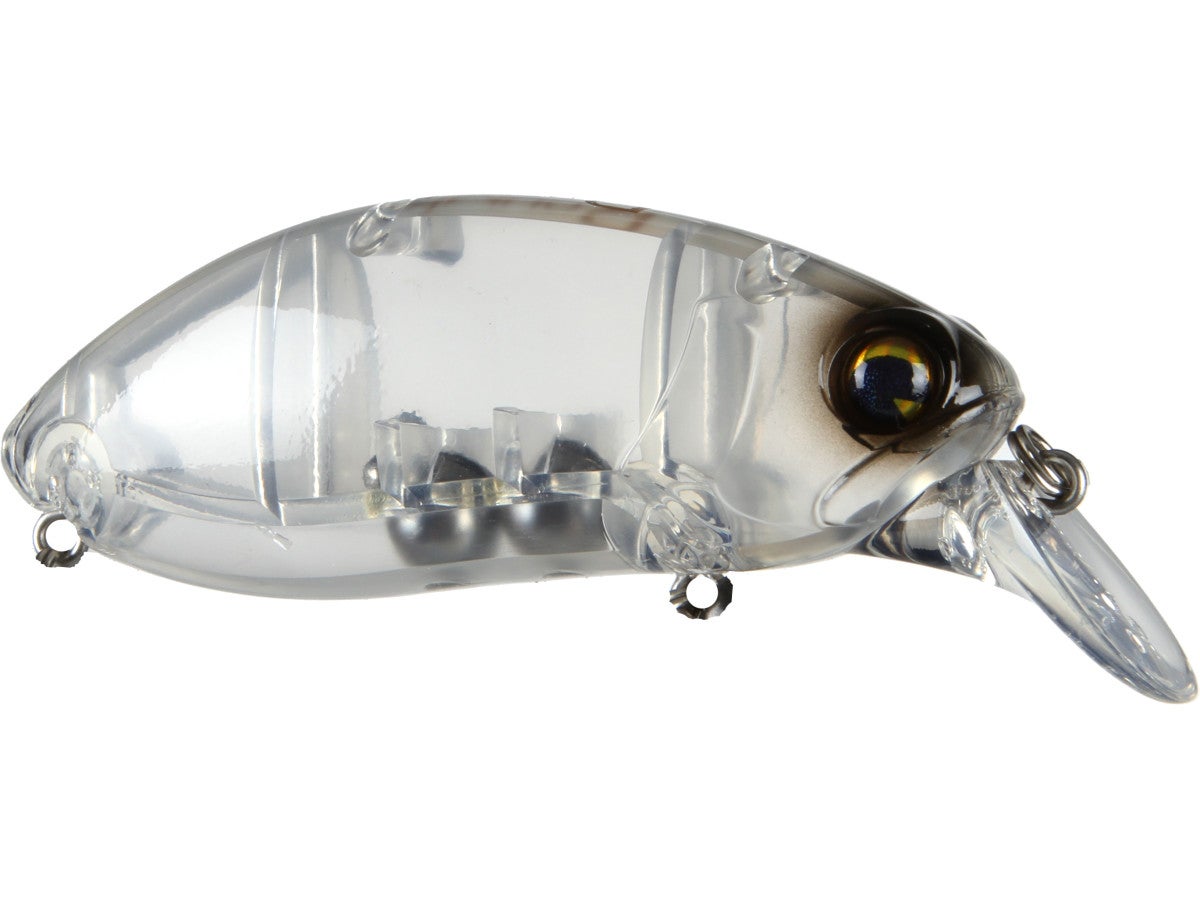 The ima Roumba, designed by Bassmaster Elite Angler Fred Roumbanis, is a unique bait that creates a natural wake by "wobbling" side to side along the water's surface while producing an enticing sound that makes fish bite. This bait is designed to work best when fished over shallow aquatic grass, such as milfoil and hydrilla. It's also extremely effective around boat docks, lay-downs, brush piles, and standing timber. The Roumba produces best results when fished with a medium heavy action, 7-foot rod. A monofilament or copolymer, 12-17 lb. test line will help produce the best action. Fish the bait with a slow, steady retrieve. Be sure to keep the rod tip up and get ready for a massive bass explosion!
"The Roumba is an extremely versatile bait that I'll have tied on at least one rod year round. No matter what lake I go to across the country I know I'll be able to get 'em good on a Roumba. The reason is simple; I can imitate several types of baitfish with this bait. It can be used as a crawfish scooting right above shallow hydrilla, a frog hoppin' around open water lilly pads, a rat or mouse skitting across the surface, or a bluegill coming up to sun. " - Fred Roumbanis
Click here for some video on IMA baits with Fred Roumbanis at ICAST '08.
| | | | | |
| --- | --- | --- | --- | --- |
| Ima | Length | Weight | Depth | Hook |
| Roumba | 3" | 1/2oz | 0-2ft | #4 |
3 Colors
More From ima Crankbaits
Customer Reviews
Comments: I didn't understand the hype until I had one. I caught two nice fish on back to back casts as soon as I got out on the water. I've found that I can't really burn it without it rolling on itself, but it swings so wide I don't feel the need to burn it, anyway. (As a side note: I've done the little mod of putting a screw lock on the back so I can get a worm swinging behind it, by the way, although I don't suppose you really need it.)
From: Nick: San Francisco, CA 7/27/15

Comments: The ima Roumba is a sick bait for sure. My main uses for it would have to be either fishing it over shallow grass or using it in place of a buzzbait when they really aren't wanting a more aggressive approach. The biggest plus that I will say over and over again is the hooks, 9/10 other hard baits on the market come with hooks that either won't last or need to be changed right off the bat. Those are the reasons these baits will continue to be stocked up in my boat!

From: Christian: Sonoma Cty, CA

Comments: It was my bad for fishing with this bait for first time in dark. It has good action and works ok now that i tested in during daytime. No fish on it yet but just wanted to update my previous review.

From: Pat: San Jose, CA

Comments: I just tried one of these for the first time. I ordered it from here and it just rolls in circles lol. I guess i got a bad one. Unfortunately it was fairly dark out so i couldn't try to 'tune' it.

From: Pat: San Jose, CA

Comments:
Pros:
Slick, durable paint job
super sharp hooks
good action
rattlin version has good volume to it

Cons:
Have yet been able to somewhat burn it, It tends to tip over and ride on top unless you really get your rod down in the water for the retrieve.

Overall a nice looking bait and good quality bait but for it to run true I think you need to down your line size which can be bad for a Tournamnet fisherman. Have not spent a lot of time with it in the water but overall a decent bait, and it is a fun bait to fish, which is why we fish anyways.

From: Ben: AR

Comments: Tied the Baby Bass on the other day for the first time and bam!!! First cast...Finishing shallow lake with a good amount of hydrilla was my surroundings and as I cranked thru the hydrilla and yanked it free, it would get smashed!!! Used Stinkbug version as well and same results...the wobble is mad and makes bass angrier than all hell!

From: Scott: Brooklyn, NY

Comments: When me and my boys tie on the Roumba's, it turns into an all night slurp party! You know what "SKURDOOOSH" is??? That's the sound you're gonna hear when lunker bass do triple-gainers out of the water in lukewarm pursuit your Roumba. I like to fish the black one with the neon green head... cuz it looks like Dennis Rodman and I think that might piss them off. It must cuz my Roumba looks like it got in a scuffle with some 50 grit.

From: Ben: SoCal, CA
Comments: Without a doubt, THE best wake bait i've yet to fish. Mine has OVER 100 fish on it, is on its third set of hooks, and still outfishes every other 20 dollar bait in my box. If your a pond guy, like me, and dont have many opportunities to fish larger waters, this IS the only bait youll need.

From: Chris: Los Angeles, CA
Comments: IMO, the best wakebait you can buy. This thing flat catches fish. It has a super wide wobble. Almost feels like a fighting fish itself. Makes a wide wake. Fished a little faster and it retrieves just under the surface. Excellent quality, hooks and paint.

From: Rowland: Newport News, VA