Izorline Platinum 300yd Spool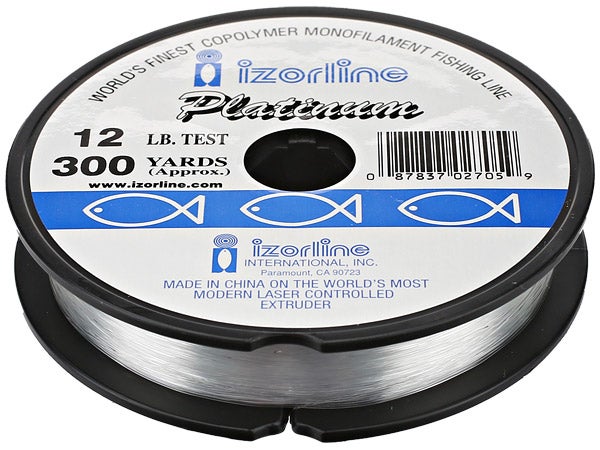 Tackle Warehouse brought in the Platinum Izorline because tournament anglers all over the country called and requested we carry it. This line is tough! Platinum Izorline resists cuts and abrasion, handles well, and is very reasonably priced. This premium co-polymer line will get the fish in your boat.
| | | | | | | |
| --- | --- | --- | --- | --- | --- | --- |
| Line Diameter | 8lb | 10lb | 12lb | 15lb | 20lb | 25lb |
| Inches | .011 | .012 | .014 | .016 | .018 | .020 |
| Millimeters | .28 | .30 | .35 | .40 | .45 | .50 |
2 Colors
More From Izorline Fishing Line
Customer Reviews
Comments: Easily the best all around mono BY FAR ever made! Did I say BY FAR! I've never had to change it out unless I was low on a real and needed more line for distance & gear ratio. Hands down better line than big game. Get the green of course. No reason ever to buy any other mono this company has been around since the fishing industry this is one of fishings greatest kept secrets & shouldn't be this line is industry standard.
From: Tony: CA 8/25/16

Comments: I've always used Big Game in 12# for my mono with no break offs or knot failures. Bought a 1100 yard spool of clear, it has much less memory then the big game. I lost 3 G Lock 4/0 hooks and 3 5" senko's due to knot failure. I was using a uni knot. I read the reviews, and see I need to use a fish n fool knot
From: Ed: OH 6/1/14

Comments: Over the years, I think I have tried every brand of line on the market. I was never satisfied until I finally tried some Izorline Platinum. Izorline Platinum is the toughest, most abrasion resistant, low stretch line that I have ever used. It will outlast every other brand of line, either on the spool or in cool, dry storage. I just used some 4 year old 6 pound test on a trip to Canada and not one smallie broke me off. It performed as well as a new line would have. Try that with any other brand of line, especially those that get chalky and brittle 6 months after the spool is purchased. I only wished I had listened to some close friends and begun using Izorline years earlier.

From: Jeff: Alliance, Ohio

Comments: I am a huge fan of Izorline Platinum green tint 8 lb. line for small jerk baits and #7 Shad Raps. Use the fish n fool knot. You will love this line on a Shimano Stradic 2500.

From: Dan: Cary, NC

Comments: Wow Mike! Thanks for the knot tying suggestion! I tried the Double Uni, San Diego Jam, Trilene and Palomar knots...You know, the "tried and true" ones, and they all failed :( Maybe there is a secret magical knot on Youtube the world has yet to discover. Can't wait to check it out! Since we're sharing, I have some info to share with you! Pretty much all mono breaks above it's rating on a machine. That's why you need to look at line diameter. This line is thicker than other lines rated the same, hence the slightly higher breaking strength! Water absorption, abrasion etc. hugely affect a lines performance. I like to think of it this way.. It's kind of almost like you need to use a line to know if it's good or not, not just watch it on tv. Maybe you could spend less time watching Babe Winkelman, and more time fishing. That might help you discern between a good line, and a not-so-good one. Hope these suggestions were helpful!

From: Snaildog: Indy

Comments: hey snail maybe you should learn to tie a knot ? Iv personally seen this line and numerous fishing shows and the machine they test the line on In front if my eyes, 10lb test breaking at 14lb, 12 lb test breaking at 19 Lbs so possibly YouTube tying knots.

From: Mike: NJ

Comments: Don't know why people like this line. it's weak. I snip off the heavy single on my swimbaits and rig them with lighter double hooks because I know they will release and give me my bait back with 20 lb. test cxx or stren original. Never lose a bait this way. Lost several baits with this line at 25 lb test.. junk.

From: Snaildog: Indy

Comments: Awesome Line.. Super Tough and casts well

From: Jordan: Lynchburg, VA

Comments: this line sucks. in one day out on the water i lost half the line on my spool.

From: Matt: OC, CA

Comments: Super Great Strength But Terrible Memory
Comments:Izorline XXX or Platinum are the strongest lines I have ever tried bar none. I have compared it to P-line and with the same diameter, it will beat it also. I wish you would carry the 1/4 lb and the 1 lb spools. It is a hard product to get on the east coast....THANKS
From:James: Linden, NC