Izorline XXX Super Co-Polymer Smoke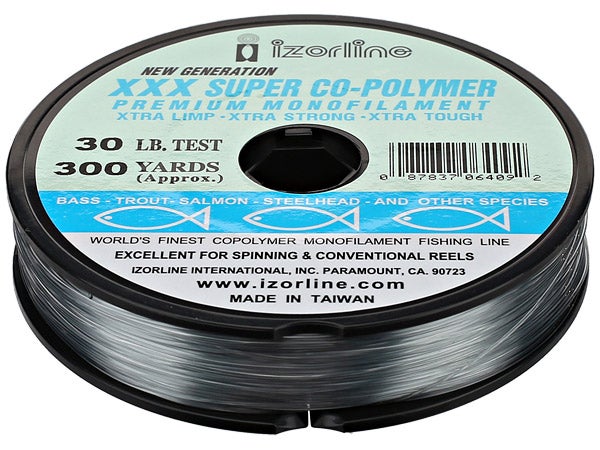 Izorline XXX Super Co-Polymer is composed of space age materials resulting in a line that is Xtra limp, Xtra Strong, and Xtra tough. Izorline XXX is soft and strong, easy to tie, and has great abrasion resistance.
| | | | | | |
| --- | --- | --- | --- | --- | --- |
| Line Diameter | 8lb | 10lb | 12lb | 15lb | 20lb |
| Inches | .011 | .012 | .014 | .016 | .018 |
| Millimeters | .28 | .30 | .35 | .40 | .45 |
Place Your Order
More From Izorline Fishing Line
Customer Reviews
Comments: This line is outstanding. Absolutely zero memory coming off the spool, extremely strong, and it's a dream to fish with. It's not as sensitive as fluorocarbon, but it's good enough for me. Very minimal stretch, and ties excellent knots as well. I use 15lb test for everything from weightless Senkos, Texas rigs, Carolina rigs, frogs, and flipping and pitching and it's performs flawlessly. My only complaint is the abrasion resistance, but any knowledgable angler knows to retie your hook after a catch, or every other catch. This small inconvience is well worth it for the price and performance of this line.
From: Trevor: Enid, OK 6/22/16

Comments: BEST LINE EVER!! I use 6lb. - 30lb test on various rigs. The line is smooth casting, easy to tie and strong as, you get the idea. I fish from a 14' Hobie Pro Angler (fresh & salt water) I have been pulled by fish and when snagged I have literally reeled myself to the snag. I use Izorline on all my reels.
From: Yakin' Moose: CA 6/9/15

Comments: bought a spool of 6# test and I love it. No memory at all. I pulled in a couple of 4lbers. I've taken it out about 5 times now. I fish at rocky points and this line works great. So far caught about 15 fish with this line and I love it so far. No complaints. I will be buying more.
From: Anthony: Lompoc, CA 3/30/15

Comments: great line, seems to be better the lighter you get, "same as the platinum" i have 8,15,20. while all work good the 8 is the best, and the 20 seems a little stiff and frays kinda easy but still a great line. will buy again.

From: Jonathon: TN

Comments: this line is over the top strong and as smooth as butter coming out my bait caster and i think this is the best line on the market ALL THE PROS SHOULD USE THIS LINE IT IS THE BEST I HAVE EVER USED AND IM LOVING IT LIKE MCDONALDS I GET FISH BACK TO BACK WITH NO PROBLEM

From: Bubba: The Best Country In The World U.S.A.

Comments: I love izorline very abrasion resistant, soft, has less memory than my 90 year old grandma, i use 8lb izorline on all my light spinning reels. Yesterday i i had a 2 lb spottie on and it darted in some rocks, i was able to wrangle him out and land him. Great stuff!!

From: Gio: San Diego

Comments: Bought the Izorline 8# on a friends recommendation love it, have had no problems with it on spinninng reels it will straighten hooks before it breaks but any bigger then 10. Found that it burns really easy and breaks on the cast often. All in all love the 10# down.

From: Scott: North Carolina, USA
Comments: Awesome line you owe it to yourself to give it a try and the premium is also a great line for pitching!

From: Jason: Illinois, USA
Comments:This line is relatively thin diameter for it's intended rating, but that is really the only positive I found about it. It is not castable on spinning gear and is very stiff. If you're looking for a good copolymer I've found P-Line CX Premium hard to beat; it's much thinner and handles better than Izorline. I'm testing Maxima Treazure line, and it is somewhere in between P-line and Izorline.
From:Sam