Jackall Pompadour - $22.99

Unmatched in attraction and originality, the Jackall Pompadour provides a one-of-a-kind topwater presentation that fish won't be ready for. Designed to tempt bass at the surface, the Jackall Pompadour is fitted with metal wings that collapse on the cast and then flare out once they hit the water. Made to move tons of water, the flapping metal wings create a noticeable splash and a unique sound that compliments the dual rattle chambers.

At the rear, the Jackall Pompadour features a free-swinging hook holder and a prop blade that generate a heavy gurgling attraction. This forward-thinking design not only creates additional disturbance, but it also eliminates the possibility of a bass using the lure as leverage to spit the hook.Offered in a number of classic color ways, the Jackall Pompadour has a big presence that will draws even bigger bites.
| | | | |
| --- | --- | --- | --- |
| Jackall | Length | Weight | Class |
| Pompadour | 3" | 3/4oz | Topwater |
Color:
Black Bone
View Large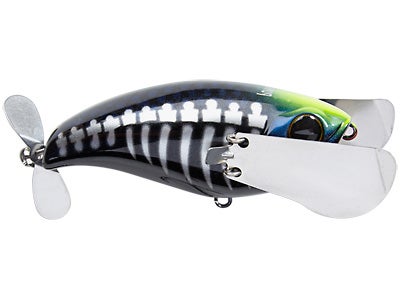 More Jackall Topwater Baits
Comments: I have never seen a bait that elicits such violent reactions from fish. They absolutely crush it and the quality of bites seems to be above average. Surprised at how well the hardware holds up as well.
From: Beau: Guntersville, AL 11/16/14

Comments: This lure catches fish. This lure produce so much noise that it drives fish nuts that it has to bite this lure. Plus its a unique looking lure which no fish has seen before, so fishing over pressured area is no problem.
From: Lee: OK 8/31/14

Comments: Sound, movement, and huge wakes are impressive, downside need immediate replacement of hooks..bent the RR hook on the first 5lber, then one of three trebles snapped (literally) on 7+. Love the green frog color, and not having to carry a follow up bait; as the fish will strike more than once on this bait for some reason.(not even a buzzbait can do that..I've tried!) If you want jaw dropping topwater strikes, this pompadour is for you!
From: Louie: CA 8/25/14

***Note: If you have questions about this product or need assistance with an order please email your questions to info@tacklewarehouse.com