Kalin's Lunker Grubs 10pk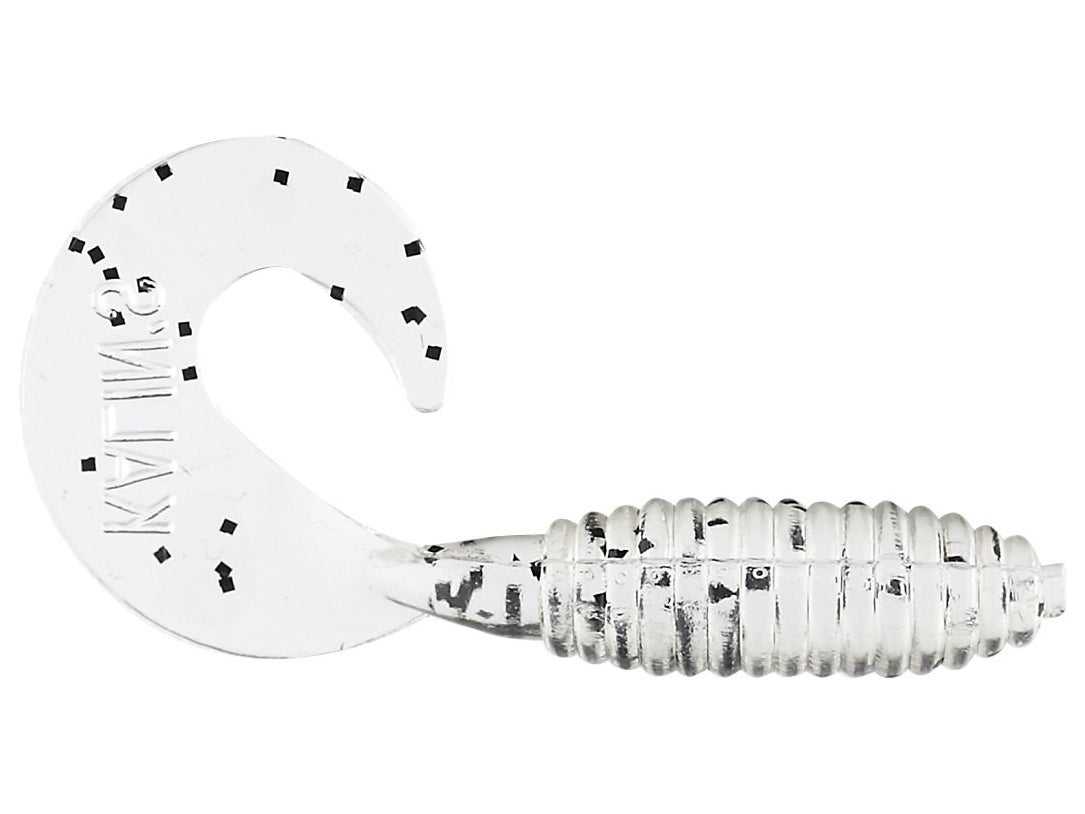 The tradition continues with Kalin's Salty Lunker Grubs. The proven design of the Kalin's Salty Lunker Grub delivers an incredible amount of action at an ultra-slow speed, or at a higher rate of retrieve. Whether you're fishing for quarter-pound panfish or 300-pound halibut, the super soft Kalin's Salty Lunker Grub has the durability and the action to get the job done.
| | |
| --- | --- |
| Length | Quantity |
| 3" | 10 |
| 4" | 10 |
| 5" | 10 |
20 Colors
More From Kalin's Soft Baits
Customer Reviews
Comments: The 5" Chartreuse Salt & Pepper rigged on a 3/32oz Owner Shakey Ultrahead is a deadly combination when skipped under docks. The only issue is keeping bluegill, crappie and rock bass from gobbling it up before a largemouth bass can:)
From: Paul: TX 3/29/16

Comments: this is the best grub on the market. I use the 4" mostly and a few 5". The Kalin's Lunker grub is one of the most effective lures any time of the year. Just reel it slow and steady, near the bottom, and give it a few pops with the rod tip. I've caught Smallies, largemouth, pike, crappie and 1 muskie on them. The tail spins at the slowest retrieves and they are very durable.
From: Nik: Eau Claire, WI 2/14/16

Comments: I am old. I have been fishing Kalins grubs since 93. They work just as good now as they did then. They have a million uses. Give your spinnerbait a fresh look and put one of these on there as a trailer. It is old-school but still works.
From: Jay6: USA 12/8/14

Comments: When everyone on the lake is throwing a spinner bait, throw a 3"-5" grub instead. You'll be amazed how effective the simple grub is as a search bait. I prefer 1/4oz heads but go to 1/8oz if need be. which ever weight allows me to reel in steadily over the cover I'm working. I like the jig heads with 2/0 or larger hooks, seem to get better hook ups. The grub and jig head cast easily in the wind using spinning gear as well. Finally, the grub and jig head make an extremely cost effective lure.
From: Richard: TX 4/18/14
Comments: great for crappie and bass my uncle and I caught 100 fish in a day. A must have for clear water or farm ponds.

From: Joe: St Louis MO

Comments: I love these. Fish love these. Although, maybe i was using the wrong hooks but i burned through these pretty fast. But BASS love these. I had everyone fishing with me using them by the end of the day.

From: Bryan: MI

Comments: Winners!!!

From: Meatwad: Compton

Comments: These things are great. When i use a swim jig I use this grub in the 5" version. This is also great for spinnerbait fishing when you want a little bit more action. I have caught tons of pike and bass using this as a trailer.

From: Brandon: MN

Comments: 3 inch on a 1/8 jig head is killer on spotted bass.

From: Jim
Comments: Blue Pearl Salt & Pepper is my favorite. I fish them one way only, just under the surface on a worm hook with a split shot on the bend of the hook. It makes the lure skim right under the surface. A steady slow to medium retrieve is all it takes.

From: Doug: Franklinton, LA

Comments: The old standby grub. My favorite is to fish them (5") Texas style with a good J-hook and sliding sinker for worming.

From: Ray: Carmel, NY

Comments: They work well on large bass as well, got a couple of 5lb's and a 7+ just last year. They've always been an "old reliable" bait that can be used a million ways and priced right.

From: Jeff: Mass.
Comments: these grubs are great for small bass.I usally catch fish from 10-12 inches.i have caught a few as big as 15 - 16 inches.smoke salt and pepper work great!! Clear salt and pepper work good too!! I highly recomend this bait to any angler who wants to have fun with the small bass!!

From: Moose: Michigan, USA