Kick'n Bass Fish Attractant 4oz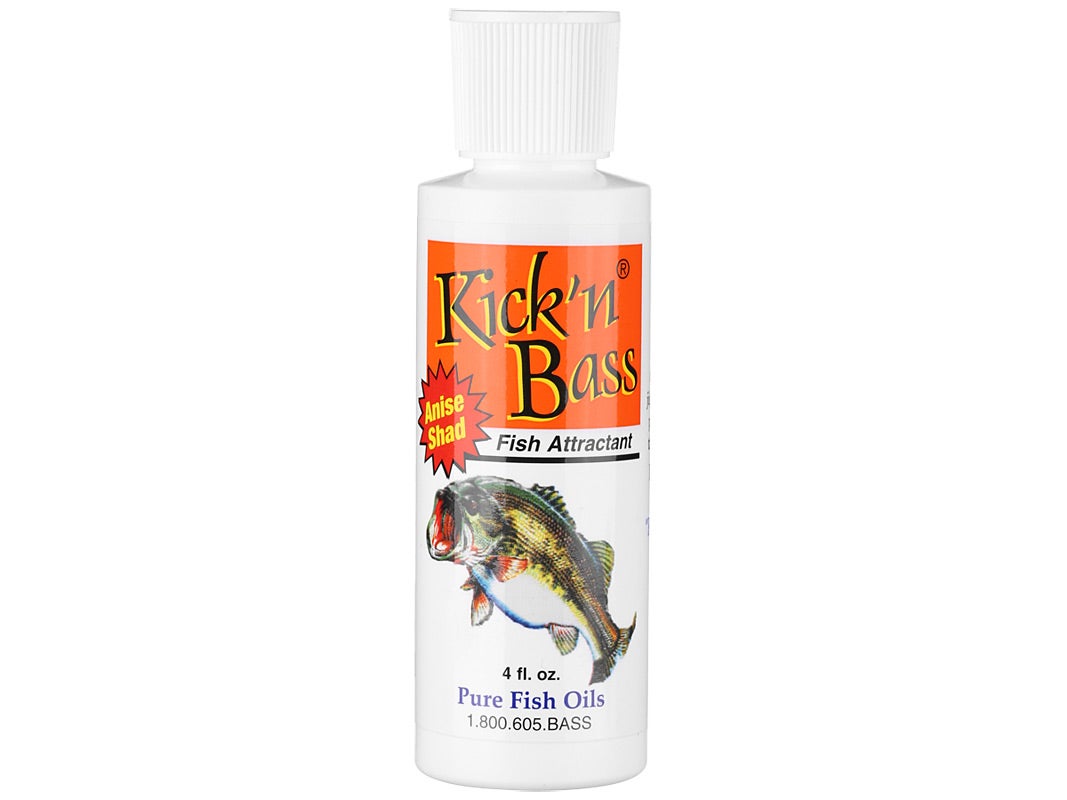 Kick'n Bass, made by Scientific Bass, is a VERY strong bass scent that was formulated by a chemist for his fishing habit. Kick'n Bass is known as the world's strongest scent and when you open a tube you'll have to agree. Available in three popular flavors. Kick'n Bass is a liquid dispensed from a squeeze bottle that makes it easy to apply. There's no mess, because believe me, you DON'T want to get this stuff on your hands!
4oz Bottle
4 Colors
More From Kick'n Bass Attractant
Customer Reviews
Comments: IT WORKS! I was a skeptic, but it really does put more fish in the boat! Try the garlic or the anise/shad
From: Jeremiah: Atlanta, GA 12/1/16
Comments: This is absolutely hands down the best fish attractant I've ever used. It has time & time again help put fish in the boat. Great company making a great product thank you Kick'nBass
From: Tyler: TX 5/22/16

Comments: Definitely smells strongly of crawfish, but the bottle is not very good and it will leak, leaving a strong smell.
From: Richard: NY 12/27/15
Comments: Stinky! But, hey, it definitely masks the smell. I even mixed some in my homemade dough bait for the kids, and it worked just fine.
From: Yimmy: MD 9/8/14

Comments: This stuff stays on forever! What I do is open the cap and dip my worm in the bottle or pour some in a thick ziplock bag and let the bait soak. The Garlic scent is the strongest and longest lasting scent I've ever come across. It also works wonders for marinading your catfish baits such as mackerel and shrimp. This scent also really shines when your bed fishing. There have been many times when I've come across a bass that has been caught many times before I came along and they were just too weary or too skittish to even look at another bait. Simply dip the bait in some Kicki'n Bass and they often turn into biters. A real life testimonial from the fish is all it takes to sell me on a product and this stuff produces when others fail. It's also a great value at $4.99 when you compare it other attractants that are not as effective and cost anywhere from $7.99-$12.99.

From: MaxZmus: San Diego, CA

Comments: FOR SURE worth a try. It will stain clothes so be careful with that. It WILL get you more bites. When I pour baits, I add some craw to the hot plastic. Leaves a cool oil slick.

From: meatwad: meatytown

Comments: I LOVE this stuff. I use it on everything i fish. Plastics, Jigs, Swimbaits, Spinnerbaits, Buzzbaits, and Hardbaits.

From: Will: Alpharetta, GA

Comments: Not good don't catch me nothin

From: Brian: USA

Comments: I have used Kick'n Bass Garlic scent for years. It is the only attractant that I have ever used that I could instantly tell the difference between using it and using no scent attractant at all. I remember one day I had been flipping a tube until my arm was about to fall off without one strike. I squirted some Kick'n Bass on it and caught a keeper on the very next cast.

From: Larry: Edmond, OK