LIVETARGET Bluegill Vibration Trap - $12.99
A popular forage for bass throughout most of the United States, juvenile bluegill tend to prefer to hide in and among grass, timber and various subsurface structure - exactly where bass are lurking and waiting for their next unsuspecting meal. Ultra realistic with lifelike scale patterns, gills and fins, the Koppers Live Target Bluegill Trap also has an enhanced rattle chamber which emits a harmonic frequency proven to attract hunting bass and gamefish like moths to a light. The Koppers Live Target Bluegill Trap is available in a couple of proven color variations to help you hone in on exactly what your local bass prefer for supper.
| | | | |
| --- | --- | --- | --- |
| Koppers Bluegill Trap | Length | Weight | Class |
| BGV55SK | 2-3/16" | 1/4oz | Sinking |
| BGV65SK | 2-9/16" | 1/2oz | Sinking |
| BGV75SK | 3" | 7/8oz | Sinking |
Comments: Made the mistake of throwing these with 8 lb. test and a spinning reel around a 10 plus lb. bass near a dock. He engulfed the bait and broke me off before I could set the drag. Found the bait floating near the pond drain a few weeks later. Had to clean her up and she will need new hooks of course. This happened the very first time out. Great action and looks just like a bluegill.

From: Steve: Cary, NC

Comments: guys are catching on, awesome baits, I love them. Caught good fish off these baits. Love the look is sweet and the best.

From: Alex
Comments: This is an awesome little bait when the fish are keying in on small bluegill. I had a 100 fish day recently, and the majority of them were caught on this lure. The bass were throwing up tiny gills, so I knew this bait would deliver, and it did.

From: Greg: UT

Comments: Went out today on day two with this lure and got one bite in 20 minutes under the bridge, but it was an at least 6 lb snook. Again this lure seems to attract bigger fish. Getting more in larger sizes. Great lure. He almost chewed through the 20lb invisex seaguar flouro leader though.. after only 1 minutes or less into the fight. He hit 6-7 feet away.
Weather- windy, overcast, cool temps- about 70-ish in the water.

From: Craig: Sunrise, FL

***Note: If you have questions about this product or need assistance with an order please email your questions to info@tacklewarehouse.com
View Large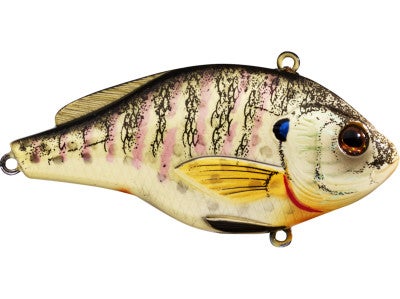 2 Available Colors
More LIVETARGET Lipless Crankbaits