LIVETARGET Hollow Body Frog - $7.49 to $10.99
Winner of the 2010 ICAST - Best Soft Lure Award - the Live Target Hollow Body Frog is one of the most detailed and realistic frog baits to ever hit the market. Anatomically correct with unprecedented detailing, it sits in the water on the pause just like a real frog - tempting bass from below. Designed for fishing way back in the thickest mats and vegetation you can find, the body of the Hollow Body Frog is extremely soft, providing excellent collapsibility, and easily exposing the bait's super sharp wide-gap double-hook. For anyone who loves catching bass on a frog, the Koppers Live Target Hollow Body Frog is hard to miss.
| | | | |
| --- | --- | --- | --- |
| Live Target Hollow Frog | Length | Depth | Class |
| FGH45T | 1-3/4" | 0 feet | Floating |
| FGH55T | 2-1/4" | 0 feet | Floating |
| FGH65T | 2-5/8" | 0 feet | Floating |
Comments: I bought 1 of these at a shop and out of the box the swivel was stuck in a crooked position and thus its action was crooked. went back to the store, to get another one and out of the 5 they had there all of them had the same crooked swivel. So far this year, i've had a koppers bait ball break off a lip when it landed on shore, I had a deep diving bait ball split in 2 at the rear treble hook, I had the hook on their live target popper snap of one hook, and now this. that's 4 different products and 4 times they either broke or were broken out of the box. either way at the end of the 1st day they all were junk. I don't want to ship anything back to them, because most likely they would just send me another defective pos.
From: Slade: Casitas, CA 7/1/14

Comments: Good frogs, more of a slop frog than open water. It would be nice if some of the realistic pattern/detail made it to the bottom of the bait. Doesn't do much good on the top. But it's pretty to look at, for whatever that's worth.
From: John: LA
Comments: This is the best frog on the market I have found. The colors are the best, especially the green brown, looks like like a small bullfrog. It casts well and has a very good hookup ratio. What I really like about it is that it doesn't take on water nearly as bad as the others and walks the dog very easily. Use a minimum of 50 pound braid, a heavy action rod, and hang on.
From: Tyler: Grand Junction, CO
Comments: My go to frog. It is soft but durable. It is Super realistic and it gets the job done. My favorite color is the black and yellow in any sizes. I've caught multiple 4+ pound bass with it. We'll worth the money.
From: Jack: Annapolis, MD
Comments: I was new to frog fishing 2 years ago and now I have to say this is my favorite frog. The hook up raito on these compared to the spro frogs is far better I was introduced to frog fishing on the spro and now the ones I have just sit in my box best frog on the market
From: Brandon: St. Albans, VT
Comments: I got this frog for Christmas in the normal bright frog color I think its swamp green but I fished it in New Years and I got a bass so this frog proves this lure catches fish but the thing I recommend is to trim the legs

From: Nicolas: FL

Comments: there are a lot of good frogs on the market, but koppers sits alone at the top. This frog is amazing, from the detail to the action.there are a lot of frogs that do individual things very well, whether they walk or they kick. This frog can do it all and has landed me some giant bass . its the reason im hooked on frogging.

From: Fantasia: Mass

Comments: I tired multiple different brands of frogs and they all appear to work just fine. The Koppers live target and the Booyah pad crasher have been my two go to frogs for quite some time. However the Koppers Live Target frog is now my number one. Unlike their field mouse which I find to be another good top water bait but the tails rip off in only a few fish. This bait lasts! I have been throwing the same tan yellow 55t frog for over a year. Some of the coloring is scratched off and there are plenty of holes and even the weight has fallen out, but it still works awesome. I have run this poor lure thru the gantlet and like I said itâ•ÂË™s in terrible condition and it still works just fine. Even with the hole in it from the missing weight it still floats and is heavy enough to make long casts! I have the green brown and the black tan ready to go but Iâ•ÂË™m not replacing the current frog until the hooks rust off! I highly recommend these frogs especially when they are on sale. Stock up!

From: Ray: Orlando, Fl

Comments: this frog is good.... sounds like the bad reviews are fake

Comments: I used a lot of frogs, both Spro frog types seem to be my favorite. I recently started using the tan/brown Live Target in medium and large sizes and have been killing them. I like the way they sit in the water on the pause. I kinda of wiggle them in to sit deeper for a second. Then right when it takes off the strike usually happens. 3 lbs to 8.5 lbs recetly. I filmed myself. The frog got tossed on the bank. Right before the frog hit the water it got hit! POW!!!

Comments: looks awesome, but the action... Is not awesome. I've fished it for over a year, it looks so good i just keep giving it another shot. But barely any strikes and 0 hookups.

From: Brian: GA

Comments: I recently purchased a live target from and have fished it twice now and im completely sold on them!! Tried it out first at a farm pond and got it hung up a couple times with bad cast and never got it stuck once which normally isnt the case! Ive lost kvd sexy frogs before due to hang ups and wasnt to sure about getting a live target but i got it for free so i couldnt complain and will def say they are worth every penny! Today fished a new lake and got it hung up multiple times on overhang and other structure and never ever once had to move the boat over to pull it out which like i said before is impressive because im not a seasoned vet fisher or anything ive only been bass fishing for a year and a 1/2 and small lake fishing for only about 2 months so def a very good bait for any fisherman and have already caught about 7 fish on it in 2 trips!! Keep the line tight and watch for them to jump out of the water and try to get off it and enjoy the hits because they are a blast!!!! Very fun bait!!

From: Zach: IL

Comments: I have used Scumfrog, Spro, KVD Sexy Frogs and Boyah Pad Crashers and I will tell you this is the best frog by far! It's soft, it doesn't snag nearly as much as the others and most importantly, my hook up ratio is much better with the Koppers. I have used the 65 and 55 sizes most often in the Yellow and Green colors. I'm not to sure how important the colors on the top of the frog are though. I'm more concerned with the colors on the belly. I really don't care why they work, I know they catch big bass and that's why I get up at 5:30 am! I will say Scumfrogs are great if you're on a budget but the Koppers just seems to work better. This is truly a case of you get what you pay for! I know many anglers worry about whether you can walk a frog or not but I don't. Yes, you can walk this frog if you have the right equipment (MH with an extra fast tip) but I haven't seen a situation yet where I felt walking the frog was necessary. Bottom line, if you like to frog fish, spend the extra money and get this frog!

From: Mike: MN

Comments: I have 9 of these Koppers Live Target Frogs, and work something fierced. I used the Black Tan to land a sizeable 2lb largemouth bass.. There is nothing
like a topwater strike. Get you some of these and they will not dissapoint.. The most realistic frog out there and the fish agree.. Get you some of these.

From: Dalton: Swansea, MA USA

Comments: I went to a pond last night to fish but the bass weren't hitting that well until I started throwing a frog. I was using the 45t size. The bass were just smashing the frog. it was right at dark when they were hitting it. I caught a 3lb bass off of it. I will buy more!

From: Andrew: VA

Comments: I went fishing last night at a pond and the bass weren't biting that well. Right at dark I started using the 45t. All I can say is, WOW!!! The bass couldn't stand it. I caught a 3 lb bass off it. This is a wonderful frog.

Comments: This frog is the best I've ever fished with. Just helped me place 2nd in my last tournement. Black and tellow was the color. The 55t works best for me.

From: Bryce: Orange County

Comments: Great frog but they need to make a bigger one

From: Brandon: CA Delta

Comments: I have been fishing frogs for years and have never really had a preference before now. I was always able to make the Spros, Scums, and other frogs walk and work like I wanted with relatively good success. The Koppers frog just appears to do all of those things a little bit better for me. It walks without much effort at all. The colors are amazing. Hookup ratio is as good or better than any competitor. The biggest thing for me is that it just seems to get bit a little more than the others and it's now my go to frog. It may be a confidence thing but I love it. With the 55 size I have caught fish from 12inches to 10lbs. Give one a try.

From: Justin: SC

Comments: Best Frog on the Market! They have a great hook up ratio! The only frog that has a higher hook up ratio are scum frogs, but these look way better and have a bigger profile! The body is super soft and hooks are solid! The only downfall is that after catching many many bass, the body will start ripping at the mouth and pick up water. Still the best imo next to Scum!

From: X: MPLS, MN

Comments: great frog! The 45T is good for catching every little dink that bites but big fish bite it too, the 55T is a great all-around size, I get bass mostly over a pound on it, the 65T is good 3+ pound fish but it is too big for the ponds I fish so I don't use it much. Thank you livetarget for a good frog.

From: Cullen: Ashburn, VA

Comments: People saying they have bad hooks are not using right equipment.......im using a med heavy pole with a heavy back bone and a fast tip with 50-65 pound braid. These are just as good on hook ups as spro frogs but have more detail in there color pattern and design. It took many attempts to find the perfect set up for frog fishing but use this equipment and it doesn't matter what frog you use you will get more hook ups.

From: Mike: Dardanelle, Ar

Comments: By far the best and my favorite frog on the market. the color and hook ups are great, butthe only flaw was 1 weight fell out after 2 years of fishing the same frog. butthe funny thing is that after the weight fell out it ha better hook ups. when i first got this frog i took it out to a crannberry marsh in Warrens, WI an caught 4lbers back to back on it. but deffinatly a great frog and im going to take advantage of this sale.

From: Gavin: Onalaska, WI

Comments: I once was a big spro fan, I thought they were the best. My dad decided to give these a try. These will out fish spro 5 to 1. What I thought was good isn't really good anymore.

From: Steve: Scandinavia WI

Comments: I don't understand how someone could call these frogs garbage. I am not a professional frog fisherman, but decided to start fishing them. I bought 3 of these Kopper's and this morning I decided to try one out after about an hour of throwing every thing else in the book with no success on a very heavily pressured southeastern PA lake. This is no lie! 2nd cast caught a 5.2 lb LM and followed that up with a 4.7,4.8,3.5, and 2 other 2lbers. in an hour. I will be back out tomorrow morning to try it again. I did not miss any bites and none of the fish came off. This frog performed flawlessly.

From: Big: PA

Comments: i heard if u put them in boiled water for 30 seconds or so will soften them up significantly . Try it out , hopefully u dont forget about it n make frog soup ..lol

From: Adam:

Comments: one of the worst hook up ratio frog on the market. The only thing good about this frog is the color everything else is garbage. Rather buy spro, deps, and tranporters over this product any day.

From: Peter: WI

Comments: Bought this lure and had a few problems. The paint came off after a handful of bites and caught fish. Contacted customer service and they sent me replacements! Very impressed with the company and I know that fish strike these!

From: Justin: NC

Comments: They have changed the thickness of the material these are made out of, it's thicker...Now they don't "walk the dog" worth a crap...Glad I only bought one the other day ! Going back to the $6 Booyah.

From: John: St.Cloud ,FL

Comments: many people talk about the look of these different frogs but they dont touch on how well they walk i have tried many different frogs and they walk much better than many others also the highest quality hooks ive seen on a frog

From: Creg: CA

Comments: One of the best frogs on the market in my opinion. The body is very soft and collapses easily to expose a lot of the hook, which is really sharp and strong. I've had fish hit this bait so hard that they set the hook themselves and bury both barbs in the top of their mouth. They walk easily if you know what you're doing, and the way they sit in the water matches they way a real frog sits perfectly. Hell' I've even had them fool real frogs! I was out fishing a local pond and saw a rather large bullfrog. I threw the Koppers next to him, twitched it a couple times, and he turned around and stuffed it in his mouth. So far my biggest fish on one of these is 7 pounds 3 ounces, which is huge for this far north.

From: Alex: NY

Comments: To person that said he had problems with weights falling out of these baits. I've never heard of such a thing. Best frog on the market! Are you smacking them off metal docks or what?

From: Jeremy: Indiana,us

Comments: I never got these frogs before they were put on sale but now I know I've been missing out. Tan yellow best colour hands down. Better than spro by far. Paycheck frog doesn't compare.

From: Trenton: WI

Comments: Casts well has good durability and body is soft enough to get solid hook sets. I usually trim the legs because at first I was noticing a bunch of short strikes and it made a huge difference.

Comments: Simply put, Live target and Iobee frogs are the best. You get what you pay for and these live targets are definitely worth the money

From: Master Yoshi: Beijing, China

Comments: Definitely one of the best frogs out on the market and what do u know Tackle Warehouse has some on sale. I fish farm ponds and local Conservationist ponds and the bass just explode on this!Caught my biggest bass on it last summer weighing 5lb 2oz. I've had the best luck with the green/yellow color and the only problems I've had with it is hook sets, you just have to make sure you set it hard. Kudos to Kopper's.

From: Chase: Liberty, MO

Comments: This is far and away the best frog on the market. The only frogs I use. I find the frog ratio superior to other brands. You get what you pay for. I bought my first frog when they came out and many fish later it still performs.

From: Derek: Ontario, Canada

Comments: In 2012, I did a comparison test of 3 hollow body frogs. Pad Crasher, Iobee, and Koppers. They all performed in that order. Pad Crasher had the best combination of different actions. Iobee is the easiest to walk the dog with. The Koppers just looked good, but didn't really compare to the other two when it came to getting the fish to bite and hooking them.

From: Thor, MN

Comments: Absolutely no comparison to spro with this frog it's very soft not the softest but a great overall frog, it combines style,color, hooks up ratio all into one frog that's middle of the road priced. I would recommend this to anybody looking into frog fishing.

From: Louis
Comments: These are the best BUILT frog available. Depending on how much I spent on tackle in the given month, I would go with an evolve nervous walker, these, or pad crasher. Nervous Walkers are THE softest frog available, and that's the truth. These are better built overall. Pad Crashers ... I think have a different action then the evolve's and these.

Comments: frog Ive used,but for the price should hold up better. I purchased 7 last year & each one lasted about a weekend of solid frogging. Each ones weight had fell out & paint got stripped after several huge hook ups. Two of them had weight almost immediately fell out when skipping into wood structure.I contacted Livetarget & was told that they have never heard of the issues I pointed out. If your wallet isn't fat, you'll find more durable frog in booyah,spro & River2Sea.

From: Grant: Salem, OR

Comments: to the guy who titled his comment "homeless" ... i hope your post was a joke. there is not another frog this is even close to as soft as this. and pad crashers are junk. the manns super frogs are much better than a pad crasher. the koppers frog is the softest and best frog on the market. thats pretty much the same opinion held by any serious bass angler

Comments: Hi David the 55T weighs 5/8 oz. The 65t weighs 3/4 oz, and the 45t 1/4 oz. Your welcome!! Also get these frogs, these baits are sweet!!

From: mrbond007: East Lansing, MI

Comments: 45T weighs 1/4oz., 55T weighs 5/8oz., and 65T weighs 3/4oz.

From: Johson: Apopka, FL

Comments: does anyone know how much the 55t weighs? or can anyone weigh this frog the 55t size? thank you!

From: David
Comments: snake heads love this frog

From: Brmeff: Philippines

Comments: Caught a 7lb bass in the south florida canals other day, smashed the Green Sienna soon as it came off pads into open water. Great frog no doubt. Also caught other large bass on these frogs and "Snook" love these also here in south FL, lost a medium Green Brown to a massive snook using 50lb braid broke me off. topwater is the best haa

From: Mitchell: Naples, FL

Comments: save that cash i have lost more fish with this rig than anything else and don't try to tell me that i'm doing something wrong i was using the medium one and the only fish that could compress this " super soft " rig was any fish that was big and pissed ........... buy some pad crashers. buy 4 crashers instead of 2 koppers. p.s finish on these rigs don't last very long after 10-12 hits its looking haggard.

From: homeless
Comments: GREAT frog strong sturdy hooks pretty durable weedless super soft iv caught five out of 8 bass that hit me on this frog walks great and im new to frogs biggest so far was 4 and a half pounds just wish they had mor collors

From: Louis: LA

Comments: this frog gets so many bites but if you dont give them time to eat it the hooks are angled downward if you set it right away it just pulls out but the downward angled hooks make it so you never get weeds

From: Kee: Mason, MI

Comments: best frog ever!!! the brown/black in 45t kills em on gunterville

From: Cal: GA, USA

Comments: well it is a killer looking frog but lacks alot of performance in the water it acts exactly the some as the kvd sexy frog the spro and so on they are basically all the same.if you want to catch alot more and bigger bass the the deps slither k and buster k put this frog to shame they will outfish everyother frog 5 to 1. including this one. the deps frogs look alot more like food to a bass then this one. way more walk the dog action and diving and slithering in the water , just want to let fisherman know that there is a game changer out there i can absolutley proof that. this is a nice frog and all but it is not a game changer

From: Chad: Springstead, WI

Comments: The best frog you can buy. Super soft yet super durable. The action is great. When you walk this bait, it looks like a frog struggling to keep its head above water. It bobs up and down consistently in the water. Produces savage strikes and good bass. No need to look further for me. Koppers is my go-to hollow frog.

From: Zach: Pittsylvania, VA

Comments: Probably the best overall top water frog on the market. Durable, super sharp hooks and looks exactly like a real frog. I've used scum frogs, which are nice and soft, but they don't last and sit awkwardly in the water. Spros are well made but you need to bend the hooks quite a bit to get the same hookups as the Koppers. Live target is awesome! Either way just get out, explore and have fun! Sometimes fishing isn't all about catching, it's all about creating great memories! Fish on my friends... Fish on!
From: Mark: SB, CA

Comments: This goes out to Tackle Warehouse.. We all know that a bass primarily only sees the bottom of the frog. As I look at the pictures of various colors, I sometimes cannot determine what color the fish will see (bottom) I was wondering if you guys would start posting an aditional picture of each frog (the bottom) to make it easier to select a color. Thanks TW, keep up the great service!

From: Alex: Erie, PA

Comments: Best bang for the buck.

From: John: Sacramento, CA

Comments: Why pay over $10 for a frog? It's because the engineering they put into this frog is top notch...Cool details, it's made out of good materials so it doesn't get destroyed after a few fish like cheap frogs like the original scum frog...it also has better hooks where rusting is not a big factor unlike the scum frog...Oh yeah, and this frog is easy to walk and the way it's made with soft material, it'll increase your hook up ratio...

From: Issac: St. Paul, MN

Comments: why pay $10 on a frog because a bass wont see the top of the bait they only see the bottom well heck they don't even see the bottom of it if u r fishing slop all they see is something moving on top so y pay $10 dollars on a frog when h can buy a scrum frog for 5.99 scum frog tulle this frog is a rip off

From: Justin
Comments: The bass on my home waters of Lake Champlain Crush this bait! Not to mention the hooks on this bait are angled up considerably more than the spro hook. I used to have to take pliers to slightly modify the hook on the spro frog to increase my hookups! Not the Koppers frog!

From: Nick: Colchester, VT

Comments: nice looking frog and all but no performance acts the same way in the water as all the rest no different then spro, river to sea and so on. you want vigorous side to side action darting in and out on the surface the walking action of this frog looks very fake in the water very little natural movments of say a real frog or mouse i was using these type frogs for years and years with below average luck. i found the slither k by deps and changed the game forever. outfishes this frog 5to1 so dont waste your money the deps frog is far superior in every way and is the only!!!!!!!!! hollow body frog on the market!!!!!! that catches alot of fish period!!!!!

From: Jim: Lake Tomahawk, WI

Comments: $10.49 for this frog! That's cheap! Here in Sweden they cost $19.26! I think me and my brother are going to order some from this site. This is my favorite frog. I use it for pike and they really loves it.

From: Adam: Sweden

Comments: Justin, you're poorly informed about how bass hunt. They have tremendous eyesight and rely on it to hunt if at all possible, and contrary to what you say, they can certainly see much more than the bottom. Ever spook a bass from shore or a distance? That's because they can see out of the water much more than you think. They see the sides and the back of this bait because of the way it sits in the water, and it's much more detailed and durable than a scum frog. The hook is sharper, at a better angle, and the body collapses better than a scum as well. The weight is also completely enclosed and at a location that doesn't interfere with the hookset, unlike scum frogs. Use whatever frog you want, but don't speak out of ignorance. I'm an avid frog fisher and the Koppers is in my top 3, and not without reason, because it simply catches fish. Did I mention the durability? I've caught over 70 fish on one frog and it's still going strong; I can throw it all day and not have to squeeze it out once.

From: Alex
Comments: This frog is awesome caught a 5lb as my first fish. This gets tons of blow ups and if they dont get it the first time throw it out there again and work it slower. And Justin you pay 10.50 because it produces fish and is made very well. Oh and did I mention fish love it. Dont be afraid to get the 65T it might be huge but wow all sized bass will crush this size. The 55T is a good starting size but the 65T is where I will stay from now on

From: Robert: Austin, TX

Comments: why pay $10 on a frog because a bass wont see the top of the bait they only see the bottom well heck they don't even see the bottom of it if u r fishing slop all they see is something moving on top so y pay $10 dollars on a frog when h can buy a scrum frog for 5.99 scum frog tulle this frog is a rip off

From: Justin
Comments: My little froggy has a headache again from being smashed by another big old bass. Koppers is the best as far as strikes and hookups. Ive missed a few of the smaller bass but the big ones just crush it. Use braid, back off on drag and voila. My favorite lure and my favorite way to fish. Order a few, you'll be glad you did.

From: Dan: MD

Comments: 10 bites, 1 hookup. Felt weight, fish took em down, no stick.

From: Sam: CA

Comments: I have posted before but after today i need to post again. I spent the day at a friends house who has a farm pond. It was a 4th of July/reception party. It was 100 degrees outside with about 30 people there. About 8 people fished during parts of the day. I was the only person to catch a bass. I caught 6 when everyone else couldnt get a bite. I even caught 2 BULLFROGS off of the live target brown black frog!!!!! Some of the people even pulled out their frogs after i told em what i was catching them on. Guess what? NADA. Live target is the best!!! The only hollow body i will ever buy.

Comments: The best hollow body hands down. I have hollow body's from SPRO, KVD, and booyah. Koppers is by far the softest and most realistic.Another thing that seperates it is the hook. Ive compared them all by depressing the body and koppers hook is exposed the most and sits at a greater angle than the others allowing for an easier hook set. Koppers also has 3 different sizes to choose from. They need to come out with a mostly white frog with a little black and brown detail.

From: Jeff: Rensselaer, IN

Comments: In my opinion Koppers has the best frog on the market right now. The hooks are just amazing. But somebody over at Koppers needs to realize Spro has the wildest colors and Koppers colors are all so natural. thats great and all, but at least make a white one Koppers!

From: Matt: IL

Comments: its a good looking frog, wish they focused on the structural design a bit more though, i have had more than a couple of these and the hook never seems to flow with the body very well. Also you have to reset the frog because it slides down the hook, also the body is a bit too soft and you hook into it quite a bit. Now this all may sound super negative but there really isnt a frog i like that much, and i still use these...

From: Max
Comments: i normally wouldn't respond to another fisherman's feedback, but i have to say to steve below who believes the top/side detail on these frogs to be extraneous and merely to increase cost...ever had a bass see you when you weren't under water?, point is they don't only see the bottom. they see the sides just as well. if you are working the bait fast - burning it - the detail doesn't matter. if you are fishing a bit slower and occasionally pausing it - side view detail is huge. - you're welcome for the lesson steve...tight lines

From: Matt: Lakeside, AZ

Comments: these frogs are okay, not as good as spro frogs, but nice to have when the water is clear ad you need a different presentation. other than that stick with the spro frogs you will get more bites

From: Seth: VA

Comments: On my first outing with the Live Target frog, when a fish hit it over some sparse lily pads, I set the hook only to pull back the frog with the hooks gone. For a $10 lure, this shouldn't ever happen.

Comments: Awesome frog. In my opinion, they are better than spro frogs. And there only a couple dollars more than spro's. Buy em, The bass smash em.

From: Shane: Winona, MN

Comments: Best frog ever!! I already loved the company then i started using frogs and this was my first ever frog and its the best out of all the other brands i have. i recomend this lure.

From: Jake: Amherstburg, Ontario, Canada

Comments: This is an awesome frog. The detail is exceptional and super soft. Hooks are sharp and stout. I like this frog a lot, had a bunch eat it, but it doesn't perform as well in open water as a Spro frog. I like both equally, an overall, it catches fish.

From: Aeolian: Kalamazoo

Comments: Fished this frog in a tournament and lost a 4 pounder because the hook came off the body of the frog. I was fishing the 45t size at the time, near pads.Very disapointed at Koppers because they make excellent quality products, but i geuss they didnt care about this one. (Disapointed).

From: Mateo: Longwood, FL

Comments: this is the best frog on the market in my opinion ive hooked up on many more fish it has a soft body with big hooks and it holds up well GET THIS FROG

Comments: I got a thought...the fish only see the bottom of the frog so why would they put the fine deail on the top. All it does is make the bait more exspensive. they don't need to do that.

From: Steve
Comments: I just received my 55T Green/Yellow frog. Never had more luck with any other frog.. hands DOWN. Body is SUPER soft.. action is perfect.. you can walk to dog (takes some practice).. SOOO realistic looking. As 'Cliche' as it sounds.. my first cast with this.. sun just starting to set.. Had one SMASH it. I had a fish on every other cast. TRUE story. I am writing these.. and after writing.. i am putting in another order for more. This is a MUST have in any tackle box

From: Mike: Winona, MN

Comments: this bait is a littile bit pricey but u wont be dissapointed when u bye it this bait walks the dog perfectly it is a all around bait!

From: Cole: Frost Proof, FL

Comments: I just received a 45t and a 55t. Very realistic frog with a lot of detail. Super soft body with a premium hook. Overall, it's an awesome frog.

From: Kyle: MI

Comments: I've written on these frogs before, but these things kick ass!! I just got some of the 45T size, and I can't wait to see a big ol' smallie smash this frog this spring!! Great bait all around, load up on em', you wont be dissapointed!!

From: Mrbond007: Eat Lansing, MI

Comments: The best frog on the market hands down!!!

From: Josh: RI

Comments: Unreal..... Got Brown/Black 55 and 65... 55 is small, I'd go with 65, its about average size to most frogs. Supper Soft, and hold up great.
I will be adding more Koppers to my Tackle Box!

From: Tim: CA Delta

Comments: This is the best frog!! Don't get me wrong the spro frogs are good and i have used them for awhile, but when I used the live target i liked it way better. It has a better hook up ratio and and is so realistic. I have the tan/yellow color and the brown/black and have caught a ton of bass on the brown/black one. I haven't used the tan/yellow one because i just got it for Christmas, but knowing that the brown/black one has caught me fish I am very confident that this will catch more bass for me.

From: Jason: USA

Comments: Last year i bought my first koppers frog. Never ever looking back. I now own about 8 of them. I had to buy and 2nd green and yellow one because i was catching so many quality fish that they just tore the nose of it about a half inch down. I probably caught over 100 fish with that 1 frog. The bites i get are aggressive enough that i can fish for about an hour past dark on calmer evenings and just listen for hits and not have to see them. Give it a second to take it down and set away!

From: Kyle: Hutchinson, KS

Comments: best frog hands down , i caught over 50 bass on the brown and black last summer including a 7lb and 6lb. This bait is indestructable has great action and good hook sets.

Comments: BEST frog on the market. Well worth the money.

From: Anthony: Lake Worth, FL

Comments: Had so many hits 45 is best 6 lbers left and right I even caught a panfish so many swung and miss but always came back walk the dog in heavy cover on calm parts of the day and you will catch fish BEST FROG EVER.

From: Trevor: Lakeville, MN

Comments: The absolute softest frog on the market! It is a little pricey but it is worth it! Koppers always comes out with the best looking colors so you know these will work. I have used the Brown Black and have had great success.

From: Phillip: Birmingham, AL

Comments: I just got into frog fishing had a scum frog and didnt get good action, bought this frog and used it once at a lake i know with alot of slop on the top, wwith in seconds had my first hit, didnt notice and missed reeled three more feet and stopped, and WHAMM! Caught a nice two pounder great hookset, well worth the money

From: Trey: Fort Myers, FL

Comments: Best frog on the market! Walks the dog with ease and has a great hook. Had them explode on it right at the boat! Highly recommended.

From: Brad: Louisville, KY

Comments: Definitely one of the best frogs on the market. This baits skips great, collapses easily for good hooksets, and dances with ease. Like the 65 the best, gets the biggest bites. Also, glad they came out with some new colors I've had to go elsewhere for the black, but now there's no need

From: Destin: PA

Comments: Best frog I've owned and better hook up ratio compared to other brands that I've owned before...what can I say Kopper does a damn great job on their product.

From: Big Boi: CA Delta

Comments: love this thing!

From: Brandon: Jacksonville, FL

Comments: This frog is phenomenal. Soft body frog hook ups are never a sure thing, which can be from operator error, wrong gear, or the fish just crashed it and didnt eat it. This thing DOES walk the dog IF you work it right, it works easily through the nastiest weeds or grass you can find. If your missing this frog, your missing out.

From: Matt: IA

Comments: worst frog ever my weight fell out on the 1 bass i caught on it and it dont even walk the dog i am going to stickwith the old skum frog

From: Justin
Comments: Great frog the 55t size is my favorite size great look and makes a noise when you pull it great op live target!

From: Tyler: Columbus, GA

Comments: Great frog the 55t size is my favorite size great look and makes a noise when you pull it great op live target!

From: Tyler: Columbus, GA

Comments: got the 45 size if you wanna open water while on hot days in post spawn there you go

From: Greg: Japan

Comments: ive throw almost every frog made and this is by far the best beats bps tru tungstun spro strike king uown name it by far the best only problem is that it lands upsidedown but just twitch it and best frog ever

From: Ben
Comments: first time out with brown black i caught a 7 lber tip add rattles, lost one that woulda beat personal best easily, but works great over moss and open water if you can make it walk the dog then there's no problem catchin big bass

From: Tom: Galt, CA

Comments: Bought a green and yellow back in June. After hooking up to more than 10+ fish in a 2.5 hour outing. I said to myself. I gotta get some more. So I got the other 3 colors. Best frickin frog on the market. Looks to hook setting. BTW the hook setting doesn't matter what kind of frog. Spro, Kopper's etc. Rule of thumb. Keep your rod tip up. Let the Bass hit. Let your rod tip go down. Set the hook hard. This is how you get a better percentage at hooking up with a fish. KAPLOW!!!!

From: LM:

Comments:Love This Frog Caught 2 Monster Bass On Two Cast Love Then Better Get You Some

From: Hunter: AL

Comments: This frog is amazing. In the past month it's pulled out 3 master anglers and many other bass. It's absolutely true about the hookset though, you need to wait after they hit it at least a full second or two. The first time I took it out I messed up a lot trying to set the hook right away and missed a lot of very large fish that I will never forgive myself for ;D. Great frog though, I've got the green/yellow and the tan/brown.

From: Zach: CO

Comments: awesome frog. caught 2 4 pounders this morning with a great hook set. make sure you wait a few seconds before setting the hook. definitely worth the ten bucks

From: Jerrod: Indiana

Comments: Great Frog...caught a couple largemouths yesterday as i notice they were jumping in the weeds. Hook up was good except for one that was maybe less than 10 inches...otherwise give it two seconds before setting the hook.

From: Ying: Green Bay, WI

Comments: great frog, works great and have had no problems with it yet. dont listen to comments about hook up ratio it doesnt have to do with the bait or anthing. depends on what equipment you have, if you got the right rod and line your hook up ratio will increase so dont be affraid to try this frog i love it. just ordered the 45t one and cant wait to try that when the bass want a smaller presentation

From: Matt: IL

Comments: Great looking frog. Walks well and passes through all debris. Very poor hook up percentage over other frogs. Do not recommend this one.

From: Keith: Rockall, TX

Comments: I love this frog, have two of them, Tan Brown and Green Yellow. Used so much the paint on the eyes is nearly gone on both baits. Get the heavier bait, FGH65T, as you can cast it further. Floats well then dips, flops, bounces, and retrieves great on 50lb PowerPro.

From: Brian: Utah

Comments: I absolutely love the look of this frog. The lakes where I fish are full of people throwing pumpking and watermelon seed worms so in an effort to change up what the fish see, I snagged a couple of these frogs. They really do look great. The hooks feel very sturdy and are very sharp. As for performance, someone said these cant be walked, that's not really true, they can, it just takes patience. You need to keep the rod tip up and make small, fast jerk movements keeping some slack in the line and it'll walk. I'm not sure its the most effective presentation though. I think just start-stop retrieval gives a tad more sound and splash. I have used these for a few weeks and the only negative i see is that due to the position of the hooks, they tend to put little marks on the body. I have a brown/tan and a yellow black frog, and they both have small pits where the hook digs into the body. Its not a huge deal, but it is somewhat of a flaw.

From: Kyle: Ocoee, FL

Comments: Beautiful frog but not as durable as others in my oppinion. After one 5lb fish and a few smaller ones the frog body had torn in several places and the weight kept falling out. I attempted a repair using a soft vinyl plastic that you dip plier handles into - it held for one more fish and then the weight was gone and the frog is no longer usable. Would like to see Koppers improve the weight/frog interface so the lure lasts longer.

From: Skip: Lewes, DE, USA

Comments: Just like in the description, this is the most realistic looking frog on the market. It doesn't walk, more like chugs, similar to the spro bronzeye. I am a tackle enthusiast and own spros, snag proof (Ish), and Reaction Innovations swamp donkey. By far, this has the best hook up ratio, and if the fish aren't looking for a walking motion (Ish fat frog is best) then this should be the lure to pick.

From: Jesse: AZ

Comments: Great Frog. Super soft body which is half the battle of catching a bass on a frog. If the frog doesn't collapse and expose the hooks your not going to get any penetration and your not going to catch the bass anyway. This frog cast great I havn't had any problems with mine. Sounds to me like your not setting up your reel properly. As far as the frog rolling on it's side or back? I havn't had that problem either. Maybe you just got a dud or something. You might try adding some wire around the hook to add some weight to help it sit down in the water better. I do this to most of my frogs. The 65T's seem to be heavy enough. I add a big split ring to mine just like on a spook, it seems to help it walk better when you want more action. As far as water getting inside the frog, I havn't fished one that doesn't except for the Ish frog, which is a good frog by the way. Anyhow the koppers frog is an awesome frog. I have caught dozens of bass on each of mine and they are still good as new.

From: Alan: Lagrane, IN

Comments: Money! Nuff said.

From: Caleb: Indiana

Comments: THE FROGS OF ALL FROGS!! LOVE THIS BASS KILLER.

From: Gus: Owatonna, MN

Comments: this lure is crazy, it looks very real in the water and bass just love it

From: Colin: Moline, IL

Comments: I've just started getting into frog fishing, and this bait fits the bill!! Iv'e always loved topwater fishing and seeing bass, pike, and bowfin come up from under the weed mats to choke this frog down is unbeliveible!! If the cover is real thick, I use straight braid, or if I'm in open water I'll switch to monofilament, tying a rapala knot seems to allow the frog to walk the dog better. Awsome frog, way to go koppers on this one very cool bait!!

From: Mrbond007: East Lansing, MI

Comments: I bought the brown black and green yellow in 55t and am very happy. The color and detail on these things are amazing and large mouth love them. I found you can get more action out of them by tying a figure eight knot and leaving the loop about half an inch from the frog. The frogs are also extremely soft which i am happy with, at first i thought they would get chewed up if a pike hit it but so far its survived unharmed with about 3-5 pike hits. very happy with the frog definitely going to buy more

From: Scott: PA

Comments: well i dont topwater fish that often, but i got this bait to test out and now i topwater fish a lot more because of this bait. whenever i used to throw frogs, it would be a spro frog, but i believe this one is much better. the fish seem to get hooked a lot more, and the body is very soft which gets you more fish. the only problem i have is that its not very durable, i caught 3 bass on this and it had a hole in it after i caught the 3rd fish. my story ends yesterday when i hooked a big bass and it snapped my 12lb seaguar and lost the frog!

From: Matt: PA

Comments: detail is fantastic, 5 stars for that. But, as for the action this frog has well zero stars, and i mean zero. first thing, this frog doesnt cast well at all(the spro cast a country mile) and every time you twitch it it rolls on its side(never seen a frog roll on its side when it moves in the water) and when you reel it in at any speed, slow roll stop and go whatever it rolls over on its back(hard to get fish to bite when its on its back) only good thing besides the detail is that it doesnt take it water, but when it doesnt catch fish who cares. I casted one of these for 2 hours straight, and not a single strike, blow up nothing, tied on a spro bronzeye in the same or most similar color i had, and first cast 3 pound bass. Take my advice get the bronzeye, it cast much farther, looks just as good, has better action and it cheaper than this one is. The koppers frog was a waste of 10 bucks

From: Ben: Florida

Comments: I fished the 65T on a new lake my fishing partner and I. I hooked one 22", two 19.5" and lost one that broke 20lb test line. Someone else said it: DON'T HESITATE, GET THIS FROG!!! I have fished Kermit and others, this is the best frog on the market. HANDS DOWN!

From: Michael: Kansas City, MO

Comments: My previous review, "So Far, So Good!", needs to be amended. I went out yesterday evening with my buddy and we weren't catching much on soft plastics. It was getting late and I switched over to my Koppers rig, tossing it among some nearby lillies. Bam! big strike from what looked to be a 3 pounder. It missed. As I was reeling it back in towards the boat, something sucks it under the water - I'm thinking its a big bowfin... It isn't! Big bass, approximately 8~9 pounds, if not slightly more. GET THIS FROG! Don't even think twice about it, get it! I was using the 55T Green Yellow. I'm coming back to the site to order a 65T Brown Black... Awesome frog. High Quality components and materials. Remember to trim up the legs a little when you get yours - they are super long, and caused a few missed strikes before I trimmed them up.

From: Shawn: Tampa, FL

Comments: If you do not have this frog in your tackle box you are missing out on the best frog fishing in the industry, no matter how confident you are with other brands put this frog on your line and your opinion will instantly change

From: Sam: Zionsville, IN

Comments: So far, so good! Just fished it the other evening. Had around 4 strikes on the lure, with 4 misses. Some of the misses were my fault, and I believe the others were because the 'leg' strands are too long outta the box. They probably do this so that you may trim them to suit your needs. I trimmed mine by about an inch and the frog worked much better. No more bites though. I'll try again tonight. I have been fishing this one and a Spro of similar color. Honestly, I don't think there's that much of a difference in the eyes of the bass. Both of them seem to work equally well so far. The Koppers seems of higher quality, with an edge going towards the fit and finish, but any given day, you'd likely do well with either the Spro or the Koppers... I have.

From: Shawn: Tampa, FL

Comments: best frog i have ever fished hands down. better hook ups than the spros it walks great and looks realistic. it last a longer than the spro to definatley worth 10 bucks. i cant count how many 4,5,and 6lb bass on this lure.

From: Gees Bend, AL

Comments: The details are great and the hooks are super strong and very, very sharp. I had a much better hook up ratio than I have had with bronzeyes. Someone said that they had a lot of water collecting in the body and that is an issue, but I don't think that the koppers frog is any worse than other frogs that I've used. The body is very soft and collapses easily for a good hook set. As far as durability goes, these are a little more fragile than the spro's, but I think that is a result of the softer plastic body. I am not going back to spro's. This is a great frog.

From: Carter: DFW

Comments: Not a huge fan, yes the detail is fantastic, and is worth about 3 or 4 stars because of that, but the action just isn't that great. Every time twitch it it rolls on its side(most unrealistic thing for a frog to do), they don't cast nearly as far as the spro bronzeyes do. Ill cast this frog 20-30 times and not get so much as a look, throw the spro in he most similar color you can and boom blow ups every time. Save some money and just get the Spro Bronzeyes, they have plenty of colors to choose from, they walk, chuck, spit, slide, and with them being a little flatter you can skip them up under docks, and low hanging trees where its hard to get a lot of lures underneath normally, in places where bass don't see many lures in there face, Spro Bronzeye all the way.

From: Ben: Florida

Comments: Great Frogs! I've been a scum frog guy since i started using topwaters mainly because there are realativly inexpensive, but now i will continue to buy these frogs! they are fantastic the hook sets are just as good if not better then the scum frogs in my opinion! and the detail in ridiculos i've only had a couple oportunites to fish these so far but not the warm weather is here they will get there use!

From: Drake: Mattoon, WI

Comments: The best hollow body frogs I ever used..... Well worth the ten dollars they cost.... They catch fish !!!

From: Mel: Davie, FL

Comments: EXCEPTIONAL FROG! Best I have used so far, compared to other hollow body frogs. The only problem I have with this one is that it does suck in ALOT of water. After every cast I would have to keep on squeezing out the water. BUT that is not a huge problem because my bites on this frog outweighed other frogs. Thanks TW!

From: Boogieman, CA Delta

Comments: Great frog. Hooks are awesome. Replaced all my other frogs. Very weedless and even fishing straight braid the hooks hold up!!! Fun way to spend $10!!

From: Matthew: OC, CA

Comments: I've fished with just about every hollow-body out there, from furbits to scums... I've always found an interesting argument in whether or not the realism of the frog had anything to do with a frog bite... or moreover is it just the silhouette and shape that mattered. That argument was efficiently silenced yesterday as I would cast 40 yards into dense pad mats and watch this thing call bass from 20 ft away... watching the wakes they all made in their submerged race to this Koppers frog.

Beyond just calling the fish to it, my hook-up ratio with this frog far outperformed any other hollow-body I've fished with, and I am not blowing smoke. With any strike countdown, all experienced froggers know to wait a Missisippi or two before setting the hook, but the problem has always been (contrary to popular belief) that it's the hooks or the appendages.. I watched fish eat other frogs I've used and spit it after a Missisippi, the difference this Koppers frog makes is the fish hold on to it for a long, long time. I had caught so many fish off this frog I experimented to see how long I could get one to hold on to it, I counted to 8 before I watched my braid stop drifting around. This is a no brainer... do yourself a favor and buy this frog.

From: Bud: West Islip, NY

Comments: Finally got to use it in a buddy tourny. Best frog I have ever used. Ten bites.....nine fish. Best hookup ratio hands downs. Easy walking is a plus.

From: James: Truckee, CA

Comments: I have to agree with all the reviews I've read here. This is the most realistic frog I've seen on the market..I think it peed in my hand when I held it. I compared it to the various Snag Proof, Spro & Mad Maxx frogs and it is indeed the softest frog. I get to do serious bass fishing once a year on Moose Pond, Maine & this will be the frog I throw for that week. It could be better w/ a drain hole & some rattles & time to customize.

From: Stan: Guilford, CT
Comments: This bait is the best frog bait I've ever seen or felt. Been fishing Spro frogs for years and been successful with them but I can't wait to use this on Lake Toho this week for the Bassmaster Southern Open. Koppers Live Target baits have the best details out of all baits in their categories. Happy fishing!

From: Jarvis: Leesburg, GA
Comments: These frogs are super soft. Soft as tits bass love tits and frogs so THIS IS YOUR GO TO FROG. Right now all the lakes are frozen but i casted this frog on the ice and a nice 4 pound bluegill came up and broke through the ice and slammed it. I am really happy with this frog :)

From: Austin: Rahway, NJ
Comments: Got these in about a month ago......what a GREAT looking frog. As others have said; this is a very soft frog. Too bad its cold here in PA and I cant take them out right now. As far as realism; these frogs are the real deal. I hope they perform as well as they look. I started getting into Frog fishing last year and it; in my opinion is the absolute funnest way to catch bass. I have always used scum frogs and spro's......but I actually sold all of those on ebay to make way for these Koppers frogs in my tackle box. I won 9 of them right now and cannot wait to try them out. They may be a little pricey; but I am hoping with 50lb braided line on my rod I wont be loosing too many of them. But seriously......if you like frog fishing.....this IS YOUR FROG! If you dont want to spend the money on them....I will; and then you'll save all the bass for me :)

From: Gray: Pennsylvania, USA
Comments: a extremely real looking frog and the body is way softer than Spros and Snag proofs cant wait to throw it at my favorite lake

From: Andrew: Stratford, CT
Comments: Ordered 2 of these 65T size from TW- blk/brn & grn/yel. The grn/yel had dull hook not happy about that.
They are softer than spro but not as soft as scumfrogs.

From: Ray: Rockford, IL
Comments: I just got the Brown-Black one at Bass Pro Shops today and its as soft as heck!!! it feels so awsome!!! This 1000 times better than the stupid,crappy Tru tungsten Mad maxx!!!!!!!!

From: John: Illinois, USA
Comments: right out of the package these frogs look awesome, my only real complaint on this frog is the rubber strands are alot thinner than on the spro frogs which may get torn up faster.

From: Jason: Port Huron, MI
Comments: I was a little worried that these frogs were only going to look ultra real but not be soft, well I was wrong! These frogs are very soft. They look and feel to be the real deal, can't wait to try them out. Unfortunately not only Bass are going to love these, pike will too.

From: Dougie: Ottawa, ON Canada
Comments: got mine today, and cant believe how sweet they look, and how extremely soft they are! cant wait to put the ribbits on'em!

From: Ronnie: Fort Wayne, IN
***Note: If you have questions about this product or need assistance with an order please email your questions to info@tacklewarehouse.com
View Large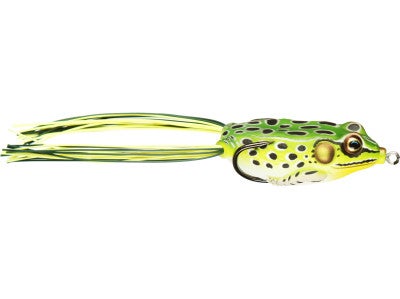 More LIVETARGET Hollow Body Frogs
More LIVETARGET Topwater Baits