Lake Fork Frog Tail Hook 2pk - $4.99
The Lake Fork Tackle Frog Tail Hook is an innovative trailer hook for soft-body frog rigs. The Frog Tail Hook is designed to slip on to most double-hook frogs, and increases hookups by catching short strikes. The strong 2/0 Gamakatsu wide gap hook still keeps your frog virtually weedless and allows unhindered motion.
Comments: a month ago a 4lb fish broke this trailer hook. then yesturday in my championship tournament a 5 pounder broke the hook during the fight. On both occassions the hook broke right where the upward bend starts. i still have both broken hooks, but lost both fish.

From: Chad: Green Bay, WI

Comments: These are great, half of the time I get a bass in my kayak from froggin it's hooked with one hook and that's this trailer hook. Improves hook up ratio significantly. Definitely try these any time you fish a frog. In my eyes since these came out fishing a frog without one of these is like fishing a spinnerbait without a trailer hook.

From: Justin: Virginia Beach, VA

Comments: These are the best thing since the frog just got to day and had to use them. My hooks sets are 100 % better didn't loose a single bite thanks lake fork!!!

From: S: Fredericksburg, VA

Comments: Great idea and works great but I broke both of them in the back in one day... I don't want to have to tone down my hook sets to use these so hopefully they come out with some stronger ones

Comments: someone is always coming up with a better mouse trap but and most of them do not work. these are bass traps and they DO WORK! i have fished fake frogs for years starting with the original harrison hodge foam rubber/single weedless hook design up to the present day models which are great. if you have ever fished these baits, you know they miss solid hook-ups now and then. this set-up will eliminate 90% of that problem. i have tried to use an additional hook with fair success but these are inovative in design and effectiveness. if you throw frogs then buy some of these little wonders, you WILL not regret it. whoever thought this up is a genius and may i say thank you.

From: Wes: Salinas, CA

Comments: This is the cure for short strikes. Just slip in the rubber skirts on each side, pull up to tighter and done. Turns my spro bronze eye frog into an even better fish catching machine.

From: Rich: NJ

***Note: If you have questions about this product or need assistance with an order please email your questions to info@tacklewarehouse.com
View Large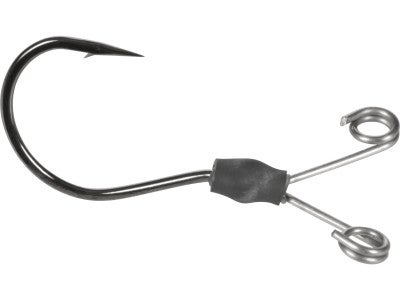 Place Your Order