Lake Fork Frog Tail Hook 2pk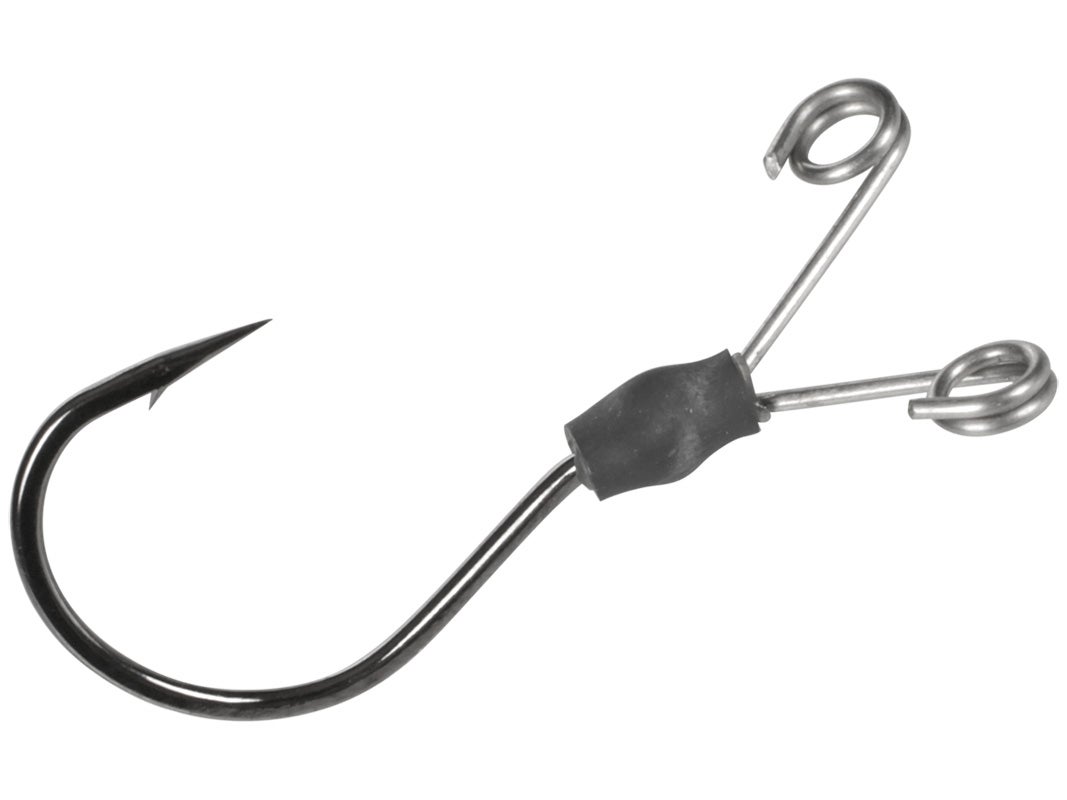 The Lake Fork Tackle Frog Tail Hook is an innovative trailer hook for soft-body frog rigs. The Frog Tail Hook is designed to slip on to most double-hook frogs, and increases hookups by catching short strikes. The strong 2/0 Gamakatsu wide gap hook still keeps your frog virtually weedless and allows unhindered motion.
Place Your Order
Customer Reviews
Comments: I use the 2/0 size and is definitely a must have for your hollow body topwater lures! My hook ratio has definitely increased to about 90% & is definitely tough enough to hook a hog. If you hook the trailer on correctly on the lure, the hook should sway freely & be weedless as well. I never use a hollow body topwater lure without one of these trailer; after years of setting the hook too early or too late on many big bass, this trailer has done wonders for me & I highly recommend this hook to any frog users.
From: Yak Fisherman: Wausau, WI 7/26/16

Comments: Bought the 2/0 hooks to test out if they would stay true and weedless. To my surprise they did very well no real issues at all. First time out testing these I hooked up with 13 bass on the boat. Lost 3 due to short strikes which is a major improvement than before. I highly suggest testing these out if you are having issues with short strikes. Will they mess with performance of walking yes a little bit but I think the pros of less missed fish out weighs the walking. The only issue I have notice is the smaller hook does get wedged into some spots in the fish mouth that can make it a little hassle to get out at times. I just purchased some of the 4/0 and they work and perform just as great.
From: Jeremiah: Hayville, KS 9/9/15

Comments: They work well behind the Molix Supernado crankbait style frog too. These do not inhibit walking action much for me. Work great, sold out for months ahead for a reason.
From: Weston: Batesville, AR 5/9/15

Comments: Nice little hook for when the fish are shorting you. as for the review that says it prevents the walking action - this is true, but i find that any type of twitch, twitch, pause retrieve gets the job done. not saying the walk the dog action isn't important just that it can be overdone at times - i've never seen a live frog swim in that manner. it's mainly about time in the zone. twitch, twitch, pause
From: Matt: AZ 4/16/15

Comments: when summer time hits and the water goes warm big bass that are hungry love a big frog but i have found that at times of a quicker retreival, when they strike they usually bump or hit the frog so hard they miss it.. i have had great luck with this product it gives you a higher percentage of landing that big one
From: Stokes: Accomac, VA 3/24/15

Comments: You definetly get a better hook up ratio BUT the frog does not walk as well. The trailer hook acts as a rutter and the frog does not move side to side as freely. Walking your frog is the most important thing to me in getting that strike. I don't use these anymore.
From: Napoleon: Jacksonville, FL 10/10/14

Comments: You would think that if you put these on your frog it becomes non-weedless, well your wrong! I have put these on the back of my Spro Popping frogs and taken them threw the thickest shit and haven't got hung up once. My hook up ratio has increased tremendously. I have caught fish on the tail hook and if i wouldn't have had it on I would have missed her. If you are a big frog fisher these are the trailer hooks for you!
From: Kobe: USA 6/23/14