Lake Fork Frog Tail Hook 2pk - $4.99
The Lake Fork Tackle Frog Tail Hook is an innovative trailer hook for soft-body frog rigs. The Frog Tail Hook is designed to slip on to most double-hook frogs, and increases hookups by catching short strikes. The strong 2/0 Gamakatsu wide gap hook still keeps your frog virtually weedless and allows unhindered motion.
Comments: You would think that if you put these on your frog it becomes non-weedless, well your wrong! I have put these on the back of my Spro Popping frogs and taken them threw the thickest shit and haven't got hung up once. My hook up ratio has increased tremendously. I have caught fish on the tail hook and if i wouldn't have had it on I would have missed her. If you are a big frog fisher these are the trailer hooks for you!
From: Kobe: USA 6/23/14

***Note: If you have questions about this product or need assistance with an order please email your questions to info@tacklewarehouse.com
View Large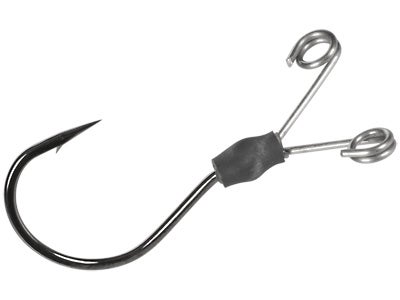 Place Your Order