Lake Fork Live Baby Shad 15pk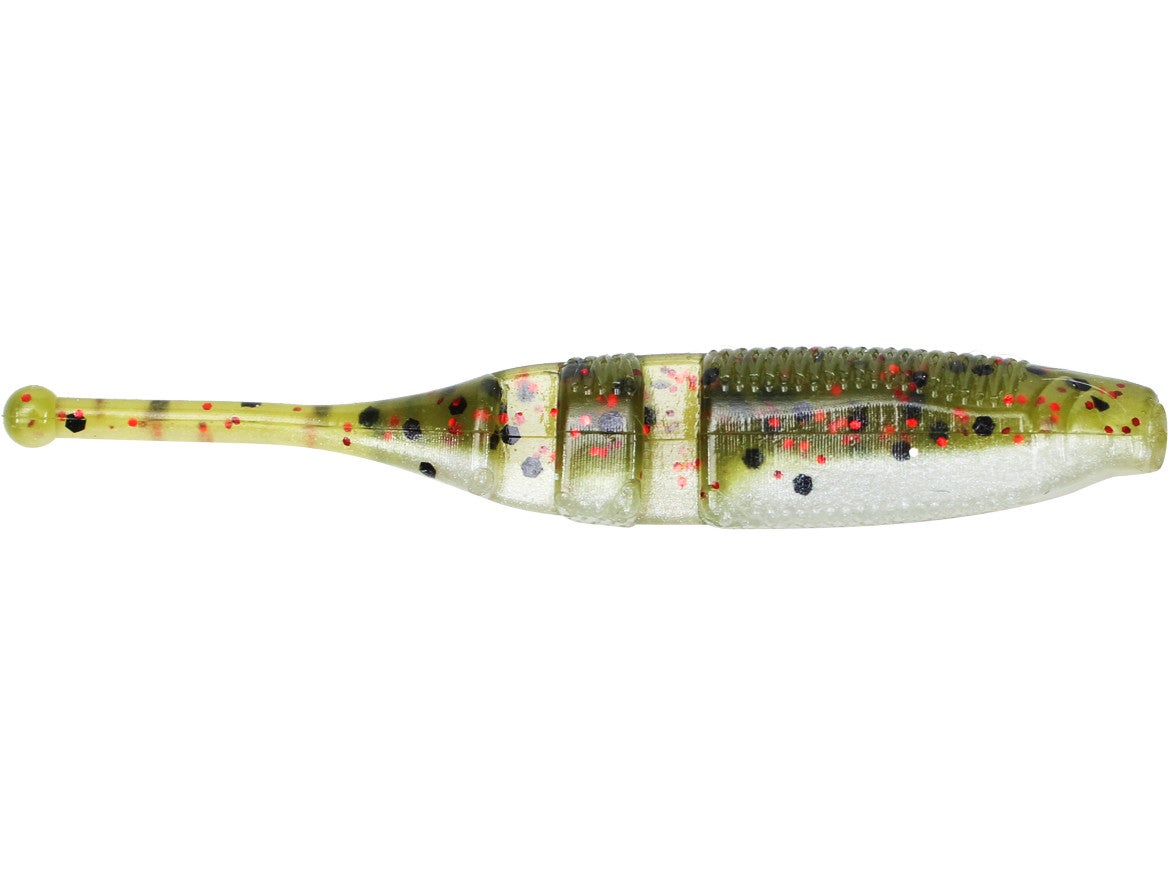 The Lake Fork Live Baby Shad is the ultimate live action bait - now in a smaller size. Perfect for drop shotting, as well as, various other finesse presentations, the Live Baby Shad features a double segmented body and super soft plastic construction, which allows it to respond to the slightest rod tip provocation. Available in a variety of colors, the Lake Fork Live Baby Shad is also impregnated with garlic scent for added fish attraction.
| | |
| --- | --- |
| Length | Quantity |
| 2.25" | 15 |
11 Colors
More From Lake Fork Tackle Soft Plastic
Customer Reviews
Comments: Try this bait rigged with a 1/16 oz. Road Runner jighead; they are phenomenal! What a great little swimbait for highly pressured bodies of water. Don't let the small size fool you either; I have caught just as many Bass and Pickerel with these as I have Crappie and Bluegill. Durability is great; the price is great; these are just all around a win-win scenario. I throw these on a 6-6 L spinning combo with 6 lb Flouroclear. Just an AWESOME bait! I prefer the pearl colored bait most of the time.
From: Gary: PA 1/6/16

Comments: One of the best Drop shot lures out there! Always my gu to bait when the bites get tough! Great for smaller species like perch and crappie as well. Highly recommend it!
From: Clemens: Austria 5/6/15

Comments: Always my go to when nothing else is working in search of the hogs & just want to catch something before days end. And I have caught many 3-4 lb bass on them. I feel like I'm cheating when I use these. Yes the tails rip off easily, so what, put on another one. It's because your getting hits, not because they aren't made well. Smallies crush them as we'll.
From: Dustin: Richmond, VA 5/16/14
Comments: I have been fishing these Lures for Crappie for several years. I've outfished every artificial grub my friends and family can throw at them and this little guy always ends up catching more fish. In fact, my friends call my light action spinning rod "the cheater", because one of these is always tied on and it ALWAYS catches fish. Recently, I decided to take these little Gems up to Canada and Northern Wisconsin on an 8 day fishing trip and the results were great. In Canada I threw this for about half an hour and I caught a nice 30 inch pike and a smallmouth on it. In Wisconsin is where this lure really shined. We were drifting for Crappie with live minnows and having some success. I put one of these on a 1/16 oz Chartruese Road Runner and it was game on. Not only did I catch more crappie than the other two guys fishing live bait, I was catching bigger fish consistently. Several 10, 11 and a 12.5 inch crappie compared to the slew of 9 inchers. Friends don't let Friends fish without Live Baby Shad.

From: Jeff: St. Louis, Mo usa

Comments: Great lure for trout fishing espically with the garlic scent added to it. Fished on a 1/32 oz jig head you are sure to hook up on some trout

From: Pgh. PA

Comments: They could be more durable but they are great baits.I have caught 5 - 10 little stripe on 1 but the tail does get bit off easy on bass or pesky lil brim

Comments: Really cool bait, caught largemouth, smallmouth, bluegill, and brown trout on it. Great for if you want to catch anything. Only downside is panfish tend to grab the tail, leaving you with the stump left on your hook.

From: Chris: USA

Comments: This bait is awesome on a 1/32 oz. jig. It's a good spring bait. Catches everything including bass. It's a crappie sized bait and is great to fish with before bass season is open. More durable than you would think. I've caught 25 fish on 1 bait.

From: James: U.S.

Comments: CONS:They are too expensive for the poor durability!!! After only one or 2 hits the jigs break and your putting another one on!!! I can catch a limit on 1 Bobby Garland Shad and I can't catch more than one fish on these without the tail section from the body back tearing off. Too large for my liking to for a crappie jig. PROS: Amazing action......Well that's about it.

From: Heath: Cleveland, TN