Lake Fork Live Magic Shad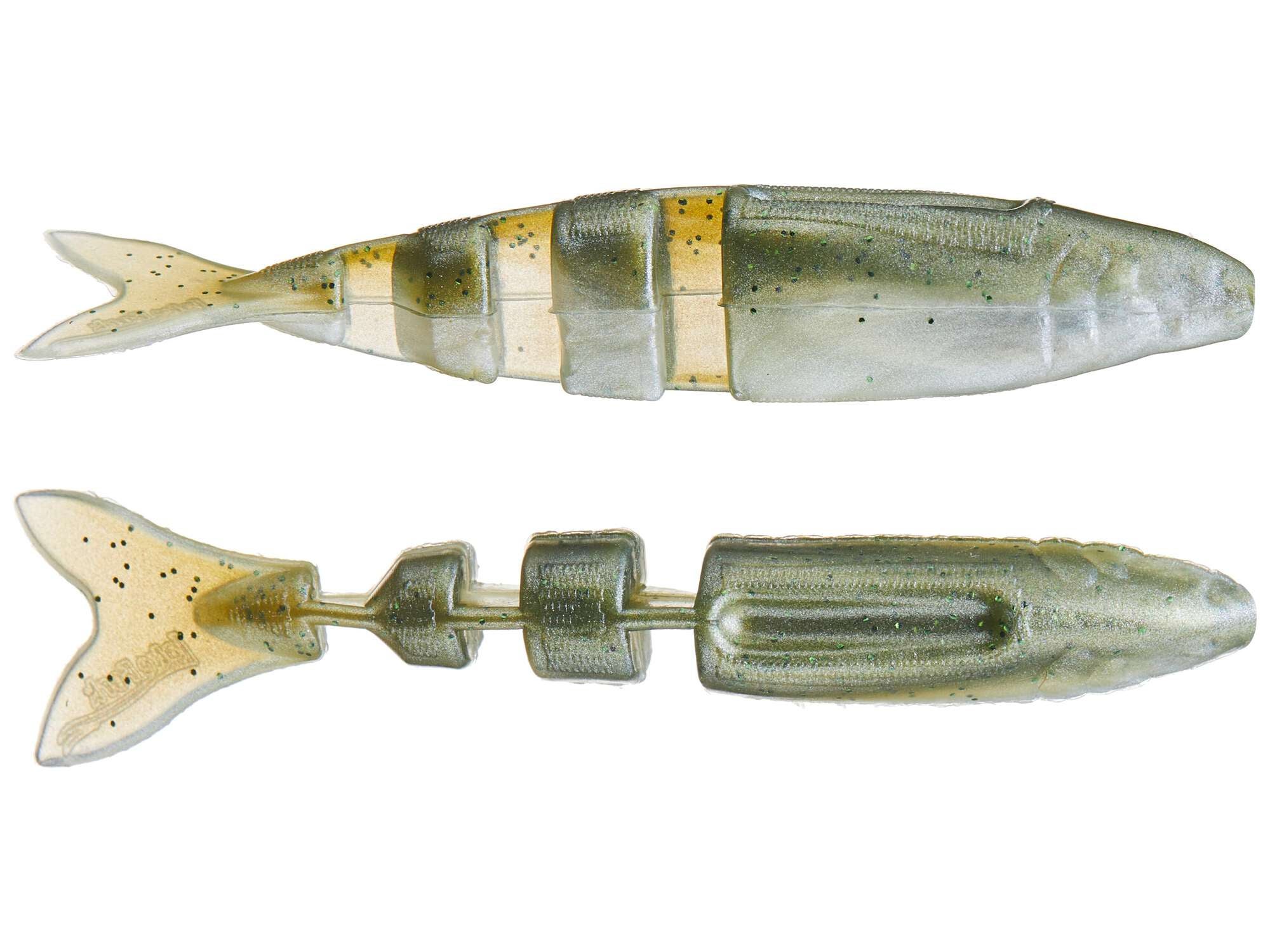 The Lake Fork Tackle Live Magic Shad is the ultimate live-action swimbait! The technically advanced design of the Live Magic Shad mimics the swimming motion of a fleeing baitfish when retrieved. The Live Magic Shad is impregnated with garlic and made from super soft plastic, allowing fish to hold on longer. No matter how the Magic Shad is rigged - weightless, Texas, Carolina, drop shot, wacky, or on a jighead, the Live Magic Shad draws impressive strikes.
| | |
| --- | --- |
| Length | Quantity |
| 3.5" | 6 |
| 4.5" | 4 |
| 5.5" | 3 |
21 Colors
More From Lake Fork Tackle Soft Plastic
Customer Reviews
Comments: One of the hottest smallie baits ever made, especially for the Susquehanna River! Smallies slam these baits without mercy, so hang on tight to your rods when that happens! Personally, I've caught some of my fattest smallies on this bait, particularly in the Fall feeding frenzy. Rig these with a Scrounger, a chatterbait, or even a spinnerbait to provoke even more vicious strikes! Make sure the colors of both lures match to match the hatch! Oh, and also never forget to buy multiple packs of these baits, for they are sure fragile after a few fish. Nonetheless, these are a must have for your tackle box(es), and don't leave home without them.
From: Alex: Harrisburg, PA 8/1/15

Comments: By cutting the tail off and attaching it vertically, with mend it style glue, it wont swim anymore and you'll have to reverse the process.(Doh!) "You never know until you try!" Don't try, because I know. "A Great Swimbait & Trailer ", as is!
From: Outcast: CA 7/3/15

Comments: You gotta rig one of these as a trailer on a chatterbait style jig.They work great...its one of my go to lures on overcast days in the summer...for big pig smallies on the susquehanna river,PA.

From: Tyler: susquehanna river, PA

Comments: one of the best swim baits I have ever used I put them on my jigs, spinner baits, and Alabama rig and they work great

From: Allen: MN

Comments: I have a good collects of swimbaits. About 70 percent of my swimbait are these guys right here!!! I rigged them on a Owner Stand up jig head. And it is KILLLER! best way to fish this is slow with a few fast burst on the reel. it causes the tail to flow more natural! and gives a fish a good picture of the bait as it moves in for the kill. 10 out of 10

From: Tuan V.P: Los Angeles, CA

Comments: Absolutely great looking swimbait. Swims perfect through the water no matter how fast or slow you reel it. One of the best swimbaits on the market, cant wait till winter to put them on an A rig.

From: Will: AL

Comments: Got the promo pack and the fish went wild the first time i tied one on using an Owner twistlock 5/0 superline hook.2 of us caught 33 in a few hours.The action is great on the fall.As a result i just ordered more.The promo deals should come with every order. Live magic shad works great!!!!

From: Tony: West Chester

Comments: Caught my biggest creek smallmouth ever on the white 3.5" I wish they were not do expensive but The spend 15$ get a pack free is a good deal. I use a 2/0 offset ewg gamakatsu and find that they last a little bit longer than using a 3/0

From: Gary: KY

Comments: Got a free one with my frog trailer hooks. Went out and tried it and caught a 8 or 9 pounder within a few casts. Great action on it, I was fishing it weedless with a 5/0 wide gap hook.

From: Justin: Virginia Beach, VA

Comments: i will let you guys in on alittle secret. Try these working slow on a Carolina rig. Kills on amistad

From: Joseph

Comments: these turn bad days good when the bite gets tough. Incredible action. The hook up ratio is surprisingly good just make sure to use the right size.

Comments: Try these things as a trailer for your 3/8 oz. swim jig. Then run it like a slow rolled spinnerbait low in the cover no added twiches necessary. Oh and before I forget, really hang onto your fishing rod because a careless grip will cost you.

From: L.J.: Sac, CA

Comments: Excellent bait, the swimming action on this is AWESOME. Put it on as a trailer on a Sworming Hornet and you have one killer bass bait. Durability comes into question though because the nose does split when you put it on the Sworming Hornet after a few fish.

From: Andrew: Algonac, MI

Comments: Was trying to figure out what type of trailer to use on an original Phenix vibrating jig in 5/8 ounce. Tried these things and could not get hooked up. Made modification by cutting hook on jig and heating it up to be able to form a closed loop. Through this loop I attached a red 3.0 Gamakatsu spinner bait trailer hook. This really increased the lures activity. Then when I used the magic shad has a trailer.........NIRVANA!! The Big Girls inhale this thing now. So far, 14 pound largemouth from Clear Lake.

From: L.J. Sac, CA