Lazer Trokar EWG Worm Hook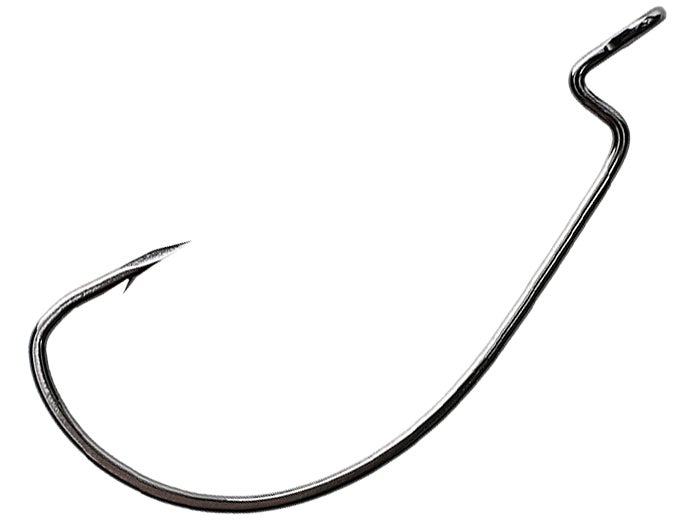 The Lazer Trokar EWG Worm Hooks feature Trokar's unique surgically sharpened three-sided hook points - making them twice as sharp as any other hook on the market. Proven in tests to penetrate with half the pressure required for other leading hooks, the Lazer Trokar EWG Worm Hooks benefit from Trokar's Surgically Sharpened Technology (SST). This patent-pending process precisely grinds the three sides of the hookpoint using a high-speed, computerized grinder designed for surgical needles. Lazer Trokar also determined the precise angle of the Low-Profile Barb using highly specific geometric calculations to provide easier penetration and the ultimate in holding power.
In addition, Trokar bolstered the wire diameter of the hook and used a unique tempering process, specifically tailored to bring out the maximum strength potential of the ultra-high carbon steel Q741 wire. The result is a stouter hook that allows for aggressive hook-sets and intense fights, as well as, just the right amount of flex to resist breaking. Revolutionary in the world of fishing, the Lazer Trokar EWG Worm Hooks deliver maximum penetration for a significantly better catch ratio and also feature an offset shank and extra wide gap perfect for rigging a variety of worms and soft plastics.
"When you look at this hook compared to the other manufacturers, the Trokar TK110 is far superior to anything else that is out there. It's a hook that will take our sport to another level." - Skeet Reese, Bassmaster Elite Series Professional.

Place Your Order
More From Trokar Hooks
Customer Reviews
Comments: The best EWG hook on the market. When you bass fish in New Mexico, light line is a must for casting distance. Clear water conditions (3-8 feet on average) also play a big role in line choice and finess fishing presentations. A good hookset at the end of a long cast is not an issue with these hooks. I took my 12 year old daughter to a lake this summer and she caught 18 largemouth bass using a zebco 33 with 10lb floro, 3/0 EWG and various soft plastics. She missed 3 fish but I blaime the flimsy pole not the hook. Every fish hooked, never got off. Ever try to fight 1 to 3 lb bass with a zebco...just saying
From: Dave: Alamogordo, NM 12/16/16
Comments: These hooks are no doubt sharp, and stick fish and hold perhaps even better than a Gamakatsu. I haven't had a problem with the hook point rolling over or dulling at all. There is one drawback. The large, cutting point does put a bigger hole in your plastics and make them slightly less durable, often lasting a fish or two less than other brands. If you invest in mend it, it isn't a problem. I still use my good old fashioned Gamakatsus as well because of this. All in all though, like I said, they penetrate and stay pegged better than any other hook.
From: Tyler: Grand Junction, CO 10/29/16
Comments: I absolutely LOVE these hooks. Sure, I use other hooks for certain applications & can't complain about brands like Owner, Mustad & Gamakatsu but when the situation calls for a 4/0 EWG hook or really anytime I reach for a EWG hook, there's nothing I'd rather use than the Trokar. I've never lost a fish & have had no problems with tips that it appears other reviewers have had. Top of the line, in my opinion.
From: Josh: Boulder, CO 6/21/16

Comments: I bought a couple packs in the begging of the 2015 season & used them all season, have not lost or missed a fish on these hooks yet. Very high quality I highly recommend these hooks.
From: Drew: Clear Lake, CA 1/15/16

Comments: Can't believe I just bought EWG hooks from other companies this spring. Just listen- when they say they're the sharpest hooks in the world- that couldn't be more right!!!!!! I've had some times where the fish just starts coming towards me before I even realize there's a fish there and I don't even get to set the hook. When I get him in the boat, I can barely get the hook out- it sticks into its mouth so well even the bony part on the top. It is truly UNBELIEVABLE on how well these work. I will NEVER buy another type of hook!!!

From: Tom: Ham Lake, MN

Comments: NOT SURE WHAT IS WRONG WITH SOME OF THESE PEOPLE...these are by far the best hooks...as for the line slipping crazy glue it...hooks rolling...havent seen it in 2 years...only hook i will ever use..

From: Big John: Stafford Va, USA

Comments: These hooks are the ish! The people that are complaining must be buying defective hooks, or setting their hooks repeatidly on stumps. Cause I have never had a single one "roll up" on me, and my hook-up ratio has went through the roof. When I'm on the water, I have 100% faith in these hooks to get the job done, and I always tie new ones on, on tournament days. Trokar or nothing for me.

Comments: Not sure what people are doing to their hooks, but I haven't had a single hook point roll up on me. I even had a 100 fish day throwing soft jerkbaits in the spring and never had to replace a hook because it was dull. Any hook will get damaged if it gets hung up on a rock or log, that's just the nature of the beast. These are super sharp and worth the money for me.

From: Greg: Utah

Comments: Best hook I've found. I use them to catch bullfrogs a lot. Frogs don't have very bony mouths like bass, so it's hard to hook them with anything else. Once the fish (Or Frog) bites, I know it's not coming off!

From: Washington, USA

Comments: Think about the physics a little - cutting type/surgical points will penetrate better than a round pointed hook. And the finer the point the easier a hook is going to penetrate. Bottom line, any super sharp hook design is going to be prone to rolled tips/dulling because of contact with wood or rocks. We all know to check our line for frays, we asol need to check our hook tips for dulling too. I replace my hooks if I've hung a log or tree and the tip is dull. These hooks stick like mad, but so do Owner cutting points and Gamakatsu are good too. It comes down to how often you end up replacing dulled hooks and how much you want to spend due to replacement. Try these - they are nice hooks. But pricey. You may decide they aren't worth it for you, or you may never want to use another hook again.

From: Scott: New Mexico

Comments: first of all has anybody ever had a dulled out gamakatsu come on seriously all hooks dull out or roll after a while thats why its called terminal tackle these hooks are the s***. yea there not gonna last you a life time no hook will.But if you need a hook on tourny day thats gonna get the job done look no further.

From: im me: Cali

Comments: These are the best hooks ever! I was flipping a texas rigged beaver in the reeds, and once it touches the fish mouth, they were hooked! Way worth the price!

Comments: people are complaining about tips rolling, and tips being weak? are you sure you're using trokars? or are you using walmart brand. I've been fishing for 20 years(im 23) I've used just about every hook from owner, mustad, gamagatsu, eagle claw etc, and trokar is the absolute best. Before these Gamagatsu were the best, I was timid to spend 10 bucks for only 5 hooks, but when I got 5 bites on a brand new Gamagatsu hook and missed all 5 I switched and first day 5 bites on one hook, and 5 fish landed. Only missed one fish on these hooks, and that was user error on me just not waiting long enough for the fish to get the lure in its mouth fully, I am human I make mistakes.

From: Ben: Florida

Comments: Best hooks I've used, sharp and never lost a bite.

From: Indugu: Dallas, TX

Comments: Gotta agree with todd. Caught about 6 fish then started losing fish. Checked the point, you got it, rolled up. This was during tourney and fish would have culled my smallest. Very upset, for this kind of price these things should be bulletproof. Never again, back to Gamakatsu.

From: Mike: Erwin, NC

Comments: Don't waste your money! Hard to believe they hype such an obviously flawed product. Yes they are very sharp, but the tips are so fragile that they are useless. I have tried several different styles all with the same result.

From: Todd: Terre Haute, IN
Comments: Sickest hooks in the sport, They are worth all ten dollars. Never miss a Fish with these boys.

From: Knox: Texas, USA