Mattlures Dead Twitch Trout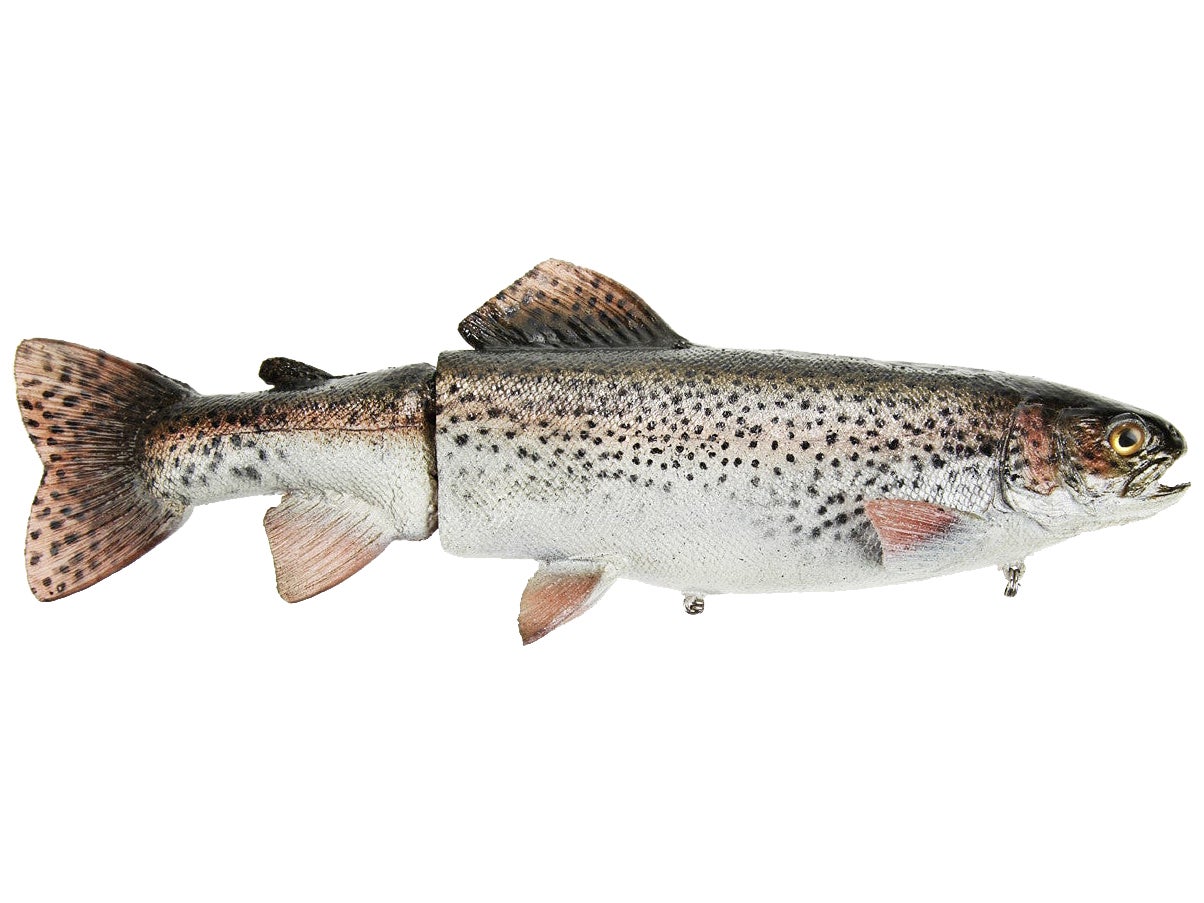 If you are looking for that bass of a lifetime then this is the bait for you. The Mattlures Dead Twitch Trout is arguably the most realistic rainbow trout bait on the market, and also one of the largest. Weighing in at 14.4-ounces and measuring in at 13-inches in length, this behemoth was created for one thing - catching big bass. Built with the components needed to tackle beastly bass, the Dead Twitch Trout is outfitted with 100lb split rings and an eyelet that's located inside of the bait's mouth.
The jointed tail of the Dead Twitch Trout has the mobility to move a full 180-degrees. When gently twitched it moves through the water with all of the natural action of a rainbow trout. The recommended technique for fishing the Mattlures Dead Twitch Trout is to deadstick it, while occasionally applying a slow and steady twitch. In the water it sits just below the surface with the dorsal fin fully exposed along with part of the tail. In addition to the two beefy 2/0 Owner hooks on the belly, another eyelet was built onto the top of the bait to allow anglers the option of choosing alternate hook positions. If your hitting the lake with Mattlures Dead Twitch Trout make sure to break out the big gear, and also make sure that there's plenty of film in your camera.
| | | | |
| --- | --- | --- | --- |
| Mattlures | Length | Weight | Class |
| Dead Twitch Trout | 10" | 7.5oz | Topwater |
| Dead Twitch Trout | 13" | 14.4oz | Topwater |
2 Colors
More From Matt Lures Swimbaits
Customer Reviews
Comments: Matt Servant says these baits are made to throw with a lob cast & then let the wind bring them to where you want them.
From: Marco: Portugal 3/30/16

Comments: Picked one of these up, yes it's big, but if you're fishing for a select grade of fish then you already know this. I'd say casting this is more of a underhand toss. They are making a 10" model as well and hopefully TW will carry those as well. Very good detail.

From: Will: Long Beach, CA
Comments: I don't know about bass but I use this for muskie and it works great caught a 43 inch muskie on the new river a week ago 3-2-13 will most likly
buy more!

From: Seth: VA

Comments: dont forget yo telephone poll to cast this thing !

From: John: NY